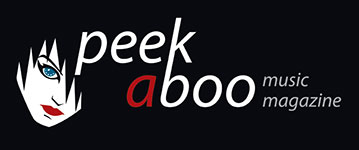 like this interview
---
AMBER TEASER
We Also Like Putting Some Strange Elements In Pop Music
29/03/2020, Stef COLDHEART
---
Amber Teaser is an Italian formation set up in 2017. "Human Ritual" is the band's debut album, which was released at the end of 2019 on the Russian electro-pop label ScentAir Records. I discovered a mature sound production and original electro-pop songs mixing different elements together. The band consists of singer Mimmo Modeo, Teo De Cillis (producer) and Antonio Iacca (composer). I talked about this promising debut with the band's instigator, Antonio Iacca.
Amber Teaser is a rather new name active in the wider fields of electro-pop music. Can you tell us how you got contaminated by the electro-pop virus? Who is Amber Teaser? What have been your sources of inspiration and possible references when it comes to songwriting and what is the name of the project all about?
Personally, I liked electro-pop since I was 13 years old and when an uncle of mine from Germany gave me a gift, it a tape of Depeche Mode's album "Construction Time Again". Despite it all, I became a metal-fan and later on also a metal-musician but I've always been a synth-pop/electronic music fan. So that's why I decided to start an electro-pop project in 2018 with the producer Teo De Cillis and the vocalist Mimmo Modeo.
So Teo and I arranged and produced a bunch of songs, which resulted in the album "Human Ritual". I think we are influenced by Silicon Teens, Depeche Mode, Kraftwerk, New Order and some '70s space synth-music for several delayed synth sequencers that we used in the songs like "Dioxine". We also like putting some strange elements in pop music like, for example, the reversed guitars in "Mistery".
It seems you're not only influenced by electronic music but also by the classical composer Franz Shubert. What do you like in the work of Shubert and if it's an influence, how do you incorporate it in your own composition?
Yes we like European classical music from 1600, 1700 and 1800. We named Franz Shubert in order to declare our love for the classical compositions. If you listen the instrumental coda in E Major from the title track, you can find some classical music elements mixed with synth music.
Last year you released your debut album "Human Ritual". Tell us a bit more about this opus? What did you keep in mind from the composing/production process and how would you introduce this album to people who don't know you yet?
In my opinion "Human Ritual" has two souls; some songs like "Dancing In A Restaurant" or "Go Out From this Chaos" are more pop-oriented while others like "Dioxine" or "Mistery" are more experimental. The CD was recorded and produced by me and Teo; we used both analog and digital synths in order to create the sounds but all pre-amplifiers, compressors and the mixer console we used was analog. We processed some guitars through fuzz pedals and even through the mixer console itself in order to get different kinds of sounds.
I was really impressed by both debut songs from the album; "Dioxine" and "Go Out From This Chaos" which both appear to me as the most sophisticated tracks from the album with a perfect balance between electronics and guitar play. Tell us a bit more these songs?
The song "Dioxine" talks about the industrial sector of my city, Taranto. We wanted to get an industrial sound, you know, jarring, metallic etc. but also atmospheric so we mixed together a typical four-to-the-floor pattern, a space synth sequencer and tremolo picking based guitars on the harmonic minor style, in typical black metal way. "Go Out From This Chaos" is more Joy Division, New Order inspired and it was the first song I wrote for the project. This song is melancholic and talks about a personal experience.
I noticed you also made a clip for the song "Here". Why did you choose this song and what did you try to express in the clip?
Because we wanted a visionary kind of clip, and the song "Here" fits perfectly in my opinion. The atmosphere in the clip is very cold because of the black and white effect and it reflects the cold nature of the song, based on ring modualtor-sounds, sampled female vocals and cold synth sequencers.
What have been your live experiences so far? How do you try to transpose the music on stage and what does 2020 hold when it comes to live performances?
We played a lot of gigs in music clubs here in Italy and we will do the same for the promotion of "Human Ritual" in 2020. The feedback is good and we are trying to arrange some gigs also outside of Italy.
Stef COLDHEART
29/03/2020
---