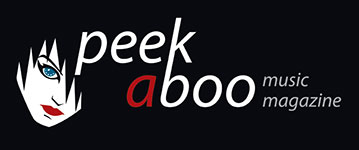 like this interview
---
AUTOMELODI
The definition of "coldness" in music is a very debatable one...
21/09/2013, Frédéric COTTON
---
Automelodi is a project born in Montreal from the creativity of Xavier Paradis, formerly known as Arnaud Lazlaud, playing typical North-American minimal wave music but singing in French. After a self-titled debut album released by defunct Wierd Records, "Surlendemain Acides" comes out in October on Electric Voice records, developing an impressive evolution in Automelodi's music. Soon live in Belgium with a show at Café Central - Brussels on the 16th of October...
Your new album "Surlendemains Acides" shows a clear evolution in your music and is just about to be released. How do you feel right now?
"Busy" is the word, I guess. My collaborators and I are working on many things simultaneously in prevision of the album release. We just finished shooting a video for one of the tracks from the LP, "Métropole sous la pluie". It was cold and windy. I got lost in the fog. I even bled. We had a smashing time.
Talking about this evolution, can we say that "Surlendemains Acides" is colder and more robotic than the debut album?
After nearly 20 years of making electronic music, I have come to find that the definition of "coldness" is a very debatable one, musically speaking. From a lyrical point of view, though, it is true that many songs on this album deal with more elements of pain, discomfort, anxiety and disenchantment, which are not necessarily "warm" feelings. Therefore I guess a part of that "cold" was just intrinsic throughout the album's creative process. Concerning the robotic aspect, my approach when working with electronic instruments is relatively organic, but I never wanted to hide the true nature of the machines I work with. The "raw" language of synthesizers and sequencers is something I was already interested back in the Nineties in when I started my former project, Arnaud Lazlaud. After many years and working with many different collaborators in various projects, I wanted to go for a slightly more stripped down formula for this LP…: something that would provide a spontaneous platform to catalyse the somewhat more violent emotional landscape I had been going through. In terms of instruments, I instinctively focused on synthesizers, vocals and percussion/found objects, which I guess brings me closer to the "minimal" electronic approach of the Arnaud Lazlaud years.
Also, the production sounds deeper throughout the album, for example on "Aléas Dernières Chances" a true dancefloor killer. Is the title of "RT60" a reference to this evolution? (although the lyrics are about something quite different...)
RT60 is indeed a reference to Wallace Clement Sabine's equation for reverberation time but that metaphor is related to the meaning of the lyrics in that particular song, rather than the whole album's production approach. It is true though, that there is a rather generous use of various forms of reverberation throughout the album, even in situations where I was not necessarily aiming for a "spacious" sound. Sometimes I would use microphones to capture the sound reflections of tiny rooms, even if those were relatively subtle.
In Europe, some people say that the most exciting minimal wave / synth music now comes from North America. What is your opinion?
There is also great synth music coming from Europe and elsewhere but as far North America is concerned, I could say that what we observe since a few years is like a long overdue echo of the very important 80's European scene. In the 80's and 90's, many bands from Europe were very influential for me because (if I could manage to find their records) they brought a sound that was so different from the mostly rock-dominated, mainstream sound of America. In the last decade, even more music -especially from continental European countries- that had previously never received much attention suddenly became accessible in North America and inspired a lot of musicians. I think there is a DIY aspect to many of these older productions that somehow appeals to a certain "punk sensibility" of many young musicians here. It's basically what happened to me about twenty years ago… I was mostly into punk/post-punk stuff but then I heard Trisomie 21, the Spielt Noise Boys EP from Stephan Eicher and a few others that suddenly made me excited about making music with analog synthesizers.
Automelodi is quite unique in this scene because of the almost exclusive use of French. Is it important for you because of the care you have for lyrics?
I think it is, yes. I initially got into songwriting because of poetry and for me the worst thing that can happen to poetry is often (there are some exceptions, I suppose) translation. Therefore I don't want to force myself into writing lyrics in English if the crux of my inspiration was originally in French, which has generally been the case over the past few years (even though I use English everyday). That is why so few of my songs are in English.
Do you think like some other artists that French is much harder to put on electronic music than English?
No. I know that French is phonetically a very delicate language that makes it hard to fit certain words over certain melodic phrases, but like any musical instrument, it's also matter of practice and creativity. I actually think that electronic music is a very good platform for French songwriting because it enables one to be more detached - for example - from the mostly american R'n'B/soul vocal tradition (which is also very common in rock and other forms of pop). My point here is not to criticize R'n'B or soul music. I simply think that the different and extremely flexible sonic palette of electronic instruments offers the potential of a cultural "tabula rasa". This can actually provide a lot of space for non-Anglophone artists to choose or define their lyrical "territory", without having to worry about fitting into the standards of vocal delivery often associated with more traditional "band" instruments which, since the advent of Jazz, have become staples of popular music.
How would you order -and comment if you want- these musicians according to their importance for your music and yourself? Vince Clarke, Frank Tovey, Richard H. Kirk, Jacno, Ralf Hütter.
All of these musicians are (or have been) important for me in one way or another and I wouldn't want try to classify them by order of importance.
I think I particularly appreciate Vince Clarke and Ralf Hütter for the way they would construct electronic pop music with very pure, efficient structures, reminiscent of modern/futuristic architectural drawings from the Bauhaus or De Stijl. On the other hand, one interesting aspect of Richard H. Kirk and Cabaret Voltaire is that their approach was more focused on "deconstructing" and recycling fragments of their decaying industrial environment, thus exploring the ruins of modernity.
Frank Tovey was an amazing performer and a great lyricist. He was also one of the first to explore the idea of the electronic musician as a folksinger, a concept I personally feel very close to.
Jacno was a bit like an Erik Satie of post-punk and synth-pop. He was able to produce wonderfully subtle poetic imagery out of musical phrases that were, in appearance, very simple, sometimes even naïve.
Of course these are all musicians I heard about pretty early on because most of their records were available in North America in the pre-internet days (with the exception of Jacno, whose main projects were sadly not distributed here). What has been very interesting since then is suddenly having access to work by musicians and bands such as Martin Dupont, Moderne, Oppenheimer Analysis, Deux and many others who did not receive the recognition they deserved back in those days.
Your second European tour will start soon. What can we expect? Will you include songs from your previous project Arnaud Lazlaud ?
I will be touring with my good friend Hayden, from NYC, on guitar. We are planning on mixing songs from the new album with some older ones. We might also add one or two numbers from the Arnaud Lazlaud days, if the context allows it.
Would you like to add anything ?
See you in Brussels on October 16!
Thank you Xavier
Automelodi live in Brussels - 16/10/2013
Frédéric COTTON
21/09/2013
---