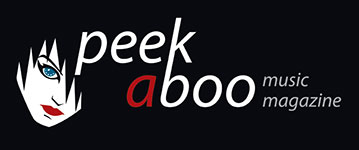 like this interview
---
BUZZ
I've always insisted on not having a French sound, even though 99% of the lyrics are in French…
17/05/2011, Didier BECU
---
At Terra Gotha, besides Spectra*Paris, Sophya and Star Industry was a French band named Buzz who had already been guests at Bodybeats 2010 so Peek-A-Boo decided it was finally time to have a chat with founder Jean-Christophe.
Hello, please tell us who and what Buzz are.
Well… BUZZ is more of a personal project, hence the use of machines, electronics and visuals… Paradoxically, while the musical approach is very un-French I've always sung in French, it's a bit of a challenge I guess…
Over the years, and essentially for live gigs, I've worked with various collaborators, ranging from guitar to keyboard players to drummers… Nowadays, BUZZ is composed of yours truly, on vox and machhines, and Olivier T, of SA42 and Grand Chaos, on electro-perx, and we use synchronized dvd visuals for the live-shows……
It's rather meant to be flattering, but when I heard Buzz I thought you couldn't have chosen a better name…I mean Buzz has a buzzy sound.
Cheers Didier, I chose the name way back in 19XX (fill the blanks) when basically nobody was using it. It related to the disturbing little noise I was eager to make with my shitty synth and drum-machine. 25 years on this is still valid but I'm rather fed up with the constant trendier-than-thou use of that word here there and everywhere… I'm seriously considering a name-change these days to be perfectly honest with you… That was then but this is now…
As for the "buzzy sound" this was initially for financial reasons combined to the punk DIY ethics, and nowadays my sound has obviously evolved but I still insist on sticking to a minimal equipment and pushing it to the limit. I don't want to impress people by using a mega-sound to conceal a void, I'd much rather come up with catchy melodic lines, dancey sequences and relevant lyrics…
I really do hear Suicide in your sound, so I guess they were an influence.
It's funny coz the Bollock Brothers said that too when we played together in Lille last September… I guess it must be the hypnotic basslines… I've never listened much to Suicide though but they were among the first to say quits to the bass-guitar-and drum dictatorship, after Kraftwerk that is, so they deserve all our respect for this…
Hopefully you don't mind either but Buzz hasn't a French sound at all, in fact how do the French react to your material?
I've always insisted on not having a French sound, even though 99% of the lyrics are in French… Living close to the Belgian border and going to England regularly must have contributed to this, i.e. being able to see Anne Clark, Front 242, the March Violets and the Sound in Belgian venues — or Malaria on Belgian telly — instead of bloody Indochine and Johnny Halliday…
I've never looked to the French scene for inspiration and I'm not into copying and cloning anyway but I've always enjoyed bands who had the guts to sing in their native tongue, be it Taxi Girl, DAF, or El Aviador Dro to name but a few and TC Matic nicely expressed that burgeoning European feel…
BUZZ does have a following in France but are obviously not your average 'saucisson vin-rouge' act, neither is it part of the Parisian côterie. We get far more spontaneous responses from Belgium or Portugal… The mixing of my voice in BUZZ is also very un-French, it's only one of the instruments after all — Italian Futurists Marinetti and Pratella said that as early as 1907 — and there's no reason why it should be mixed on top of the others…
I suppose it's not easy anywhere but is there a good atmosphere in France when it comes to the underground, I mean do people come to the gigs?
Half of the French underground are just a bunch of poseurs, so called "aficionados" who wouldn't know a MS20 if they were pissing on one. I couldn't care less… I'm into music… I don't want to cater for an audience.
On the other hand BUZZ don't play much in France because we do not fit in or simply because the die-hard independent organisers have been having a real tough time since 2009 but they stick to their guns like the Trinity team in Cherbourg……
Hopefully, the net enables you to get in touch with people all over Europe and get gigs there, from Oporto and Lisbon to Stockholm via Antwerp's Bodybeats and Vlissingen's Terra Gotha… Globally, the attitude is pretty much the same as in the 80's, French organizers have got shit tastes mostly: hip-hop, le rock'n'roll, that new Belgian crap-pop scene - Ghinzu, Girls in Hawai and all that appaling dirge forcefed to passive audiences…
I heard you organise things too, please tell us about it!
For this very reason I decided to organize small gigs in Lille when La Péniche opened last year… We've had five Cyberclash Nights since last October with dedicated people turning up from Doornijk, Amiens or Antwerp which seems to indicate there's a demand for that type of events… and Wool-e-Shop took part to
So far I've programmed Implant, Sound XS, The Venus Fly Trap, Waiting for Words, Neutral Lies, Guerre Froide, No Tears, Modern Cubism and… er… yeah, well… BUZZ on the opening night to replace a last-minute cancellation…
The next one is on May 21st with Popoi Sdioh and Charles de Goal…
The next season should welcome Parade Ground and possibly 32Crash…
But most of all these days, since the week after the tsunami stuck in Japan, I've been working on the digital compilation ELECTRO for JAPAN 2011 —
http://electroforjapan2011.bandcamp.com. I got immediate - and enthusiastic - responses from Anne Clark, Len Lemeire from Implant, who helped master the final version, as well as Dirk da Davo, Dirk Ivens, Parade Ground, Jager 90, Modern Cubism, MED, Spectra Paris, The Young Gods and so on, 46 in all, from all over Europe and the US…
You can download it for 5 Euros (or more) that are instantly transmitted to a relief organisation there. 44 of them could actually provide a so far unreleased track so this is also something of a collector…
Your recent album is called "Cyberclash", any special reason for that?
I worked on that for a while, I want every album title to sound real efficient… The general BUZZ approach is to "say less to say more"… I don't like labellings and BUZZ don't fit in any box, be it coldwave, synthpop, electro, darkwave, minimal, industrial, ebm, new wave, electro clash and the like… there's a bit of each I guess but certainly no drum or guitar solos… The "cyber" half refers to the use of electronics, computers et al, and the "clash" bit hints at the DIYapproach, once a punk always a punk…
Part of it is a live album. Why? To present yourself as what you are as a liveband or just because it's much cheaper?
If making music had to be reduced to a mere matter of losing or making money I'd have stopped ages ago… I actually know a lot of people who have…
"Cyberclash" is a 100% live affair recorded during a radio show on Radio Aligre in Paris. It's the full set we did there, from start to end; no overdubs were added and nothing was erased. Remixing it was out of the question since it was a one-track stereo take in mp3 what's more !… Part of the punky approach was to say "Gosh, this sounds real good, we're not the fucking Supertramp so let's release it raw… " So here it is, 100% spontaneous, sincere and relevant of what you can expect from us live…
We discovered you worked with Len Lemeire from Implant as well. Please explain.
I was introduced to Len by Anne Clark six years ago when she played Lokeren, then BUZZ and Implant played together with T 21 and Neon Electronics at the Aéronef, Lille… I enjoyed Len's approach to sound and we got on well together. We've been working on a regular basis since then and he's co-produced, mixed and mastered 4 BUZZ albums so far, also coming up with brilliant remixes.
He then asked me to remix one of his songs for his "Violence" EP last year… He also spontaneously proposed to master ELECTRO for JAPAN 2011 at the Implant Plant and gave a previously-unreleased remix of Anne Clark's "Now" for the comp.. So it's a partnership that evolved into a friendship, I guess you can call it that.
Everybody has dreams. What are your dreams concerning Buzz?
Musically speaking, a number of them have been fullfilled over the last few years, since relaunching BUZZ in 2006… I've worked with or been remixed by people whose work I've always respected immensely… I'm not especially keen on finding a distributor or anything but that would possibly help… A wee bit more recognition, and henceforth more gigs, would be most welcome…
What's your favourite record of all time and why?
Thats a tough one really, I can't limit myself to just one I'm afraid… My favourite records of all time would undoubtedly include stuff as diverse as The Renegade Soundwave, Ski Patrol, The Sound, Franco Battiato, The Young Gods, Brazilian bossa nova, T. Rex…Portuguese Fado or Rernaissance lute music…
With whom wouldn't you mind to be alone with in an elevator for 8 hours and what would you do then?
For one, there are many people I couldn't stand being alone in an elevator with… second, I usually don't ride elevators and leg it…
But just grant me 5 minutes with Manu Chao or Bono, to piss on their shoes…
Any special message to our readers?
I've got two in fact, you don't mind, do you ?
Brace yourself up for our next album produced by Dirk da Davo and our forthcoming remixes by Neon Electronics, David Harrow (Anne Clark, Clock DVA etc…), Bak XIII, Danny Briottet (Renegade Soundwave), Pankow and David Weber (Treponem Pal, The Young Gods)…
And last but not least, buy ELECTRO for JAPAN 2011 on bandcamp…
Didier BECU
17/05/2011
---