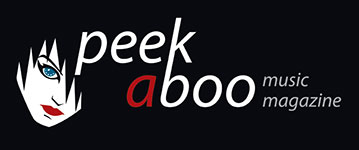 like this interview
---
CRANES
We're not really the same people we were 20 years ago, so we wouldn't write the same kind of things now.
23/05/2011, Didier BECU
---
Undoutedly, one of the main stars at Shadowplayfestival will the return of one of the most beautiful bands this earth has ever known: Cranes. And yes, Peek-A-Boo had a very exclusive interview with the voice herself: Alison Shaw.
Twenty years ago you released your very first tape. Back then, would you have ever thought that Cranes would be around 20 years later?
No!
It's a natural thing that bands evolve and so have Cranes. But with you it turned out in a positive way, I mean for many bands evolution equals regression.
Yes, we always try to move forward with each release. I think our music has naturally changed as our lives have changed.
For us we only want to release something if we feel we have something new to say, or a new way of saying something universal.
Cranes had some breaks in their career. Were these breaks are considered as necessary?
I guess there was a natural break in 1997 when Mark and Matt left the group to get married. When we reformed in 2000, it really was a different band, we could have changed our name at that point, but as Jim and I were still the songwriters, we decided to continue as Cranes.
You can still count on a very loyal audience! I mean even if it took a few years, it seems like Cranes-fans always do came back!
Yes, we are really lucky. Our audience is lovely. I recently found a box with messages from all the people who had bought our lyric book when it was first released. It was from ten years ago, but they were such nice messages of support that I didn't want to throw them away. So I put them in the attic!
You and Jim are brother and sister. I guess this has his both his good and bad sides? Bands split up but normally family doesn't?
We sort of split up in 1997, I spent a few years living in London, but then we gradually started to write some new songs and then suddenly we had written an album (Future Songs) and then we started Dadaphonic and everything came together again. It's hard to completely split as we are related, I guess that is the key to our longevity, but we do argue sometimes and often we don't see each other for ages.
Cranes are based around Alison's amazing voice. I am sure that some people (I am one of them) will tell you that you have the most amazing voice in the world. What do you think of that?
That's really kind, thank you! I never thought I had that great of a voice…. But I think I have gradually learned how to express myself through my voice. For me it's a question of letting thoughts be heard, capturing a moment with your tone of voice, that kind of thing.
Everybody knows Cranes are from Portsmouth, but for some reason I can't come up with any other band over there. So I guess you're the stars of the town.
Well, we're not exactly stars! There is quite a flourishing music scene in Portsmouth these days, many of our friends are in bands. Ben Baxter, our bassist has a group called Carmen Rosa (www.carmenrosa.com) who have just released an album which you can download for free from their website. Our friend Jonny Callender, who used to be Cranes drummer, he has a band called Helsinki, the vocalist is Hayley Alker, she's really talented and they have also just released a new album. And there is a folk artist I really like called Andrew Foster, and a young pop/indie group called Fistful of Yoko who are really talented….
Do you follow the musicscene at all?
Well, yes, I like to hear good music! I like the Kills at the moment, I think they are pretty cool, I like Alison Mossharts voice. And if I am in a quieter mood, I like folk music, like Cara Dillon or Kate Rusby.
You were once picked up by The Cure. Do you still hear from them?
Yes, they have asked us to play at the Bestival Festival on the Isle of Wight on Saturday September 10th. We hadn't heard from them for a while, but we had a message recently inviting us to play, so we are really looking forward to catching up with them!
Cranes are on their own Dadaphonic label. It seems like the DIY-culture is one of the foundation stones throughout Cranes' career.
Well, not quite always, we were on BMG for seven years (from 1990-97). I think in those days it was necessary to have a larger company behind you to help you reach an audience. Many of the smaller indie groups that were around when we first started did not last for very long, but we were lucky that the Cure asked us to tour with them, and that BMG could afford to help with the travelling costs of such a long tour, as it gave us the opportunity to reach a wider audience, in America and all over Europe…
I think that is an important element to how we have managed to survive as a group. But in the mid 90's everything started to change and for us it has been a good thing that we started Dadaphonic in 2001. We have been very much independent since then, as you say. Of course, the internet has made that possible, it would have been much more difficult a few years earlier…
The question everybody wants to know I guess: is there a new album in the making?
We have some new songs! I don't know when it will be an album, but we are working on it!
Soon you'll be appearing at the Shadowplay-festival. Tell us what the audience can expect?
I think it will be quite relaxed and atmospheric, with a mixture of old songs and maybe some new ones!
What's your favourite record of all time and why?
I really don't know!
With whom wouldn't you mind to be alone with in an elevator for 8 hours and what would you do then?
Johnny Depp
Any special message to our readers?
Hope you'll enjoy the show if you come!
FAVOURITE MOVIE: Eternal Sunshine of the Spotless Mind, Being John Malkovich
FAVOURITE BOOK: Hucklebrry Finn
FAVOURITE COLOUR: Sky blue
FAVOURITE PLACE TO GO: Santa Fe
FAVOURITE CARTOONCHARACTER: Jim would say Homer Simpson!
Didier BECU
23/05/2011
---
Nederlandstalig interview via de Dark Entries website.
Didier BECU
23/05/2011
---