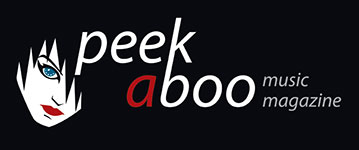 like this interview
---
DAYBED
We're the generation that is rediscovering early 80s synth music. We love it, but we hope to reinterpret it a bit.
26/05/2011, Didier BECU
photos: © Moritz Thau
---
On Saturday 11th of June Antwerp will be the scene of the minimal wave-movement, as once again Walhalla labelboss Lieven organises another minifestival at JC Kavka, Oudaan 14 in Antwerp that is.
On that evening you can see Violence Conjugale, New Clear Waves (the band from Alessandro Mannequin!) and those Genetic-stars: Daybed.
Hello, can you please tell who Daybed are?
Tim: I play synth, I'm from New Zealand and moved to Berlin last year.
We're the generation that is rediscovering early 80s synth music. We love it, but we hope to reinterpret it a bit.
Carla: I sing and I'm American. But these are two mutually exclusive qualities. And yes, reinterpret is a good word for it. Tim and I don't want to remake something that already exists. Instead, we use early 80s synth music as food for our own musical labours.
You are a quite young band which got formed in 2010. How do you see that period?
Tim: Whirlwind. I'm pleased we were able to put the Preludes EP and live set together not long after meeting.
Carla: I agree with Tim. Very much full of speed. At the time I was also working quite vigorously in my "day job", so life was a bit like running a marathon: exhausting but full of endorphins, too.
How did you got in touch with Genetic Music? Did they find you or was it the other way around?
Carla: Rainer from Genetic got in touch with us after Linear Netrik, a Germany DJ, showed him our video for "Lack of Light". After the first contact, everything went very quickly.
Are you in touch with the other Genetic-bands? Rhona told me that Sixth June are also living in Berlin today.
Carla: Yes, having had the opportunity to share stories and connect with Sixth June about performing was professionally very helpful. Of course, it was personally great too; the whole no emb blanc family are lovely people and have been great to us.
Of course you're playing minimal wave. Why did you fell in love with that genre?
Tim: The maverick spirit, and the tension between cool reserve and punk wildness.
I interviewed quite a lot of "classic" bands in that genre and they often told me they think it's called minimal wave now because those analogue synths were the only instruments they had around.
Tim: We've wondered about this too. It would've been an exciting time. Today, it is all too easy to go overboard with technology and equipment. But just because you can do something, doesn't mean you should, eh?
Having said that, I guess you are also the kind of band who stick to analogue synths, or?
Tim: Soft synths have become quite sophisticated but I find them fiddly and generally prefer the analogue sound, it is more visceral. I'd love to include guitar if I could play it well. There is a little bit in "At the station." Piano would be nice too, but I don't think I'll be able have one in the house any time soon.
We're not really that focused on gear, though. Most of our producing time, we chat about song structure. There is so much to learn.
Carla: Tim and I also think about how our song structures can produce certain feelings or project certain ideas. I wouldn't say that we are only interested in structure. Not at all. However, structure is important for creating musical meaning.
Hmm, why is Berlin (as always) the cradle for the minimal electronic-movement?
Tim: To many, what is meant by 'minimal electronic' is conflated with what is meant by 'minimal techno' here in Berlin, which is unfortunate. But having a generally favourable climate for musical types, Berlin was bound to have produced some projects from the styles we like. I like that there were many little cradles all around Europe and America too.
Are there are any plans for a full album or not?
Carla: Tim and I are full of ideas and are interested in sharing them, so definitely. As we just released our EP in October, right now we are enjoying the process of deconstructing our new songs and taking more time in their production.
You soon will be playing in Antwerp, what can the audience expect?
Carla: Color.
What's your fave record of all time and please state why.
Tim: That is tricky. I tend to think in terms of tracks rather than records. But if I had to choose, it would be Linear Movement's "On the Screen". Because every single track on it is a classic. It was one of my first synth vinyls too, and got me into the style.
Carla: The Zombies, "Odessey & Oracle". Warm and melancholic. Musical masterpieces smashed into two-minute bubblegum pop songs.
With who wouldn't you mind to be alone with in an elevator for 8 hours and what would you do then?
Tim: O man, I get tetchy even thinking about it! I choose whoever could share some strong sedatives.
Carla: Roland Barthes, if he were still alive, with a copy of "Mythologies" or "A Lover's Discourse". He would read aloud to me, adding personal anecdotes about youthful escapades.
A special message to our readers could be.....
Carla: Apparently we survived the end of the world: what else could you want?
Didier BECU
26/05/2011
---