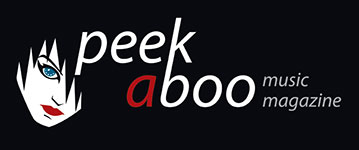 like this interview
---
DER KLINKE
Today there are more possibilities and ways to make music, but at the same time less freedom as everything's been done before.
02/05/2011, Didier BECU
photos: © Caroline De Meyer
---
Some months ago an enthusiastic man named Chesko gave us the demo from his band at a Neon Judgement gig.
In some months a lot has happened with Chesko's band, not only they got signed to Echozone but in less than no time everybody had that same name on their lips : Der Klinke.
Those guys (and girls) who are hailing from West Flanders could already be seen on stage as support for Covenant and in a few weeks they will share it again with Mildreda, Spectra*Paris and Dirk Ivens' noiseproject Sonar.
Can you please tell us what Der Klinke is all about?
Der Klinke stands for an innovating sound within the wave and gothic scene, fascinating dark, original but loyal to the indentity of the genre.
Sounds that are melting the 80's with the 90's, something that can be described as electronic gothic/coldwave… Difficult to describe, difficult to compare with but pure and true to the bone.
Der Klinke is a new band, but the members aren't exactly newcomers in the scene…
True. Sam and Hazy used to be in Red Zebra and Marco was their roadie for a long time.
Heidi played the keyboards in some local bands and I (that's Chesko) have always been busy with things as well. In the 80's I used to play in a minimal synth band called Progress. Maybe Dirk Ivens will vaguely remember that band. Back then he asked us to appear with a certain track on the Expo 87-compilation, but that was near to impossible. All our songs were imprivised and the one song he was interested in used voices from a radio that was tuned to the BBC while we recorded the demo. So it was impossible to conjure that back.
Now of course it's all more professional, with our friendship as the most important breeding ground.
A lot has happened in a short time, a deal with Echozone for instance..
Yeah, we agree that it all happened in quite a short time but then again I think we can say that we were busy with it all the time. From the very beginning Der Klinke was a full time activity and we just never stopped.
Our recorddeal with Echozone is without any doubt the most important milestone in our career. In short time Echozone developed into a label that is specialized in new wave and gothic. Even Wayne Hussey is on our label so I guess if a label like this is interested, it gives us the needed strength to go further. Since then it just got faster and faster because they're a label that promotes their releases a lot.
I suppose Echozone opened a lot of international gates. What are the reactions so far…and don't you dare to lie!
I heard a lot of reactions and none of them were negative. Of course you can't hear or read all what they say about us, but what was penned down was quite motivating. Officially our cd will be released on 13thMay and it will be then that we will discover what the foreign press is thinking about us.
Apart from that, we are selling our cd since we played with Covenant and we never could have dreamed the sales would be that good. There is even an internet radiostation "Black Demon Radio" that loved us so much that they decided to play three songs in a row.
But once again, it will only be after 13thMay that we will see if they like us outside Belgium or not.
We won't say you're the best band in Belgium, but I would dare to say Der Klinke are one of the sole Belgian bands that play gothwave like yours.
Thanks for the compliment. Yeah, regarding you're saying this in 2011 I guess you could be right.
When you reviewed us you were referring to Poesie Noire and that was hitting the nail on the head as we can't hide our Belgian roots…those who will listen will hear Poesie Noire, The Neon Judgement, Front 242, Siglo XX, and so on, but the final song "At Night" refers to The Cure.
Having said this I'd like to add that the sound by The Arch is also an influence for us and of course we're very flattered to work with them both on stage and in the studio.
I think what makes us so special is the way we try to melt and use all these influences in a personal way.
You can't deny you hear the 80's in Der Klinke. Can we state by supposing the 80's must be the most important for you?
Yeah, somehow you can say we think the 80's are the most important decade for us. We were raised back then, the years where the world got opened in front of our eyes…on all levels.
What I miss the most is the freedom we had back then, there were lots of choices but nothing was forced.
Society didn't have the need to pamper people like it does today. Within a few years we won't be free in our own homes anymore. Everything we do or care about will be controled.
I certainly do agree that in the 80's there's been made some crap as well, but if I turn on the radio today I definitely got the feeling that the bad things from now weren't even thinkable back then.
What's your opinion about this new 80's-revival?
It's more than just some revival I think. The scene that got founded at the end of the 70's found its inspiration in the decline of the political and economic situation back then.
Lots of people on the dole, no future, cold war, fear for nuclear power, economical crisis and the doom idea that in 1984 the world would come to an end.
All those aspects are suddenly back in 2012, even more intense as they were back then, so it's kind of logic that this situation is the breeding ground for artistic expressions and music that is similar to the 80's.
Today there are more possibilities and ways to make music but at the same time less freedom as everything's been done before. Having said that I truly do hope that it also involves a comeback from the common sense as our world today is in desperate need of that.
There's certainly a difference between Der Klinke on record and Der Klinke on stage. Are that two separate things?
Yes and no, both studio and live are typical Der Klinke. The biggest fun a band can have is the pleasure to be on stage, standing close to your audience and creating an immense atmosphere is the best experience a band can get.
When we started two years ago, we were wondering how we should perform this on stage. We have an enormous respect for bands like :Wumpscut as they never want to do liveshows. They think they can't play live without being dependent from a backingtrack.
We already have seen gigs from bands that use cd's or similar as backingtrack on stage and then all of a sudden those cd's start having a life of their own…something like that must be horrible when you're standing there!
On stage we're different, rawer and we think it's quite an experience to see us.
Anything planned for the future outside Belgium (gigs)?
Our cd came a bit too late on the market to get noticed by the festivalorganisers. We are invited at the Gothik Messe in Köln on the 8th of May and you can even find us at the famous M'era Luna Festival, our label is presented there and we do some signing sessions, meet & greets and interviews over there.
But for 2012 we have quite a few dates planned for festivals outside Belgium, even one in Australia. We see what will come of that, but who knows the big explosion will be next year.
Soon you will be on stage in Kortrijk (Belgium), what can we expect?
Energy, passion and devotion! No doubt it will be a great gig as every gig from us is a sensation itself.
Even more, the 13thof May also involves the official release of our album so we urge people to join us on our Facebookpage, and you can bet your ass that we will make it something special.
Der Klinke can be seen on Friday 13th May along with Mildreda, Spectra*Paris and Sonar at De Kreun in Kortrijk.
Didier BECU
02/05/2011
---
Een paar maanden geleden overhandigde een enthousiaste Chesko mij tijdens The Neon Judgement zijn demo-cd en sindsdien is er veel gebeurd. Der Klinke kwam niet alleen in een stroomversnelling terecht door op Echozone te geraken maar hun naam begint ondertussen ook over ieders lippen te komen die de zwarte scène een warm hart toedraagt. Na een uiterst geslaagd optreden in Gent tijdens Rewind-Fest staan de West-Vlamingen weer met enkele sterren op het podium want samen met Mildreda, Spectra*Paris en Sonar zullen zij op vrijdag de dertiende mei het podium onveilig maken. Wat er die dag ook mag gebeuren, zullen Der Klinke in ieder geval de juiste doemklanken meebrengen….
Kun je eens uitleggen waar Der Klinke voor staat?
Der Klinke staat voor een vernieuwend geluid binnenin de wave en gothic scene, fascinerend donker, origineel maar trouw aan de eigenheid en identiteit van het genre.
Klanken die de jaren 80 vermengen met de jaren 90 tot op heden resulterend in een soort van elektronische gothic/coldwave…
Moeilijk te omschrijven, moeilijk te vergelijken maar op en top puur, eerlijk, en onversneden.
Der Klinke is wel een nieuwe groep, maar ik heb wel begrepen dat het geen nieuwe muzikanten zijn.
Inderdaad. Sam en Hazy zijn muzikanten van Red Zebra waar ook Marco hele lang tijd als roadie bij was.
Heidi heeft reeds bij enkele lokale groepjes keyboard gespeeld, en ikzelf ben ook al een tijd bezig. In de jaren 80 had ik samen met een klasgenoot een minimal synth projectje "Progress".Dirk Ivens zal het misschien heel vaag nog herinneren maar we werden toen ook gevraagd om op een compilatie te verschijnen, ik denk dat het die Expo87 lp was, maar onze nummers maakten we toen gewoon zonder voorbereiding en het nummertje dat hij wou konden we onmogelijk opnieuw tevoorschijn toveren ook omdat we tijdens de opname daarvan gewoon een radio die op BBC stond er hadden ingestoken en de stemmen daarvan is wat er op dat moment werd uitgezonden hahaha.. Nu is het natuurlijk allemaal veel professioneler waarbij onze hechte vriendschap de belangrijkste voedingsbodem is.
Toen ik voor jullie het eerst interviewde waren jullie nog volop in embryofase. Er is eigenlijk op zeer korte tijd veel gebeurd.
Echozone is daar een mooi voorbeeld van....
Hahaha embryofase.. Ja toegegeven, we zijn heel snel gegroeid maar vooral ook doordat we er zelf constant ermee bezig zijn. Der Klinke was reeds vanaf het prille begin een fulltime bedrijvigheid en we blijven onverminderd doorgaan. Ons platencontract bij Echozone is inderdaad de belangrijkste mijlpaal. Echozone is een label dat op enkele jaren tijd is uitgegroeid tot een groot label dat vooral op authentieke newwave / gothic georiënteerd is, ook Wayne Hussey van The Mission zit op ons label dus ja als een platenfirma zoals zij intresse tonen in waar je mee bezig bent is dat toch wel een ongelofelijke erkenning en sindsdien zit alles inderdaad in een stroomversnelling omdat ook vanuit hun kant veel aan promotie wordt gedaan.
Ik veronderstel dat de poort van Echozone ook internationale wegen geopend heeft. Hoe zit dat, al reacties gehad...ook de slechte geven hee!
Al vele reacties en nee nog niets negatiefs gehoord. We kunnen natuurlijk ook niet alles volgen of zien wat er over ons gezegd wordt maar wat we zelf al gelezen hebben was allemaal vrij motiverend. Onze cd wordt officieel pas op 13 mei gereleased, dus pas dan zullen we horen en lezen hoe de buitenlandse pers er tegenover staat. Niet tegenstaande de cd pas dan wordt gereleased verkopen wij deze al sinds ons optreden in de Vooruit, en de verkoop ervan overtreft nu reeds alle verwachtingen. Een internet radiostation "Black Demon Radio" was er alvast zo enthousiast over dat ze eens 3 nummers na elkaar eruit gedraaid hebben… Maar voor ons is het dus ook afwachten wat de cd internationaal zal doen vanaf 13 mei..
We gaan niet beweren dat Der Klinke de beste groep is die er rond loopt maar ik zou wel bijna durven beweren dat jullie de enige Belgen zijn die rondlopen dit dit soort gothwave maken.
Bedankt voor dit compliment !! Ja, anno 2011 kan je misschien wel gelijk hebben, jij hebt in de cd bespreking terecht verwezen naar Poesie Noire. Onze Belgische roots kunnen we niet verbergen… en wie goed luistert kan invloeden horen van Poesie Noire, The Neon Judgement, Front 242, Siglo XX, enz… Maar de afsluiter van de cd "At Night" is dan een nummer dat gewoon heel dicht bij The Cure heeft gelegen..
Doch wil ik er toch aan toevoegen dat we toch vinden dat wat The Arch doet ook héél dicht bij ons ligt, ook daarom dat we blij zijn om met hen veel samen te kunnen werken, zowel studio als live.
Wat ons vooral uniek maakt is hoogstwaarschijnlijk te danken aan de manier waarop we al deze invloeden op een persoonlijke manier verwerken en samenbrengen.
Als ik Der Klinke live hoor en op cd is er een verschil en ik bedoel dat niet in slechte zin. Zijn dit voor jullie twee gescheiden mediums?
Ja en nee, zowel de studio opnames als de live klank zijn eigen aan Der Klinke. Het grootste genot als groep is live te kunnen spelen, dicht bij je publiek te staan en samen een ongelofelijke sfeer creëren. Toen we twee jaar geleden begonnen was onze bedenking dan ook van hoe zullen we dit live brengen? We hebben enorm respect voor een groep als :Wumpscut: die gewoon nooit optreedt omdat ze vinden dat ze het niet 100% live kunnen brengen zonder afhankelijk te zijn van een backtrack.
We hebben enkele groepen gezien die zo met cd's en dergelijke werken en enkele van die optredens gezien waarbij de cd plots een eigen leven begint te leiden.. dat moet sterven zijn als je dan op het podium staat. Wij willen ons kunnen uitleven op een podium en van niets anders dan elkaar afhankelijk zijn, en vanuit dit standpunt hebben we gewerkt om live iets te creëren dat even boeiend is als wat je op cd hoort. Het is dan ook echt live, anders, ruwer, waardoor het ook een ervaring is ons live aan het werk te zien
Zit er op dat vlak (live) ook iets in voor jullie in het buitenland?
Onze cd is net wat te laat verschenen om nog dit jaar de buitenlandse festivals te kunnen meepikken. Wel zijn we uitgenodigd op de Gothik Messe in Keulen op 8 mei en zelfs op het befaamde M'era Luna Festival waar we bij de labelstand op geregelde tijdstippen signeersessies, meet & greets, interviews en dergelijke zullen doen.
Ook hebben we al een agenda vol met internationale festivals die ons gevraagd hebben hen terug te mailen later dit jaar met het oog op 2012, er zit zelfs ene bij van Australië. Dus ja, we zien wel wat er allemaal concreet zal van komen maar het zou dus best wel kunnen dat volgend jaar de boel helemaal los zal komen
Als ik jullie hoor dan hoor ik ontegensprekelijk dat jullie kinderen van de jaren '80 zijn. Ik moet jullie niet vragen of jullie dit decennium als het belangrijkste beschouwen, niet?
Ja, ergens was dit voor ons inderdaad wel het belangrijkste decennium.. opgegroeid zijnde in de jaren 80 waren dit de jaren dat de wereld voor je open kwam hé.... op alle vlak eigenlijk.
Wat ik er nu vooral aan mis is de vrijheid die je toen had, er waren tal van keuze's maar niets werd opgedrongen, de maatschappij had geen behoefte mensen te bepamperen zoals nu, binnen hier en enkele jaren zijn we zelfs in onze eigen woonst niet meer vrij in ons doen en laten als het zo blijft doorgaan.
Muzikaal gezien is er in de jaren 80 ontegensprekelijk ook veel slechte muziek gemaakt maar wat we de dag van vandaag hele dagen moeten aanhoren op de radio getuigt van een slechte smaak die toen zelfs niet denkbaar was hahaha…..
Wat vind je trouwens van die huidige 80's-revelatie?
Eigenlijk moet je dit ruimer zien.. De hele scène is ontstaan eind jaren 70 begin jaren 80 mede door het politiek-economische klimaat dat er toen heerste… hoge werkloosheid, onzekere toekomstperspectieven, koude oorlog, vrees voor kerncentrales, economische crisis, doomscenario's dat in 1984 de wereld zou vergaan…. Net zoals we nu diezelfde doomscenario's hebben met betrekking tot het jaar 2012, en al die elementen zijn er nu volledig terug, maar zelfs nog heviger en intenser dan toen, dus is het ergens vanzelfsprekend dat uit zo'n sterk gelijkende voedingsbodem sterk gelijkende artistieke expressies, en muziek terug naar boven komt..
We hebben nu meer mogelijkheden en middelen om muziek te maken maar tegelijkertijd ook minder vrijheid want veel is al reeds gedaan.
Nu, ik moet wel beamen dat er idd een enorme 80's-Revelatie op til is tot zelfs de terugkeer van de Rubiks Kubus, de Commodore 64, terugkeer van de cassettes, zolang de geföhnde haartooien maar niet terugkeren ben ik een gelukkig man hahaha maar nee serieus, moest de huidige 80"s revelatie ook een revelatie van het gezond verstand op wereldvlak inhouden zou het pas echt allemaal terug goed kunnen komen.. want wat er tegenwoordig op onze aardbol gebeurt is allesbehalve hoopgevend…
Binnenkort staan jullie in Kortrijk, wat mogen we verwachten?
Energie, Passie, en devotie!
Het optreden is op 13 mei uitgerekend de officiële releasedatum van de cd, dus mag je er zeker van zijn dat we er iets bijzonders van zullen maken !
Der Klinke speelt samen met Mildreda, Spectra*Paris en Sonar in de Kortrijkse Kreun op vrijdag 13 mei.
Didier BECU
02/05/2011
---