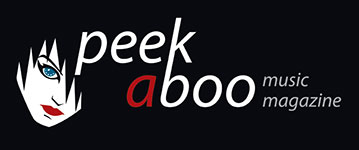 like this interview
---
DER PRAGER HANDGRIFF
Only football can pose a threat to the persistence of DER PRAGER HANDGRIFF.
17/09/2013, Jurgen VANVLASSELAER
---
DER PRAGER HANDGRIFF were one of the bigger names of the German EBM scene in the 90's. Deutschland?, Bilder Meiner Angst, Arbeit Sport Und Spiel to name but a few, were dancefloor hits in the better alternative clubs. With a new album in the pipeline we thought it was a good idea to have a talk with the always very friendly football crazy duo:
Welcome guys. DER PRAGER HANDGRIFF saw the light of day in 1990. How did it all start? How did you meet each other?
We knew each other from school. In the 2nd half of the 80's we listened to the same kind of music and went to concerts of the same bands. During a project week at our school in 1986 we played in a schoolband. Stefan played the drums and Volker played keyboards. There we met a guitar player and singer/bass player. Together we formed a band. Mostly we argued about the style of our music. Because of that, the band split in 1989 after three years of struggling. At that point we decided to continue on our own, using synths and sequencers. Stefan stopped drumming, started to sing and DER PRAGER HANDGRIFF was born.
Were you in other projects before DER PRAGER HANDGRIFF?
In 1986 we formed a new wave band with an unpronounceable Russian name and a classic line up (guitar, bass, drums, keys), which included up to five persons. We played some Joy Division and Sisters Of Mercy covers. Furthermore we tried to write our own songs. We only did a few gigs around our hometown.
Who came up with the bandname and what does it refer to?
When we started in 1990 we were looking for a name for our project. We found it in a medical dictionary. Prager Handgriff is a special medical term. It's the German translation for the so called Prague Maneuver. A method for delivering a fetus in breech position, in which the infant's shoulders are grasped from below by one hand while the other hand supports the legs.
What and who were your biggest influences when you started?
That is a really difficult question. It would take too much time and space to give a serious answer. We can only give a few examples. First of all, there's the unique metropolitan scenery of the Ruhr Area which is characterized by lots of huge and old industrial buildings. In addition to that, actual social and political problems of the German society have often been a reason for us to write a song about. And finally we're also very interested in German literature, especially of the 19th and 20th century. And so on and so on. Our early musical influences included of course British New Wave (e.g. Joy Division and New Order), but also Front 242 and German punk music.
Your debutalbum, Arglistige Täuschung, was released as DER PRAGER HANDGRIFF. The next releases were released as PRAGER HANDGRIFF. Why did you get rid of 'Der'?
Well, to be perfectly honest, we actually do not know. It has just gotten lost on our long way.
That debutalbum was re-released a few years ago on Infacted Recordings in the Classixx Collection series, including a few extra tracks. Were you surprised when Torben (Schmidt) contacted you for this?
Of course we were pleased about that. During the years, we've been asked about this album frequently by a lot of fans who wanted to buy it. We always had to disappoint them, because it was sold out for nearly 20 years. We already knew Torben from the early 90's, when he organized some concerts. We met him again at a festival in Budapest in 2011. Then things started to happen very fast.
Nearly all your lyrics are written in German. Was it clear from the beginning you were going to choose the German language?
In the beginning we primarily used English lyrics, because most of the records we listened to at that time featured English lyrics. But in our opinion the sound of the German language goes well with the kind of music we make. Thus one of our first lyrics (Baskerville) was written in German.
When we started to play live, we realised how ridiculous it is to sing lyrics in a foreign language. Our first gigs were in Germany. At these gigs Stefan had to sing in a foreign language in front of a German audience. Before we went on stage we spoke our mother tongue and we also spoke our mother tongue when we left the stage again. Only a few minutes in between Stefan had to sing in a foreign language. That's what we call ridiculous.
Deutschland? can be considered as the most popular PRAGER HANDGRIFF track. It's a great track for sure, but I always thought you had much better tracks: Bilder Meiner Angst - Arbeit Sport Und Spiel - Traumsequenz, to name but a few. What are your favourite tracks and why?
We cannot really answer this question. We think it would be better if our audience decided this. But we can say that we only play our favourite songs live. So you will always find our favourite songs on our latest setlist.
Deutschland? was a political statement, an anti-fascist track. Did you ever get any negative reactions about it?
Surprisingly, we did not get any negative reaction in our face. But because of the fact we've always freely voiced our opinion and mostly in a political way, some parts of the so called gothic or EBM scene had no use for us and simply ignored us.
Stefan, you did guestvocals on Rostock, a track by PP?. Also an anti-fascist song. An important issue for you?
I know Mark "D" Chicken from PP? because he was a friend of the owner of the first record company we signed with, called Gothic Arts Records. I met him at some concerts in the East-Westphalia region and he asked me if I wanted to support them on their song Rostock. So I did! I also accompanied them at a live gig in Belgium ('t Syndroom - St.-Niklaas - 1995). I remember that they got into trouble on their return journey at Dutch customs because of the way they looked and their more than strange VW bus. It was quite funny...
You also have an excellent sense of humour. The cover of Samantha Fox' classic Touch Me is proof of that. Is that the only cover you've made? Did you ever get any reaction from her?
Unfortunately we did not get any reaction from Sam Fox. But it ain't over till the fat lady sings.
We've played several other covers, especially live, e.g. The Killing Moon (Echo & the Bunnymen), Nazis raus (Slime), Love will tear us apart (Joy Division), Temple of Love (Sisters of Mercy) and Blue Monday (New Order).
I've had the privilege to visit a few PRAGER HANDGRIFF gigs here in Belgium. I think you played here about 4 to 5 times. I remember Volker wearing a Marc Wilmots (who played for Schalke 04 in those days) footballshirt at a gig in Bruges. Any Belgian anecdotes you want to share with us?
We are so sorry, but because of your great Belgian beer, we only have hazy memories about our six gigs in Belgium. :-)
Which brings us to football! I know you are both big football supporters. Volker supports Schalke 04, Stefan is a Borussia Mönchengladbach supporter. This must result in some great discussions in the PRAGER HANDGRIFF headquarters.
According to Bill Shankly, football's not a matter of life and death... it's more important than that. Only football can pose a threat to the persistence of DER PRAGER HANDGRIFF, especially on those two days a year when Schalke 04 plays Borussia Mönchengladbach in the German Bundesliga.
Apart from that, we usually have more interesting subjects for conversation.
What do you expect from your team this year? Winning the title is probably too difficult, but European football must be doable I think.
Volker: At the end of the football season 2013-2014, Schalke 04 will be among the top three teams in Germany and will play in the Champions League again next year. Beyond this, Schalke also qualified for the Champions League this year. If they pass the group stage they might be able to reach the quarter or semifinal.
Stefan: Borussia Mönchengladbach has played 4 games now and I was very surprised about the really great offensive play, especially by the new players Kruse and Raffael. If they are able to confirm this increased performance in the next games, I think they will obtain a qualification for next years European competition.
Your latest album Arbeit Sport Und Spiel was released in 2011. Can we expect a new album in the near future?
We already finished the composing and we've got enough new songs to fill an album. We just have to write the lyrics. We hope that we can start recording by the end of the year and release the album next year.
It's nice to see you that you are still performing here and there. Any plans for a Belgian gig?
So far we have no concrete plans for any shows in Belgium. But we always enjoyed performing gigs in Belgium, so we are ready for anything!
(Ed.:Two weeks after this interview was published DER PRAGER HANDGRIFF confirmed a gig in Belgium.The 8th of march 2014,they will be one of the guests at the Porta Nigra festival in Aarschot).
In 2015 DER PRAGER HANDGRIFF will exist 25 years. Do you have anything special planned to celebrate this anniversary?
That depends on the time we need to finish the recordings for the new album. If there is enough time left, we would like to do some special live shows next year.
Final word?
Im Rhythmus bleiben!
Thank you very much for the great answers.See you in march at the Porta Nigra festival!
https://www.facebook.com/pages/Der-Prager-Handgriff-official/181343715238099
Jurgen VANVLASSELAER
17/09/2013
---