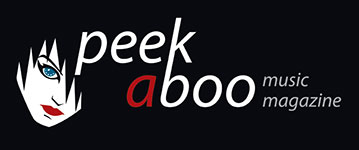 like this interview
---
DJ WILDHONEY
Nobody I ever met is more rock 'n roll than Al Jourgensen.
10/05/2014, Jurgen VANVLASSELAER
photos: © Marquis(pi)X
---
DJ Wildhoney is a man of many talents. DJ, musician, journalist, photographer etc... it can all be found on his curriculum vitae. We had a nice little chat with the ever so friendly Belgian:
Welcome Filip. Can you remember the first time that music really moved you? When did you realise that music was something special for you?
Since I was a kid I had a good feeling for rhythm. Together with friends we used to play songs from Kiss in the garage of my parents and I was drumming on such typical eighties round cardboard boxes, used for washing powder. Throughout my whole life I experienced that music is a very strong medium which can upload me and give me inner-power because it opens certain chakra's. On parties and concerts it has to be played loud so it can overwhelm you and take you away.
Which artist or which event made you decide to make music yourself?
I think it was a general combination of seeing artists perform for the first time live, enjoying the atmosphere at festivals and discovering great new songs via radio, parties or nowadays internet.
One of your first projects was called Responsa Trepida, a one man project that was very influenced by Poupée Fabrikk , Cat Rapes Dog etc. I even saw you live with that project somewhere in the early – mid 90's in a park in Tienen :-) . How do you look back on that project / those days?
Responsa Trepida (latin for "nervous answers") was a very experimental project. At that time I was widening my musical spectrum and borders and I was no longer only interested in pure electronic music like for example EBM. I also started making samples of metal guitar-riffs, some of them were played by a friend of mine. In the end I played during my live sets a mixture of EBM, gothic and crossover songs because I couldn't choose anymore what I preferred most.
In the meantime you are involved in several musical projects / activities, going from percussionist in RevCo World to writer for Side-Line magazine to being the social media manager for Die Krupps and Oomph!. Can you give us a little overview?
In 1993 I started playing parties as a DJ and organiser, first local and regional, later national and also outside Belgium. In 1994 I started Responsa Trepida which didn't last long because I decided to concentrate myself more on my activities as teacher of traditional Japanese martial arts. In 2007 I joined the Side-Line staff, first as a cd-reviewer, later I also started to make interviews and writing news. Before this period I already was cd-reviewer for the Belgian MindView magazine. In 2007 I also started to do the social media for long-time friends Oomph!. In 2009 I joined RevCo World, doing percussion and backing-vocals, with long-time town-mate Luc Van Acker. We did support for DAF, KMFDM, Killing Joke, …. From 2011-2012 I was part of the German band minusheart. In 2012 I became resident-DJ in a club in Aachen (DE) and I started my photography project dark.edge photography (concerts,...). Since 2013 I am (together with DJ Stellarator) hosting the weekly radio-program switchbLack on Radio Scorpio in Leuven (BE). End 2013 I also started to do the social media for Die Krupps. I am a busy bee, I know!
From all these projects / activities, what's the most fun thing to do? And why?
They're all fun because they all have the same purpose: to entertain people and give them a good time in this fucked up society! I enjoyed a lot playing DJ-sets in Berlin and Hamburg as well as in Moscow. And the gig I did with RevCo World on the RECession Festival (DK) was for me the best one ever! The last years I also enjoy photography more and more. I also like to make promotion for bands in all ways (Tying Tiffany, Doganov,...) and to see positive results coming out!
As already being mentioned , you write for one of the largest, maybe even 'the' largest electro-industrial magazine in the scene: Side-Line. How did you end up with them?
Side-Line staff member Stephane Froidcoeur (Deranged Psyche) lived in the same town as me and we already knew each other for a long time. In 2007 I asked him if he maybe still needed someone to make reviews. Like this it all started.
You have interviewed several bands, reviewed so many albums. Can you remember your first interview? How did that go?
My first "big" interview for Side-Line Magazine was with Jurgen Engler (Die Krupps) in 2008. It was not so difficult because it was all done via e-mail. Years before I made interviews, for MindView Magazine, with bands as Oomph!, Love Like Blood and Lacrimosa via phone. And One I did when we met in Belgium, via old-school tape-recorder.
These days we have email, but in those days it was interviewing by snailmail, phone or face to face before a gig or so. Good old times, or do I look back on it too romantically?
It was much more work, definitely! You had to make sure you could still recognize what the person was saying afterwards, write everything out and make sure you could pay the telephone-bill afterwards, haha! When communicating via e-mail you are more distant from a person. If you hear the person's voice and see his face you can immediately understand his point better and you can ask deeper questions about the same subject. Years ago I was also communicating, as a fan, with a lot of bands via snailmail. I still have those melancholic handwritten letters of bands as KMFDM, Love Like Blood, Clawfinger, The Gathering, OOMPH!, Life Of Agony, Gorefest, …
Maybe a question you don't want to answer, but from all the people you interviewed for Side-Line, who made the biggest impression on you and who was the biggest disappointment?
In general, it's cool to see that artists are also just people like you and me who want to make a good living from their music. So most artists/bands are ok. The last years I find that Steve Naghavi (And One) started to have a bit problems with stardom. Andrew Eldritch (The Sisters Of Mercy) is still by far the king of boycotting the press in all possible ways, haha, and Tying Tiffany is the most stylish girl in this scene! I was pleasantly surprised when I met for example Monte Pittman backstage, after a concert of Prong. He was really a very nice and friendly down-to-earth guy although he is also the guitar-teacher and -player of Madonna! Ministry drummer Aaron Rossi also gets a lot of respect from me. Once he let me follow a Ministry concert from the side of the stage on a few meters from him. And the belated Mike Scaccia from Ministry was really very cool and down to earth.
Did you ever refuse to review or interview a band, because of their political ideas for instance?
So far, no. But I would like to mention the fact that I don't understand why bands like to flirt and provocate so much with certain ideologies. If they would have been a victim for example of the Nazi regime in WWII themselves, I think they would speak a bit different now. I had family who were taken prisoner during WWII and were taken to concentration-camps in Germany, so I know well what I am speaking about. Years ago, the new-wave scene was by definition left-wing, something we can not say anymore nowadays.
I know you are a big Ministry / Al Jourgensen fan. And I know you have met him a few times. How "rock'n roll" is he for real?
Nobody I ever met is more rock 'n roll than Al Jourgensen, point! He really doesn't give a fuck about what people think of him and does his own thing! He's also a musical genius and although he recently was in rehab for his alcohol problem, I still hope he will stay around for a long time. If you read his book "Ministry: The Lost Gospels according to Al Jourgensen" or watch the tour-DVD's you will fall from one surprise into another. That man breathes rock 'n roll and is a grandmaster of sarcasm … A lot of bands who claim they are rock 'n roll are just peanuts compared to him!
You are a known DJ in the scene as well, playing regularly on Belgian parties / festivals and even abroad a few times. Where does your DJ name come from?
It's the name of an album of the Swedish doom/gothic-metal band Tiamat. It also defines perfect who I am: wild and sweet! :D
You've seen that scene evolving as well. Going from playing vinyl records to CD's to mp3's. What do you prefer?
I prefer CD's most. I like to see artwork from artists in my hand and to have something touchable from them. All this mp3 stuff and the "downloading for free" era we live in is one very sad story. It seems the industry "forgot" that everything that's digital can be copied and nothing can be 100% secured. I am also very allergic to any DJ in any scene who likes to overact when doing his thing, that's also something very remarkable the last years. The only thing that needs to be done is play music, not extremely turning on buttons or trying to mix stuff in a bad way or even faking that you're mixing because it was all pre-recorded. It are the artists who are played who are the real stars! And I also dislike very much the principle of always letting the same people be guest-DJ on parties. There are enough people in this scene who have a broad knowledge of music (which is wider than "Alice" or "Temple Of Love", haha).
Is there a certain track that always will be in your setlist?
Well, there are many:
Crash Course In Science - Flying Turns
Die Form - Sex By Force
Dance Or Die - Fire
Simple Minds - I Travel
Tiamat - The Ar
X-Mal Deutschland - Hand In Hand
David Bowie - Ashes To Ashes
… and everything of Ministry, Die Krupps, The Sisters Of Mercy, Christian Death (Rozz), OOMPH!, Prong, System Of A Down, Pixies, Cat Rapes Dog, KMFDM, Depeche Mode, Goose, Miserylab, Berurier Noir, White Zombie, …
What's on the agenda of DJ Wildhoney the next following weeks / months?
Every Thursday from 19:00-20:00h: switchbLack on Radio Scorpio
27 July: photographer for Die Krupps on Amphi Festival (Cologne-GER)
10 August: photographer for Die Krupps on M'Era Luna Festival (Hildesheim-GER)
September: DJ @ Fresh From The Grave (Ghent-BE)
8 November: DJ @ Dubhfest afterparty (Poperinge-BE)
more dates need to be confirmed
Final word?
I would be thankful if all readers would like the following pages on facebook:
www.facebook.com/switchblackradio
www.facebook.com/dark.edge.ART
Thank you very much for your answers and all the best with everything you do!
Jurgen VANVLASSELAER
10/05/2014
---