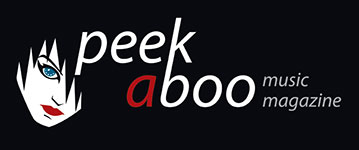 like this interview
---
DRACONIAN
We wanted Heike to be a part of the creative process, and so we wrote the vocals together.
28/10/2015, Wim GUILLEMYN
---
Draconian is a band with great releases, and its latest Sovran is again a fantastic new album. It is the first CD with the new vocalist Heike (who replaces Lisa Johansson), who sings with a lot of melancholy and emotions. An album that certainly shall have a place in my top ten of this year. Peek-A-Boo talked with Anders Jacobsson.

Your new record sounds sublime and the artwork is nice. Who's responsible for it?
It's done by the Romanian artist Costin Chioreanu, who has become famous for doing artwork for other bands and his art fits well with the name of the album and our music.

Does the drawing have a special meaning?
Well, we came with an idea for the album cover, mine and Heike's. Costin did it even better than what we hoped for. There's an idea behind the drwing: the eyes stand for the great conscience, the connection with the universe and the trees, the stars and the sky, all the things above us, you know. And Sovran means royalty or the king and that's what can be discovered on the album. So, it has nothing to do with an ego, we're just a part of everything else. And Sovran stands at the top of it, so there can only be one Sovran. I love the connection with the universe.

It fits good with the lyrics.
It's sometimes very frustrating to do your thing in a human body. We all try the best we can with our human experience: you use the frustration, the confusion, the experience in your life and you use it to construct your art.

It's the first album with Heike. She does very well, she sings with lots of melancholy in her voice. In a slightly different way than Lisa, but with more depths. The alternation between you and Heike fits very well. Did you approach the songs differently now that Heike joined?
Not really, because the most ideas were already done, but we wrote most vocal parts together. We wanted Heike to take part in the process, and not only as a singer. She has her own views and ideas and the range of her voice. So I'm very grateful with Heike. And I agree with you that Heike's voice has a lot of quality, she's got melancholy and depth in her voice. Lisa has a beautiful voice as well, but it's different, more old school. Heike's voice has more honesty, purity and there is a kind of innocence that connects well with the darkness of our sound.

I like the grunt patterns, because they are different and more nuanced than those of most bands, that only use them to express rage and despair.
That' s because I use my throat as much as my stomach, while others uses their stomach only. I sound a bit like we did in the 90s, I suppose. That's what people keep telling us.

How are Draconian songs being composed?
Well, we are six people, usually Johan the guitarist comes up with an idea and I listen to it to, and start searching for the right lyrics and vocals. Sometimes, I already have an idea and sometimes I create it together with Johan. So ,when we have a finished idea, we go to the studio and try it out to see if it works. If we're both happy with it, we arrange it and finish the song. When we start to rehearse, we always start to change things. That's the way I prefer to work, but these days our lives have changed. Everyone has his own life now and we all live in different places.

For Rivers Between Us you appealed to Daniël? Did you know him already?
Heike knew Daniël slightly before she moved here and we know him from other projects, like the more industrial Hearts Of Black Science. And Heike made once a guest appearance with this band. When she moved here, I wanted to know more about him and I discovered he was also the vocalist of Crippled Black Phoenix. So, I thought it would be nice if we could do a song together. He was happy with the idea. He also appeared on stage with us to perform the song, which was great. It was at a festival in Holland. Maybe he will do it again in the future. We will see, I don' t know. I 'm just happy that people love the song because it's a little different from the other ones on the album.

Dishearten sounds very atmospheric.
Yes, that's true, a more modern song and Heike wrote the lyrics by herself.

Dusk Marinier has some folk elements, even a bit like Big Country, but in a Draconian way.
That's new for me, but we all hear different things and that's interesting. I think it has very strong melodies along with the effects on the vocals and all that...

Which songs do well on stage?
We only rehearsed three songs so far: Dishearten, Heavy Lies The Crown and Rivers Between Us. We're now going to rehearse Pale Tortured Blue and Stellar Tombs, but in fact we try the whole album to see what works or not. So far, Heavy Lies The Crown is the strongest song live...

It is a powerful song, just like Stellar Tombs and No Lonelier Star.
Yeach No Lonelier Star and Stellar Tombs are heavy, dark tracks with catchy vocal parts of Heike in it. A sort of Within Temptation part you could say. It has a lot of depts. I like the anthem of that song very much.

I also saw that there was a version with Lisa Cuthbert on a gig in London when Heike had some visum problems.
Well, as we had to cancel the show for a second time, we were looking for another solution. And Lisa Cuthbert did a very good job after just rehearsing a couple of days! That was super. She did not try to imitate Heike, but she tried to sing in her own style, which was better than imitate someone.

Otherwise it would have become a sort of soundmix.
Exactly, and that wouldn't be cool for Lisa either.

It's an album you can listen to many times…
I' ve already heard it so many times that I can barely listen to it. I love to play the songs live, but listening to the record is hard: as in my case I listen to the production, or things that were difficult and so on…

Was it difficult to produce? It has a superb sound and many layers…
Just like the two previous album, we worked with the same producers for the mixing and the recording of the vocals. Fascination Street (the same studio of Paradise Lost, Anathema and so many great bands) made such a big difference for us because they really take their time and they're perfectionists. Since we have the budget for it, we work with them. I had problems with my voice in the studio. Well, it had been a while since I used my voice. I had pushed myself that much that I had some problems. If I would record it now, it probably would sound better. But now we're on the road and we are doing some shows and my voice is more trained. But in the studio, it wasn't easy, but we managed and that's all that matters.

It has some gothic influences too, with very much variation, but still it sounds like a consistent record…
I understand what you mean, and I'm glad you say it because I wouldn't know it. It's hard to judge your own music. I 'm not objective. At this point I don't even know what is good or bad on the album.

At which venues will you be playing?
We just played our last show this year, but we're working on a tour and some other venues, but I can 't say much about it, because nothing's sure yet. But normally you can expect us being on tour next year. Even in Israel and Ukraine, so we'll play a lot next year.

We are looking forward to it, thanks for your time.
Wim GUILLEMYN
28/10/2015
---
Draconian is een dark/doom metalband die al heel wat mooie releases heeft uitgebracht en zijn nieuwste Sovran is wederom een fantastische plaat, en de eerste met de nieuwe zangeres Heike (die Lisa Johansson vervangt).. Een album dat zeker een plaats in mijn top tien van dit jaar zal krijgen. Tijd dus om een ​​praatje met Anders Jacobsson te maken.
Ik luisterde dit weekend naar jullie nieuwe plaat, ze klinkt subliem, het nieuwe artwork is mooi. Wie is daar verantwoordelijk voor?
Het is het werk van de Roemeneense kunstenaar Costin Chioreanu. Hij is de laatste jaren beroemd geworden met zijn artwork voor andere bands en zijn werk past goed bij de naam en de muziek van dit album.
Heeft de titel een speciale betekenis?
Eigenlijk was het mijn en Heikes idee. We huurden Costin in en hij deed het beter dan we hoopten. Er zit wel degelijk een idee achter: de ogen staan voor het grote geweten, de verbinding met het universum en de bomen, de sterren en de hemel, de dingen die boven ons aanwezig zijn. En Sovran betekent koning. Het is geen ego, we zijn gewoon een deel van alles. En Sovran staat aan de top van dat hogere, dus er kan maar één Sovran zijn.
Nou, het past goed met de teksten!
Het is soms erg frustrerend om je ding te doen in een menselijk lichaam. We proberen allemaal om ons best te doen met onze menselijke ervaringen: de frustratie, de verwarring, de ervaring die je in je leven gebruikt en hoe je die tot kunst verwerkt. Dit soort muziek is erg handig om er dit soort zaken mee uit te drukken.

Het is het eerste album met Heike. Ze doet dat heel goed en zingt met een veel weemoed in haar stem. Op een iets andere manier dan Lisa, maar met meer diepte in de stem. De afwisseling tussen Anders en Heike past heel goed. Heb je de nummers op een verschillende manier benaderd nu Heike erbij is?
Niet echt, want we hadden het grootste deel van de nummers al klaar. Maar de meeste zangpartijen schreven we samen met Heike. We wilden dat ze ook een deel zou uitmaken van het album. Ze heeft haar eigen standpunten en ideeën, alsook haar eigen stembereik. We wilden dat ze iets van zichzelf in de plaat kon stoppen. Wat ze zeker heeft gedaan. Dus ik ben erg blij met Heike. En ik ben het met je eens dat ze kwaliteit, melancholie en diepgang in haar stem heeft. Lisa heeft ook een prachtige stem, maar anders, zij is meer old school. Heikes stem heeft meer eerlijkheid, zuiverheid en een soort van onschuld. En het klopt ook met mijn manier van zingen. Ik hou van de dualiteit tussen onze stemmen.

Ik hou enorm van de manier waarop je grunt, omdat het iets anders en genuanceerder is dan bij de meeste bands van tegenwoordig die dat alleen maar doen om woede en wanhoop te uiten.
Dat komt omdat ik mijn keel evenveel als mijn maag gebruik, terwijl anderen vooral hun buik gebruiken. Het klinkt een beetje zoals wij in de jaren negentig deden. Dat is wat mensen ons toch vertellen.
Hoe ontstaan de songs bij Draconian?
Nou, we zijn met zes mensen, maar meestal komt Johan de gitarist met een idee en ik luister ernaar om daarna naar de juiste teksten en zanglijn te zoeken. Dus als we een afgewerkt idee hebben, gaan we naar de studio en proberen we het uit om te zien of het werkt of niet. Als iedereen er blij mee is, dan werken we het nummer af. Als we beginnen te repeteren, veranderen we nog wat dingen. Vroeger kwamen we telkens opnieuw bij elkaar om eraan te werken, te repeteren en de nummers nadien weer op te nemen. Dat is de manier van werken die ik zelf verkies, maar tegenwoordig hebben we allemaal een gezin en wonen we ver van elkaar. De muziek maken we tegenwoordig meestal apart en daarna zitten we samen met Johan om ze af te werken.
Op het nummer Rivers Between Us werk je met Daniël? Hoe gebeurde dat? Kende je hem al?
Heike kende Daniël al een beetje voordat ze naar hier verhuisde en we kennen hem van zijn andere projecten, zoals de meer industriële band Hearts Of Black Science. Heike deed eens een gastoptreden voor hen. Toen ze naar hier verhuisde, wilde ik er meer over weten en ik ontdekte dat hij ook de zanger van Crippled Black Phoenix is. Ik dacht dat het leuk zou zijn om samen een nummer te doen. Hij was opgetogen met het idee en nu zien we hem meer. Hij verscheen ook al met ons op het podium. Dat was geweldig. Het was op een festival in Nederland.. Misschien doet hij dat nog wel eens! We zullen zien, ik weet het niet. Nu ben ik gewoon blij dat de mensen van het nummer houden, want het is een beetje anders dan de rest van het album.
Dishearten is erg sfeervol.
Ja, dat is waar, een meer moderne zang en Heike schreef de volledige tekst zelf.

Dusk Marinier bevat wat folkelementen, zelfs een beetje zoals bij Big Country, maar dan op een Draconian manier.
Dat is iets nieuw, maar we horen allemaal verschillende dingen en dat is interessant. Ik denk dat het zeer sterke melodieën bevat en dat samen met de effecten op de zang.
Welke nummers doen het live goed?
We hebben nog maar drie nummers gerepeteerd: Dishearten, Heavy Lies The Crown en Rivers Between Us. We gaan nu nog Pale Blue Torture en Stellar Tombs repeteren, maar doen het hele album om te weten wat er live zal werken en wat niet. Heavy Lies The Crown is tot dusver de krachtigste track live.

Ja, het is inderdaad een krachtig lied, net als Stellar Tombs en No Lonelier Star.
No Lonelier Star is een zware en donkere song met meer catchy zangpartijen van Heike. Een soort van Within Temptation zou je kunnen zeggen. Het heeft veel diepgang en Ik hou van het thema..
Ik zag ook een versie met Lisa Cuthbert tijdens een optreden in Londen toen Heike visumproblemen had.
Wel, we moesten voor de tweede keer de show annuleren ofwel op zoek gaan naar een andere oplossing. En Lisa Cuthbert heeft een zeer goede invalsbeurt gedaan en dat na slechts enkele dagen te hebben gerepeteerd. Dat was super. Ze heeft Heike niet geïmiteerd, maar met haar eigen stijl gezongen.
Zodat het geen Soundmix Show wordt...
Precies en dat zou niet cool geweest zijn voor Lisa...
Het is ook een album waar je veel naar kan blijven luisteren.
Ik heb het al zoveel gehoord dat ik er nauwelijks nog naar kan luisteren. Ik ben er dol op om de liedjes live te spelen, maar luisteren is moeilijk: je luistert naar de productie, naar de dingen die moeilijk waren en zo verder...

Was het moeilijk om te produceren? De plaat heeft een uitstekende geluidskwaliteit en ook vele lagen...
Sinds de twee vorige albums hebben we met dezelfde producenten gewerkt. Fascination Street (dezelfde studio waar bands als Paradise Lost, Anathema en verschillende grote bands werken) maakte zo'n groot verschil voor ons, omdat ze echt hun tijd nemen en ze zijn perfectionistisch. Aangezien we het budget ervoor hadden, hebben wij met hen gewerkt. Het is meer werk, maar het is het waard. Ik had stemproblemen in de studio. Nou, het was alweer een tijdje geleden dat ik mijn stem zo intensief had gebruikt. Ik had te veel van mijn stem verlangd en dat gaf problemen. Mocht ik alles nu opnemen, dan zou het waarschijnlijk beter klinken. Maar nu zijn we op tournee en mijn stem is alweer beter getraind. Maar in de studio was het niet gemakkelijk, maar we zijn erin geslaagd en alles werd goed. Dat is wat telt.

Het album heeft een aantal gothic invloeden, met erg veel variatie, maar toch een homogeen geluid.
Ik begrijp wat je bedoelt, en ik ben blij dat je dat zegt, want als ze me erom vragen, dan ik zou het niet weten. Het is moeilijk om dat in je eigen muziek te zien. Ik ben niet echt objectief. Op dat punt kan ik niet eens zeggen wat goed of slecht is op het album.
Welke optredens komen er nog aan?
Het was ons laatste optreden dit jaar, maar we werken aan een tour en een aantal losse optredens, maar ik kan er nog niet veel over zeggen, want het is nog allemaal in de onderhandelingsfase. Maar normaliter kan je volgend jaar een tour verwachten. We gaan zelfs naar landen als Israël of Oekraïne. Dus het wordt veel spelen volgend jaar.

Ik kijk er naar uit, bedankt voor uw tijd.
Wim GUILLEMYN
28/10/2015
---