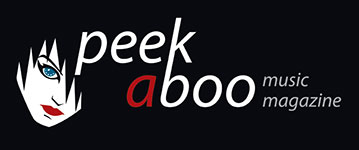 like this interview
---
DREAM AFFAIR
I don't think generally people making dark-eighties-influenced nowadays are in the same setting or state of mind as those before them.
04/07/2011, Didier BECU
---
Dream Affair, if the name sounds 80's wait till you hear the music then! Imagine coldwave guitars from The Cure, synthsounds from Clan Of Xymox, the dark mood of Asylum Party and the square root of this sum must be something like Dream Affair. Now that they've released their mighty debut on Avant! Records, Peek-A-Boo sat with them in some plane to Berlin (virtually speaking that is!)
Hello, perhaps you can start by telling who Dream Affair are?
I'm Hayden Payne, I play guitar and sing. Abby Echiverri plays synths, and Frank Deserto plays bass.
Thought it was a genius name for a band, something that only could have sprung out of the brains of someone who loves the 80's.
The name comes from an obscure new wave band Calculated X from Tennesse. They released a 12" with a song "Dream Affair".
You're described as coldwave, the moment I heard your album I thought it was definitely coldwave. How come young guys got involved with music from the past?
My father raised me up on a healthy diet of post-punk such as Sisters of Mercy and The Cure. After I was first introduced to cold wave through people at Wierd Records, I immediately dove head first into it. I had always been interested in using atmospheric guitars, synths, and drum machines together still in a "rock" setting, and that is what this music is generally!
Someone told me once that the return of the 80's and its dark sounds goes in line with the industrial and economical decline this world is in. What do you think?
I don't think generally people making dark-eighties-influenced music nowadays are in the same setting or state of mind as those before them.
Although there is all this decline, many bands are coming from affluent cities that are very expensive to live in. The struggle isn't the same as living in the dregs of Australia trying to find some cash for heroin and maybe a little food after you got out of art school with no job while listening to the Stooges.
Now, younger people influenced by their parents who grew up in the eighties' taste, can create emotional, dark music in the style.
It's my preferred way of "getting it out there" too. I'm sure there's some awesome, truly dark music from smaller cities that I haven't heard. But I want to! Now it seems like "goth" or whatever has become a fashion trend rather than a way of life or a tight knit community. Everything goes in and out of style. Remember new rave?
Hayden is also involved in Automelodi, another band that goes back to the 80's. Which band came first and are there connections?
After Xavier (of Automelodi) heard some Dream Affair songs, he wanted me to play guitar for him in the USA shows. I wanted to as well and so we started playing live together. But Automelodi has been around for a few years and so have I. My first band Void Vision was going to release on Weird, so I guess him and I were briefly labelmates.
Automelodi is on Wierd. I thought Dream Affair is also involved in those famous Wierd Nights?
Yes we have played there once before. I have also performed there in a few other bands on guitar and synth. We are playing there August 31, and all members of the band are regular DJs at the night.
Somewhere I even heard Asylum Party. Beat me to death but I can't see any connection between Asylum Party and Philadelphia, so I guess you're outsiders, not?
Yes, Asylum Party and Philadelphia have nothing to do with each other. As said before, cold wave is a somewhat recent niche for me with in the post-punk world I've dwelled in. But there was also a unique, striving post-punk/industrial scene in Philadelphia during the eighties. You had bands such as Executive Slacks, Bunnydrums, and Stickmen. They're the best!
You also got on stage with ChameleonsVox. I guess these were pretty amazing moments for you?
Playing with them was an amazing opportunity. At that time Frank was playing bass in the Chameleons. It's cool when you get a compliment from Mark Burgess, the man himself!
Your debut has been released on Avant! Records. How did you got in touch?
Mishka featured the song "Silent Story" from our 2010 EP. After Andrea from Avant! heard it, he sent us an email, and now here we are.
Andrea from Avant! told me you're on the verge of an European tour?
Yes! I'm doing this interview on the plane to Berlin now. We're playing in Berlin (even with the Snake Corps), Frankfurt, Paris, and Freiburg - all in promotion of our new record.
What's your favourite record of all time and why?
There's two answers I can give. If I was in a gloomy state of mind, I would say The Cure – Pornography. But since I'm not, my favourite of all time is Killing Joke's self-titled from 1980. It's not a punk record nor is it exactly a post-punk/art record. The commentary on the state of capatalism and society through the lyrics and music is genius. It also features one of the best rhythm sections and some of the best guitar playing ever. The production and attitude, it's all there. The influences of the record are all over the place from funk to dub to punk to metal. This record also laid the groundwork for any post-punk or industrial rock record from then on.
Who wouldn't you mind being alone with in an elevator for 8 hours and what would you do?
I wouldn't mind being stuck in the elevator with Andrew Eldricht. We would discuss the finer points of food, drink, drum machines, MIDI, and production. I would ask him if I could try on his aviators and how the new album is going.
A special message for our readers could be....
We'll send you a postcard!
Didier BECU
04/07/2011
---