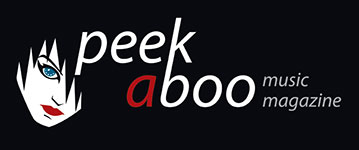 like this interview
---
EIRIKURA
'Music can be an uniting and uplifting force and very much a redemptive one for all mankind'
09/11/2017, Stef COLDHEART
---
Ēirikura is a new formation driven by two passionate artists who have been joined by an impressive number of guest musicians and singers. They have even recorded songs with children choirs. The debut album "Reflection Of A Higher Realm" released on Wrotycz Records is a deeply artistic composition, which will appeal to lovers of cinematographic, ethereal and even folk music. This album reminds us that music can be that beautiful and peaceful; that music has the power to bring people from different origins and horizons together. "Reflection Of A Higher Realm" is one of the best and most poignant releases I've heard this year. I got in touch with Aleks and Johanna.
Can you first of all tell us how Ēirikura saw the daylight and can we get some brief information about the background of the core members?
Aleks: it all started in the very beginning of 2014 when a friend of mine, the mastermind behind the project Romowe Rikoito (which I have also participated in since 2011), Glabis Niktorius, sent me a couple of poems with recitations of origin unknown to me and asked if I would like to put some of them to music. I found them very inspiring and it turned out that Glabis knew the author for almost 20 years – she is a good friend of his, Johanna Doyle, a teacher and a poetess from Ireland. I took my guitar and the first song I composed was "Annabelle Blue" – the melody literally came down from above. I contacted Johanna, sent her a draft and she liked it. It also was the starting point of our friendship.
We bounced poems, sound files, letters, ideas – the creative process took more than one year... The band name is based on a combination of two names of deities with Celtic and Prussian origins, chthonic Aerecura and Kurka, both found to have attributes similar to Proserpina.
Johanna: I believe that 'sowing of the seeds' of the project, can be traced back to 20 years ago, October 1997. I travelled to Konigsberg to teach in the city University and to live for some time, and I was very fortunate to meet and make friends with some musicians, including Romowe Rikoito and Jahrbuch für Psychoanalytik members. (It can be noted that in the thanks of the album, Andrey Zabotkin (JFP) who passed away in 2005 in Paris, is mentioned.)
Andrey Zabotkin was the inspiration for some of my poems, and the album song "Like An Outdated Pre-Raphaelite" is dedicated to him. Many years went by, and when it seems that the time had come, I sent a few of my poems with recitation to Niktorius. Niktorius contemplated the idea and suggested a project entitling it Ēirikura, broadly inferring a reference to a Goddess. It was at this stage that Niktorius introduced Aleks and myself. Then the germination of the project began - that was January 2014.
Until the first hearing of the first track that Aleks worked on - the more recent of my poems, and perhaps the least personal but the most imaginative, "Annabelle Blue" - I had no idea how the poems or lyrics would translate into music form. I was more than pleasantly surprised by the quick and eager response from Aleks and amazed at his awesome talent. Our friendship grew quickly. We met and got to discuss the project in greater detail, in Poznan, where Sunset Wings played in a festival run by the record label.
Each time Aleks sent new updated versions of the tracks, with added instruments from various musicians, each time it was like hearing my poems with new ears. Understandably, as the poems/lyrics spoken or sung aloud were new, and were something I had not shared before except with family and close friends, sharing them, discussing them, re-recording them, became an intense experience, one I would term a 'labour of love' for me.
Aleks as mentor, was a great guide to recording myself, the choir singing, and to Josephine on the Irish track "Fornocht", and he also helped me have a deeper understanding of how the spoken and sung words are heard by an audience.

Ēirikura stands for a sound with a wide range of influences, composed with multiple and mainly acoustic/authentic instruments, using different languages and finally accomplished by numerous guest musicians. Tell us a bit more about this global concept and approach?
Aleks: The languages concept was a realisation of the cultural mixture mentioned above, and everything passed quite smoothly. The album is based on the idea of nature's cycles, the resurrection of nature, of love and beauty – universal concepts – so there is not any dissonance (at least inside of me) when a neo-folk song in Prussian entitled "Wassara" ('Spring') is followed by a "Flowers" waltz in English with the inclusion of flowers' names in Gaelige and Latin. Besides, the idea was to make the process of creation limitless, as much as possible.
Dealing with music I usually find myself confined to either a range of instruments or to my abilities as a sound engineer or that of arranging songs. Sometimes I internally hear music played with a certain instrument – the most simple example, a grand piano – but I use a keyboard as a compromise. Working on Ēirikura I used a real grand piano where I supposed a grand piano should be heard, trumpets or oboe where I needed these instruments. To clarify the situation I have to say I have a very tight budget for the music I make, I have a home studio and Sunset Wings albums are recorded there, but this time I had to rent a small concert hall to record the grand piano, a studio for recording drums, trumpets and so on. I wrote scores for almost all the instruments and parts (I have no musical education, so it was like wading through the jungle for me). Johanna even surpassed my expectation: when we decided we needed a girls choir she recorded it by herself in Ireland though she never dealt with sound engineering before we started the project! It was a school choir but it worked really well for what it was intended (here I'm saying my words of gratitude to Siobhan Kennedy & Presentation Secondary School choir!)
Johanna: The concept, though initially emerging from a union of two ancient cultures, Irish and Prussian, gradually in its route to completion, expanded and broadened into a universal concept. It could no longer be tied down geographically, apart from the languages, Irish (Gaelige), Prussian and English which still give it an earthy and geographical sense of place. The contributing young voices of children's' choirs on songs "Flowers" and "Dance Into Images", recorded in Ireland, help create an ageless and timeless ambiance to the album. My poems/lyrics, are personal in some ways, yet I think people of all ages, locations and walks of life may find something with which to identify in them. Even if one doesn't understand the lyrics, especially in Irish or Prussian, it can be a delightful auditory experience nevertheless as one gets lost in the sound of the melodic old languages.
I can imagine it was not an easy thing to bring all those musicians and singers together. How did it happen and were there some guiding lines or a concept they had to keep in mind?
Aleks: Most of the musicians and singers are either my friends or people I know from my friends. I think it's a common story when musicians of a not so big town form a kind of community: when I need a specific instrument I 'put my tentacles' into this 'network' and find someone who can help me. There is no guarantee we can work together: not everyone is interested in music and the reward is rather symbolic, however, if you keep on searching it's only a question of time to arrange everything. When we start, I explain the idea of the song, but even if someone doesn't know the language he usually can comprehend the concept intuitively as it is already a part of the music, either of guitar sound or voice temper. Musicians are very clever when it comes to intuition. I'm delighted my good friends helped me to develop the ideas putting their talent into the music we were making: Evgeniy Brodsky, Ilja Levashov, Glabis and Alwārmija from Romowe Rikoito, Tanya, Viktoria, Anna Ivanova and Anja Dushkina – a part of Sunset Wings and Āustras Laīwan.
Johanna: On this side I was lucky to have Josephine here, who is a fluent Irish speaker, to record the "Fornocht"-track. Actually she was more my guide, in this song, as I was the secondary voice on the track. When I made sure my Irish pronunciation was fine with her we agreed on how the recitation should be. It is a wonderfully moving piece of poetry by an Irish patriot, and we wanted to do it justice.
For the choir I contacted a friend - a local teacher of music in a school, and she kindly agreed to allow me to record two groups of girls singing, on different occasions and for two separate tracks. "Dance Into Images" was the first track we worked on together. I met the choir group and we had a few pre-recording runs before recording them for the final versions. This group of girls were the youngest of the two groups, and they were totally excited about the whole idea; I was surprised at how much they enjoyed the experience. The second group were a few years older in age, though in the same school. They sang the song "Flowers" as a group, divided into smaller groups in harmonies, and solo. With this second choir group I also found their enthusiasm refreshing and it was a delightful experience to record them.
What have been the main difficulties you encountered when composing and recording this album and what do you think about the result right now?
Aleks: For me the main difficulty is always connected to one thing – it is hard to say to myself: 'Stop! It's ready. There is no reason for trying to improve anything, let it go'. Because you can always find something that could be improved, could sound better, could be recorded better. It's never perfect anyway – it just can't be – I am never satisfied one hundred percent with my work. But I like the end result. I was inspired working on the songs; I put all my strength into making it what it is. I've got new experience, this work helped me to find new strengths inside myself and inside the people with whom I collaborated. I grew closer to some of them. I very rarely re-listen to music after the CD is out – it lives its own life – but I've already turned on Ēirikura a couple of times since April when the album was released. It's a joy to revive these memories!
Johanna: For my part, most of the composition of the lyrics was completed in advance of the project, only then having to re-record the recitations and singing. New to the experience of recording, it was done with the help of Aleks as a guiding mentor - for some length of time it was a daily occupation, though a 'labour of love'.
I am very happy with the overall results, and think it was worth every minute of the time spent and emotional energy invested in the process. This album and the process of creation has been, as I said, a 'labour of love' in my view, as I make no financial gain whatsoever from it, rather the rewards are more about fulfillment and satisfaction with the outcome.

What is the title of the album "Reflection Of A Higher Realm" all about and what does it say about the lyrical themes of the songs?
Johanna: The song from which the line 'Reflection of a Higher Realm', is taken, is the title track, and also the last track in reprise, closing the album. It is not so easy to pin-point a clear meaning - it is nebulous to a degree - though obviously it points to attaining a state or reaching a place that is desirable, pure and natural to humankind.
The themes of the songs, are intertwined and deeply rooted in nature, the progression of the seasons, from Spring to Winter back to Spring, from birth to death, from decay to rebirth. The poems or lyrics blend well and form a unity, yet they were written at different times, and originally not with the intention of making an album. The main themes are love, uniting forces of nature, birth and death being beautiful, the ever recycling nature of existence and overcoming in life, as well as valuing what is pure and true.
Aleks: We all are people and being people we are not perfect and limited in all senses. However there is something higher, greater than we are and if we try we can see its reflections – like facets of a diamond – everywhere, in everything. We can feel a beauty of nature and harmony inside of us, inside people around, but sometimes this harmony is hidden under a shade, people turn their faces from the light and do low and even awful things forgetting their virtues. Our goal is not so high at the moment – to lift up our eyes a little and to start looking at these "Reflections Of A Higher Harmony", of inner beauty, before we come to take off sunglasses and look up to the light. That's what it all about...

You already mentioned the meeting between different cultures running through the album. That's rather a relief today in a world full of terror and growing paranoia between people from different cultures and origins. Do you think music can bring people together?
Johanna: Yes indeed, music can be a uniting and uplifting force and very much a redemptive one for all mankind. The album is non-political, yet has a strong sense of culture and its importance, as it blends well two ancient cultures, Irish and Prussian. While saying that, the majority of the tracks are in the widely understood English language, with a poem, "Oh Roses For The Flush Of Youth", selected from one of the great Pre-R poets, the sister of Dante Gabriel Rossetti, Christina, which I myself sing.
The feelings the lyrics and music harmoniously intend to bring to the listener are soothing, otherworldly, uplifting and hopefully inspiring. Personal cares and more worldly concerns e.g. lack of safety and peace, can be put aside and forgotten, and a more hopeful aspect of human nature, a way of being that is free from plight and suffering can be contemplated and felt, while listening to the music, and getting lost in the timelessness of the album.
My advice is to listen to it without any preconceived ideas. The lyrics speak for themselves. Relax, absorb the songs, enjoy the richness of the auditory experience. The album will transport you, if you give it a chance, to a place we aspire to reach, or it will at least point you in the right direction, toward a 'higher realm', that is attainable for all no matter what your culture or origins.
The truth of the matter is that art in its pure form, that which is inspired and comes from the great cosmos and that we all share in common equally, is for everyone, and though some musicians and poets and other artists have the ability to capture this deep awareness of the cosmos, in new forms – be it poems or song, it is ultimately for everyone's benefit and to enrich this world we live in, to help us 'commune' together and reach those higher realms….
We live with everyday cares from which we can't escape, totally, but we can make time for things of importance which sustain us, bring us joy and help us deal with life's upheavals. Art, music literature can help us evolve, and face a world that is not perfect, as stronger, enriched people.
Speaking for myself, I live in a beautiful part of the island of Ireland (also known as Eire). I am fortunate in being surrounded by nature, waking to birdsong each morning, hearing the wind rustling through the trees, observing the seasons changing and delighting in the wonders of this earth.
I trust some of this may be reflected in the album created by the work of the wonderfully talented Prussian musicians, with the guidance of Aleks, and I hope that it brings something special and unique to the listeners.
Aleks: Definitely yes. Every creative process comes from the heart and the result of it is a binding thread that has a potential to connect people, to help us forget about our differences and to concentrate on the things that are universal. The society, the world is changing, but a lot of people do not want or are afraid to accept the changes, to open their minds and to overcome the prejudices based on religious dogmas and racial distinction. One can imagine how difficult that is, keeping in mind the floods of lies or one-sided half truths that come from authorities, those who think about wealth and power only. But we have the ability to think for ourselves, to concentrate on people, on the things they really need, on nature, art, music, literature, beauty; it's only a question of acceptance and respect for each other to make a new world appear. So, yes, the music can bring people together, poetry can bring people together, everything that appeals to something that is higher than we are can bring us together. The same is true for religion and tradition: the initial meaning is to link people (and not to bring them together against each other!) but today these things are often turned upside-down and used as an instrument of manipulation by so called 'political elites' or mad fanatics. All traditions have the same core, all cultures have the same core, so those who are not blind can see the reflection of a higher realm everywhere, the seeds are the same in any culture. We just need to open our eyes and hearts.
Soundcloud
Facebook
www.eirikura.com
Stef COLDHEART
09/11/2017
---