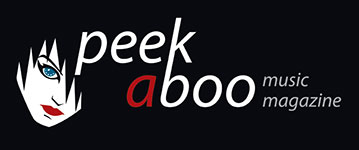 like this interview
---
ERNEST MOON
"Our interest in the literary arts is equal to that of music."
12/04/2019, Kevin BURKE
---
Ernest Moon, the brainchild of dynamic duo-Steven Doran and Brian Murphy. Two charismatic Liverpool gents who are bringing their own brand of indie-rock to the world stage through the release this April of their Ep 'Ba-Jesus'.
Everything, including a kitchen sink has been skillfully thrown into these four-tracks, slightly tongue-in-cheek but delivered with a solid passion and belief in what they can achieve.
Ernest Moon took some time out to discuss aspects of the recording and creative process that has gone into their latest Ep.

Well done on the solid follow up to last year's Uh, how much of your own personalities do you feel is injected into the music of Ba-Jesus?
Ernest Moon-"Well there are only 4 songs on Ba-Jesus so not all of what we are went in.
Our Socially sensitive side could be said to have gone into Capitalism: our romantic dreamy side is apparent in Paddle Boat and our irreverent, carefree side is found expressed in Satdeenight Ready and Minxed Driks.....Though there is a sincere, sisterly side to us not explicit on Ba- jesus and there is a number of songs we have that focus in on a an individual or type which isnt found on Ba-Jesus. So I would say part of the personality of Ernest Moon is in Ba- Jesus though not all by any means: he's a complex character of manifold moods."
What was it that made you decide to record the Ep in Dublin?

"If you have a poetic lilt then you will be sensitive to the potency of music and verse in Dublin. Its rich tradition in the world of the expressive arts...from the peoples not the Schools....Also we have friends there and its just a great city...Liverpool owes much of its working class culture to Ireland.....This unfortunately isn't recognised as much as it should be...I learnt nothing of Irelands' influence on Liverpool in school despite more than half the school being leprechauns and having Irish surnames. (though anglicized of course)."
How much input, if any did Gavin Glass have in the creation of Ba-Jesus?

"Gavin is an extremely attractive gentleman. Physically and socially. Really. Eyes like soft, sunlit pools, his skin is like a childs and his hair is the perfect rock n roll quiff..and on top of looking so good hes a charmer, soft spoken and sincere....On the songs he played piano on ¨Paddle Boat¨ and changed the style of ¨Minxed Driks¨ a little."
Were any of the the four-tracks influenced by the Irish surroundings or were they fully formed before entering the studio?

"No, not that one would notice really. Once you are hidden away in a studio for some days the outside world diminishes."
Personally I love the groove of Satdeenight Ready, have you performed that track or any other new material live yet? And will they change in the live setting from the recorded version?

"Thanks very much for saying that....Yes, all those songs except 'Paddle boat' have been played and I don't think they change in any way structurally no. Obviously I have to dance a little live so the singing is probably even worse."
Do you feel it is more important above all to connect with your audience using every day and realistic terms in your music than to sing folky-fairytale songs of love? In other words is a part of Ernest Moons strength the realism in the language used?

"Well the lyrics are an essential part of Ernest moons songs. Our interest in the literary arts is equal to that of music. The Realism in the lyrics as you acutely observe is a reflection of our taste, upbringing and our reaction to the often awful nearly always cliched lyrics that you find in Pop music. And yes, I think youre right to mention it, we do think the lyrics one of our strengths and a point where we turn off the Main Road."
Any time I go to Liverpool I usually end up in the sweat-box that is the Cavern, not because of the whole Beatles thing but rather because there are usually some great alternative bands that play the club, have you guys ever played it?
"No we've never played it...but I do occasionally go when my gyms saunas broke."
There are some great acts such as-Ladytron, Cast and The Lightning Seeds that sprang out of at the Liverpool at the dawn of the nineties, did any of these bands , or any other have an influence on the sound of Ernest Moon?

"Ladytron i dont know, Cast I don't like, we played with them once and they are good people but musically speaking not for me and The lightning Seeds I despise...just cant listen to them. Brodie just wants to please the commercial market..not a dignified occupation as I see it.. Sorry I cant be more generous but you chose some of my least favourites. There was a great band called Benny Profane and of course Half man half biscuit are still great."
The song Capitalism, is it by any means influenced by the mood of the United Kingdom at present? With Brexit being such a huge topic of debate?
"That song isnt about the political state of the U.K now but rather about the cultural effects of Capitalism as observed throughout the last 30 years...How Capitalism diminishes our experience How it impedes us physically and spiritually......The song is made up of three verses each one given to a different generation of observer..Young, middle aged and old..all pissed off with it...naturally...... Brexit ?? Whats that ??"
Finally is there a long-player on the horizon for Ernest Moon? or is it just as viable to continue releasing Ep's?

"Its funny you should say that because we are in the studio at the minute starting the process of recording the 11 or 12 songs we want to release on L.p.
As you say it could easily be two E.ps as I don't think there is much difference these days."

Thanks again guys, hopefully you get the well-deserved recognition and success from Ba-Jesus.
Kevin BURKE
12/04/2019
---