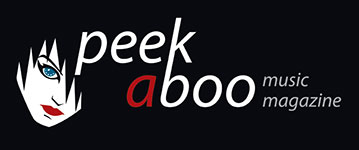 like this interview
---
EVI VINE
'..I am a human being taking one step forward-two steps back like everyone else'
16/02/2019, Kevin BURKE
---
Evi Vine, both the band and the lady herself, the angelic-phantom, has continually stalked the music-world since the release in 2011 of the highly praised long-player "...And So The Morning Comes". Now, eight-years later we find ourselves waiting for the next sonic release, "Black Light- White Dark" hits the streets on the the 22nd-of-February. The two-teasers released- the breathtaking, shoe-gazer "Sabbath" and the reflective, piano-driven "My Only Son" only scratch at the surface of the beautiful soundscape enclosed within the albums six-tracks. Engineered by Phill Brown (Led Zeppelin/Bowie) and produced by David Izumi (Ed Harcourt), the release also features guests including Simon Gallup (The Cure). Indeed, 2019 could very well be the year that Evi Vine breaks the boundaries separating artistic integrity and commercial acceptance to be placed on the pedestal she so rightly deserves.

After the latest triumphant show in Paris at the Petit Bain by the band Evi Vine, Evi, along with Steven Hill took time out to speak to us here at Peek-A-Boo magazine and give an insight to the music along with the person behind it.

Thank you for taking time out to talk to us, how did it feel to be back on stage, and in Paris?
Evi - Well for us this is really our first show in the beautiful city of light, we have played on the outskirts previously, and once with The Mission..… I adore Paris & to have been invited to open for Brendan Perry was something else, the venue is a boat on the Seine it was perfect. Brendan, Astrid and Richard were all so welcoming lovely human beings.
Congratulations on the upcoming release of Black Light White Dark, is the title a autobiographical statement or where did it come from?

Evi - It came from a dream Steven had … although blurry he could remember a young man making notes in a journal the last thing he wrote in the diary before his death was 'Black//light//white//dark'. It seemed to describe the sound of the music.

Black Light-White Dark was recorded at Eastbourne studios in London, the use of the Visconti/Bowie Trident desk was that a conscious decision to reach for a particular old-school day sound?

Evi - It was really by chance that incredible desk was there we had no idea … working at Echozoo was because of the connection we made with Dave Izumi. Writing and recording an album is so personal we need someone with patients who is chilled and kind and as the you are letting someone in the the most private space some people just don't get it but Dave is intuitive respectful amazingly creative super chilled and he helped us bring it all together.

Steven Hill - Phill Brown and Martyn Barker had begun using a new studio in Eastbourne. Phill's words were "I think i've found the perfect room for you, it happens to have a Trident desk", so after visiting and meeting Dave Izumi and checking the studio out we knew immediately it was right for what we wanted to do. Hearing the drums through Phill Browns mic placements through the Trident was the first goosebumps moment of…."ok this might be something that we've been striving for". We knew that this album should be recorded 'live' after having recorded the first 2 albums at home, we needed to push ourselves and to change the process dramatically, I think we felt as if we hadn't captured the atmosphere or dynamics that we create on stage. This time around we also had a solid band and had been writing and jamming in rehearsals, the chemistry between us all is one of those things you can spend a career trying to find.

In terms of the sound, we had a clear vision of merging a of classic sound using old ac30's, big vintage drums and fender rhodes etc, with digital programming where possible, and we always have a few modern synths to try out too. Essentially, the same as what we play on stage. The whole album was live, 4 of us in a room then brought the tracks home to work on and experiment over for any overdubs, but they were minimal be honest, so what you hear on the record is the noise we made in the room, plus some special guest features obviously. We had a residential at the studio for 2 weeks, so by day 4 we were consumed only with playing, eating, playing more, working out changes during breaks etc - Evi and I had always wanted to do that, Captain Beefheart style.

Was the album recorded completely in analogue?

Steven- A mixture, hopefully we used the best of both worlds. What Dave can do in the mix is exactly what we wanted, it's not just balancing, he's creatively producing & warping every step of the way, right up to the end, and we worked together with him refining pieces with no eye on the clock, it needed to be right, simple as that.

Is your approach to recording to have everything fully formed before entering the studio or when you actually get together to record?

Steven - For this album we walked in with only 2 ideas for tracks/riffs but ended up recording probably 13 tracks and a version of our then live set, so we have lots of material to go through still. It was fun to be able to experiment and take a track per day and work on it with input from Dave Izumi, and we basically worked on it until we felt we had the arrangement, and then the performance. So the finishing was combined effort, though some of the riffs were kicking around at rehearsals etc. This time around we had a residential at the studio and moved in for 2 weeks, so by day 4 we were consumed only with playing, eating, playing more, working out changes during breaks etc and working into the night…I have a memory of playing the guitar at 3am laying flat on the ground and falling asleep….only to wake up when the drums kicked in again and startled myself! It was the best of times musically even though we had a lot on personally behind the scenes which added to the intensity of the sessions. Evi is the Musical Director and guides us, so if she isn't feeling a guitar part or drum groove, we'll improvise until something else has more feeling/connection, she's excellent like that and has a real vision, in Evi we trust.

Your voice and delivery is unique and at times hard to describe, something like Kate Bush if she joined Bauhaus, how much of an influence was Kate Bush on your music?

Evi - I saw Kate Bush perform in London … i cried when she walked out on to the stage … like so many of us her voice has been with me since i was a child... it goes deep … I hope kate Bush does record with Bauhaus one day … that would be something …

You are returning this April to the Black Easter festival in Antwerp, how was your experience last time in 2016?

Evi - Although we feel honoured to be invited again it comes with a pain in our hearts it is difficult to imagine the festival without Ward De Prinz what a dear man … a champion of music … creator of peek a boo magazine and a dear dear friend to so many … the loss of such a soul makes it difficult perhaps for those left behind it will never be the same but we are all there to celebrate him and together it will be amazing …

Will any of the guest musicians used on Black Light White Dark, such as Simon Gallup, be joining you on stage at any point during the year?
Evi - ha ha … my lips are sealed

What album or artist has impacted on you the most? The moment you said to yourself "yes, this is what I want to do"?
Evi - Islands in the Stream by Dolly Parton and Kenny Rogers or Fame or something crazy like that … i remember seeing Siouxsie Sioux when I was tiny and reaching out to the tv and just knowing she was awesome

How do you separate Evi Vine the musician, and Evi Vine the everyday person? In other words how do you keep a foot in reality?

Evi - it's not difficult … I am a human being taking one step forward-two steps back like everyone else … as you know we are pretty underground self releasing kind of band … like any business we put all we have into it … the struggle is a part of it … i don't think there is any danger of us losing touch … there is never any room for ego … it will come back at you in the end … there are times when i feel really proud of what we have achieved & we can use the space we get to talk about things Im passionate about compassionate living & environmental issues. We all share & I haven't yet been a nightmare because the vegan yoghurt was missing from the rider!... as long as Gb the drummer has at least two bottles of red wine he is ok too.

Your music has a balance of the beautiful and at times terrifying, but what scares you?

Evi - everything … people being afraid of the truth. the fear & horrors that our fellow human being are subjected to the fear & horrors animals are subjected to.

When I travel to London my favorite place to visit is Camden Town, the market, soaking up the atmosphere, it is a Greenwich Village in London, is it somewhere you go or where is your favorite hang-out in London?
Evi - Me too camden is my home hampstead heath and Highgate Cemetery i love the energy … memories of 'Withal and 'I hanging out on the lock drinking beer at the Electric Ballroom … love it.

Thank you for taking the time out to talk to us, all here at Peek-A-Boo wish you all the success you deserve for the coming year.

Evi - Thank you Kevin you lovely … thank you all for the support … Evi. x
For more information on Evi Vine including ordering Black Light-White Dark go to;
www.evivine.com

Evi Vine will perform at Black Easter 2019, on Saturday 21 April @ Zappa, Antwer, Belgium
Other artist performing at Black Easter are Goethes Erben, Clan Of Xymox, Jo Quail, Monica Richards vs Anthony Jones, Daemonia Nymphe, Hackedepicciotto, Sieben, The Breath Of Life & You Life On Hold!

More info: www.blackeaster.be
Kevin BURKE
16/02/2019
---