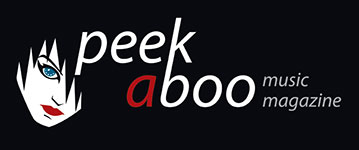 like this interview
---
FOLK NOIR
Folk Noir makes darker folk music with more a vintage and 'noir' kind of feeling to it. The biographical lyrics are as strongly emotional as our melodies are.
27/01/2013, Filip VAN MUYLEM
photos: © Julie Haelemeersch
---
Folk Noir is one of the new sensations who will play at Trolls et Légendes. Once you read the answers you'll see who's behind Folk Noir and hopefully you'll be warmed up to see them on stage in Mons, 30/03/2013
I was for sure a lucky dog to catch Kaat between recordings sessions for this short interview! So thanks a lot Kaat!
Are you a Sol Invictus fan? I understand that your name comes from there or am I wrong?
The name Folk Noir is actually not coming from a inspiration of the beautiful music of Sol Invictus. For us this chosen bandname invokes more a collection of images coming from an era in the past. A time of poets and writers, inspirations from the occult and new views on the World we live in,a world with dark bohemian magic, trancendence into spiritualty and many practiced Arts. Folk Noir collects these images and blends them with their emotions into a new kind of dark folk music.
Can we say that Folk Noir is a side-project by Faun or is it rather a combination with Leaf? How do you keep the distance between bands/projects?
Folk Noir started out as a two person project between Oliver S. Tyr (of FAUN) and me, Kaat Geevers of L.E.A.F, but meanwhile this has grown into a full, second band for both of us. Folk Noir now performs live with four bandmembers, with Alex Schulz on drums and Stephan Groth on hurdy gurdy and vocals. You may know Stephan already of Faun. We cannot wait to introduce our full sound to our audience.
Maybe you can say something more about Leaf, for the people who don't know it?
L.E.A.F is a Dutch Folkband, that is much inspired by celtic folklore, myths and fairytales. I started with L.E.A.F in 2010, together with Fieke van Den Hurk. We have released our first mini-cd last summer that was recieved with such an enthousiasm that we could not have forseen and we work now with two new members.More on LEAF can be found on: www.leaf-music.com
How come you both started making music and for sure the way you do?
I leave this question blank as it would take us both hours of life, karmic philosohy and life history to answer that.
How can we describe Folk Noir the best (music versus lyrics)?
Folk Noir makes darker folk music with more a vintage and 'noir' kind of feeling to it. The biographical lyrics are as strongly emotional as our melodies are.
You will play again on Trolls et Légends, in the past you already played there. Can you tell the people who missed it how it was and what they all can discover?
Trolls et Légends offers a great blend of interesting and well dressed visitors, fantasy novelties, artists and expositions, craftsmen and a authentic marketplace, writers and musicians. It is much like a enchanted new world you step into for a while. It is certainly a very nice festival to visit!
What can we expect live from Folk Noir at Trolls et Légendes?
You may expect a new music discovery within the known (pagan)folkmusic scene. We will perform a special set with use of multiple (English) vocals, medieval folk instruments, aswell a s modern instruments, in which we will evoke a darker kind of folk. We think it will match the taste of the visitors of Trolls et Légends greatly.
I read your announcement on your Facebook: A great convention of musicians, fantasy authors and artists in Belgium, that you shouldn´t miss for sure. So what is the most appealing for you (besides playing there) and why?
For us for sure it is the magic of a gathering of so many inspirational and likeminded people there and we meet up again with friends that we met at various festivals.
Tell me more about the videoclip you made in November 2012, for ex. How did the idea got born?
The idea came to make several videoclips to our music so that we can present Folk Noir as a new band and we wanted to do this with the media that is most used by the people; the internet. We also wanted to share finally what kind of music we are currently making, as we have had nothing out so far but the EP which was made only with the two of us, instead of the entire band. Lastly, we wanted to create a visual context to our music. A videoclip is a great way to combine all that.
It is also my first videoproduction and i'm happy with the result. And I had the luck to have the best prof. team i could have wished for to support me in making this clip. You may expect the release within a few weeks, together with our brand new website, where we present the full band.
You released a first EP, How was the feedback?
The feedback to the Ep was just amazing, we were thrilled with how many people were touched by the lyrics and the fragility of the songs. It gave us the courage to continue with Folk Noir, and now as a full band with a stronger sound, but still with self written, biographical lyrics in English and darker storylines.
Any last words for this interview?
We are most happy to come to the wonderful Festival Trolls et Légends in March and we hope you will certainly all check out the brand new website and video of FOLK NOIR that is coming out in February 2013. Follow our news on Facebook and www.folk-noir.com
and it was indeed a great gig:
http://www.peek-a-boo-magazine.be/en/reviews/saltatio-mortis-daemonia-nymphe-folk-noir-asynje-trolls-et-legendes-30-3-2013-at-mons-belgium/
Filip VAN MUYLEM
27/01/2013
---