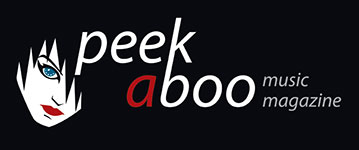 like this interview
---
FROZEN PLASMA
I want to remix any Covenant song, I just love and adore Eskils voice! Armin van Buuren can always remix us...
29/09/2013, Filip VAN MUYLEM
photos: © Verity Vian
---
Frozen Plasma is my third interview as part of the promo for VP live 2014. I must admit that we both had a busy time, but still the result is a nice chat... Can't wait for the new cd!
The name is a bit special, what is the correlation with the music? Why this Name?
Vasi Vallis: When I was thinking about the Name for my new band, I watched a documentary about fresh frozen plasma (blood plasma). It is possible to freeze plasma and use it when it is necessary years later. Some minutes later another documentary showed some African countries where People died just because they had no clean water or not the most Standard medicine...so I got the idea to Name the band Frozen Plasma as a lot of songs have very strong lyrics with a mostly melancholic Focus.
You sing in German and in English, will you keep doing it and why?
Because I think, that as a German band, we also should sing some songs in German, even if this causes some difficulties. A lot of Germans don't like their own language to be heard in an international music scene for whatever reasons...
Your previous band NamNamBulu collapsed back then, can you tell us what happened exactly?
We had different life plans, but the band is alive again since 2013 and a new single and album are in progress.
The first steps of forming Frozen Plasma happened during a gig of VNV Nation, can you tell more about it?
I was looking for a new singer during that time. As I was playing Keyboards for VNV Nation, I was part of the "Matter & Form" tour which was supported by Diorama and Soman. During the Diorama Sound check I heard Felix voice and was immediately fascinated. So I asked him if he would like to be part of my new band and so we started with "Hypocrite"!
My German isn't good enough, so you have to tell me the link with Diorama: one of you plays with them?
Felix is keyboarding for Diorama as well as he is doing the second voice on stage.
I can say that VNV Nation and Diorama have a great influence on you, are there other influences?
VNV Nation yes, Diorama I would say no as their Music is very different. Other Influences are Synthpop Bands from the 80ies as well as later Trance/Dance Producers like Tiesto, Armin van Buuren and more.
How hard is it to discover and create a new path, to go for your own music and create it as you want to? Can you tell us more about it?
For me, it is not hard. I'm sure that a lot of songs are influenced by other songs I like or liked but I never copy anything. Influence is something positive if it is not used to hide a lack of creativity. So if you listen to Plasma albums you will discover a wide range of very different songs, ballads, club tracks, moody tracks, chill out sounds, pop Songs. Unfortunately these days' people focus on the biggest hits and don't take time to listen to a whole album detecting the story behind it.
'Tanz die revolution' seems to be an anthem, together with 'Warmongers' (more than 42.000 times played on Spotify), what do these songs mean to you?
With those Songs we increased our fan base dramatically as those 2 Songs were and are still played in nearly every industrial/alternative Club in the world. That's the positive aspect. The negative one is, that a lot of People know those Songs only and when we Play "Irony" live for example (much more melodic and softer) they are a bit surprised...:)
What is Warmongers about?
ANTI War and not PRO war. A lot of People misunderstand the lyrics.
I read a lot of positive and negative things (one band even withdraw their songs) about Spotify, how is it working for you?
To be honest I can't say anything about it yet. We will see what the future brings. On one side, it is great to get the Music spread but on the other side there is a big black hole...we will see what the future brings. I use a Spotify premium account too.
You played at WGT, M'era Luna Festival, Amphi Festival, Summer Darkness, … How is the vibe and the audience? Is there a lot of stress on your shoulders & about how many people are we talking when you are on stage?
The energy you got back from a big audience is amazing. There is no stress at during a gig - just positive vibes. When we play those big Festivals we play in front of about 1000-5000 People.
You will play at the VP 2014 in Antwerp (Belgium), any special stuff we can expect?
A whole new Album.
Is the Frozen Plasma Péru fan base on Facebook yours? If yes, can you explain it to us?
It is, started by some fans. We have a lot of fans in South America, a huge fan base which is amazing for us as we have never played in Peru for example. (plans are made) We will play in Mexico the 16th of November and are very excited about it.
5000 downloads of "Herz" within 48 hours! That is absolutely amazing & a good position in the DAC! What's next?
We will release a second single and then the 3rd Studio Album.
It's nice to see that some of the bands who remixed it will also be on stage during the VP live 2014, any possibility you join forces on stage too?
Hm...why not (laughs), never thought about it but it's a good idea.
If I listen to your voice on "Herz" it sounds as if Claude François is singing in German (knowing that this guy was a real hit maker: it's meant as a positive note). Ever heard of him?
Honestly not but I will now.
What is the most remarkable remix so far?
The Nachtmahr mix got a lot of Response - but I can't say yet which on will be the most remarkable at the end because the single was released on the 20th of September so we have to wait for the reaction of our fans.
If you only had to ask: who would you remix and which song?
Covenant, any song, because I love and adore Eskils voice.
Which band should remix one of your songs?
Armin van Buuren could remix our song: "Murderous Trap" because he is my favourite Dance/Electro Producer.
Any news on the new album, yet?
In production: 80% is finished.
Will there be an extended club tour after the new album, what else can we expect from here until the VP live 2014?
Absolutely. We will play some big Festivals 2014 and some smaller Club shows!
I wish you good luck! See you on stage!
Join them on Facebook: https://www.facebook.com/FrozenPlasma
Here are 3 other promo interviews:
http://www.peek-a-boo-magazine.be/en/interviews/cyferdyne/?viaadmin=1
http://www.peek-a-boo-magazine.be/en/interviews/chainreractor/?viaadmin=1
http://www.peek-a-boo-magazine.be/en/interviews/llumen/?viaadmin=1
For the fans of the people who want to know more about the last edition:
http://www.peek-a-boo-magazine.be/en/reviews/suicide-commando-soman-aesthetic-perfection-sam-xp8-c-lekktor-surgyn-vampireparty-live-6-4-2013-petrol-antwerpen-belgium/
sad news about VP live:
https://www.facebook.com/photo.php?fbid=10201751280917158&set=gm.685509101461291&type=1&relevant_count=1&ref=nf
Their next big gig:
https://www.facebook.com/groups/blackfield/
Filip VAN MUYLEM
29/09/2013
---