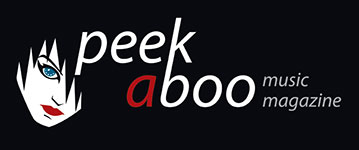 like this interview
---
GNOSTIC GORILLA
WAKE UP! We are really in deep shit if we don't snap out of this siege mentality and we need to stop killing the earth!
16/04/2019, Fred GADGET
---
A Short introduction to:
GNOSTIC GORILLAS (CAN)


Can you please introduce yourself and the band to our readers?
I'm Dean Mason of Gnostic Gorilla. Gnostic Gorilla is a one man outfit with some contribution from Damla Bozkurt, on violins for example. Gnostic Gorilla is based out of the Toronto area. (In between Montréal and Toronto)

What does the name Gnostic Gorilla means or stand for?
Gnostic Gorilla is first of all NOT about "Gnosticism" and/or going apeshit. Hahahahahaha. It's a blending of two world views. Gnostic means "knowing" or better yet "to know". In the story of the "fall" the serpent tempts the humans to take from the tree of knowledge. So there's a reference to the Judeo-Christian idea of creation and the fall. The Gorilla is a reference to the idea of evolution...that we evolved from apes. But also a Gorilla is a strong noble creature. A Gorilla is a gentle gigantic and beautiful being...but I wouldn't piss one off. I remember being face to face with a huge silverback (separated by glass of course) in a zoo and I couldn't get over the beauty and power of it. He sat there looking at me and then looking at his hands...and then looking at me again. Powerful moment. But that said...my mask and image are not about looking like a Gorilla. That's more of a phantom of the opera meets Dracula type image I guess.

What are your musical influences?
My musical influences are many. My first inspiration was Gary Numan. But the artists that influence the style of music I record personally are Ministry, Type O Negative, Skinny Puppy, Korn, and many Goth/Darkwave/Industrial acts. And YES...I LOVE Alien Sex Fiend. Got the latest « Possessed » Brilliant!
According to your bandcamp page you have now 5 albums out, however this is the first album that will be released physically and through Cleopatra Records … Do you still feel there is a need for physical releases, as an artist as well as for the fans?
Gnostic Gorilla has about five releases on Bandcamp but there are others out there on iTunes. For example, "Luna Melancholia " is a dark Ambient album I did a couple of years ago. Also there are some singles on iTunes as Dean Mason//Lonely Ghost Project. All on my LGP ONE indie label. Cleopatra Records is going to release another album titled "Shaman Rave" in late Summer before the Autumn. I also have several other projects on the go. KL DARK RECORDS and NOWHERE NOW RECORDS are going to release in May and June some best of type deals. As for physical releases...I absolutely love the idea of having something tangible in your hands. CDs and vinyl are cool. Cassettes? Don't understand that new trend but hey...whatever lifts one's dress eh? Gnostic Gorilla has a few albums available on CD via Amazon.

The music on St.Basil's Asylum reminds me sometimes a bit of the American cult and industrial band G.G.H.F. (Global Genocide Forget Heaven) … Very dark and gloomy almost industrial soundscape like music, making commercial success very unlikely … How does someone decide to make this kind of music?
I don't know how I decided to make dark music...but it's what speaks to me. A lot of my music deals with depression, mental illness, suicide (not to promote) but also I believe that we ignore our dark side at our own risk. I do love horror movies and especially good vampire movies. I suppose Gary Numan's early albums inspired me as well as a lad to explore the less than positive dimension of life. Bauhaus as well.

One track on this album however, Winter's Mourning, sounds almost like a Nick Cave ballad gone wrong, or should I say gone well? :-) What is it about?
Funny you mention Winter's Mourning. I was told it sounded like Johnny Cash or Elvis singing for Bauahus. Lol. It's deeply personal. It speaks of that moment in life when you realize how fragile life is. It also speaks of disappointment and sadness. It's sort of like a fusion between Goth and Folk.
In general, where do you get your inspiration from when making music and writing lyrics?
I usually draw my inspiration from the human struggle. I see a lot of darkness in my work and also in my personal life...I have struggled with addiction and depression. I am overly sensitive to the bullshit out there in the world that is becoming more and more hostile. I write often in veiled language but one of my peeves is religious people condemning every one not in their tribe. They condemn people for who they are. And there are plenty atheists who constantly mock people of faith. Let's leave each other the fuck alone. Live and let live muthafuckas! Life is too short!

Any last message to mankind?
Last message for mankind? In the words of the immortal Jim Morrison...WAKE UP! We are really in deep shit if we don't snap out of this siege mentality and we need to stop killing the earth!
Gnostic Gorilla: official | facebook | twitter | bandcamp
Fred GADGET
16/04/2019
---