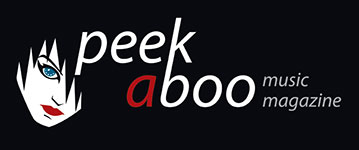 like this interview

---
GOETHES ERBEN
In a Goethes Erben concert, it is important as a spectator to be emotionally involved
11/02/2015, Benny CALUWE
photos: © (1)+(2) Evangeline Cooper ; (3)+(4) Julie Haelemeersch
---
The resurrection of Goethes Erben and the performance on the Black Easter Festival was the trigger to ask founding member Oswald Henke once again to take a seat on our virtual couch in order to discuss the past, present and future.
We are glad to find out that the Goethes Erben project is resurrected. What was in the first place the reason to put the project on hold?
When Mindy and I decided to put the Goethes Erben project on hold, simply because we had nothing more to say, nothing that we still wanted to achieve in the form of that musical theater format. Through various circumstances, I felt the need to work on a new musical play.
What made you decide to bring the band back to life? Was it on request of the fans?
During the preparations and the two performances of "Rückkehr ins Niemandsland 2014", I have noticed how much fun it is to make music in a complex dramaturgy, in the form of musical theatre. Partly due to some negative things in my life, I had the urge to develop in a more complex way than in the form of music, so I started writing "MENSCHENSTILLE". To prepare the newly created band on the interaction in this new piece, I decided to play a few gigs and festivals, one in Antwerp. In contrast to the two performances of "MENSCHENSTILLE" in Bayreuth in October, we will also play older pieces at the concerts in Berlin, Antwerp, Leipzig, Cologne and Bayreuth (July). Goethes Erben will have 10 musicians on stage during the first 3 concerts and from July on, the live ensemble will be complemented with an 8-member dance ensemble, which is integrated into the dramaturgical concept of "MENSCHENSTILLE".
What happened with Mindy Kumbalek? Is there a chance she'll ever return?
Mindy and I have decided in consensus to stop Goethes Erben for a while. Prior to the anniversary concerts, I have asked Mindy whether she wanted to return to the stage, but since she has other interests and does not feel the need anymore to make music again, I decided to work further without her, but with former guest musicians and new musicians as a new live band. Whether Mindy will decide to return to the stage one day? I do not know, but life is full of surprises and anything is possible.
At the end of 2014 "Weg zurück" was released, a cooperation with Sara Noxx. How was it to work together with her?
Sara Noxx asked me if would'd be interested in a duet with her. I said yes, and she sent me the draft version of "Weg zurück", on which I worked further with the new Goethes Erben keyboard player Tobias Schäfer, with whom I already have worked within the band Henke. We wrote some additional arrangements and added several lines of text. The result can be heard on the Sara Noxx EP "Weg zurück". It was a smooth cooperation and it was fun and there will surely follow some other collaboration this year. Maybe even at the occasion of the Goethes Erben appearance at the WGT this year.
Back to the early years. I read somewhere that Bruno Kramm and Stefan Ackermann of Das Ich were involved in the early days of Goethes Erben. Could you explain how?
I have met Bruno and Stefan when I was in the Danse Macabre studios with "Le Coup Sauvage" to record "Nightmare home". At the time I played keyboards for a short while within this band, and so I met Das Ich. I had a demo tape of "Der Spiegel" and since they were both excited about that piece, they invited me and Peter Seipt to record this piece, as well as "The End of 1989". As Peter Seipt then left the band before further pieces could be finished, I have recorded "Der Weg" and "Stumme Zeugen" with Bruno. However, also this cooperation ended and we went in separate artistic directions.
In the early 90s Goethes Erben was together with Das Ich, Relatives Menschsein, Sopor Aeternus and Lacrimosa one of the leading Neue Deutsche Todeskunst projects. Since then the gothic scene changed a lot. How do you experience that?
The goth scene as it existed in the 90s is no more. It was a small, manageable scene and there were no clubs with multiple dance floors. There was a scene and you danced on the music of the 80s as well as on gothic rock, Batcave, Middle Ages, EBM, etc. At that time, there was no separation of these genres within the club scene. The black scene was a youth culture that became a subculture. Today there are no more youth cultures, they are more or less extinct, probably because there is no identification anchor. At that time, the clubs and concerts and festivals were small and manageable. At the time no one wanted to be in the charts or to have their music discussed in media outside the scene. But then bands began signing to major labels in order to reach more people. But to achieve that, they had to be complacent and thus their music lost substance/essence. Goethes Erben, although certainly being successful, was never interested in a major label, due to the type of music and the topics we used, we never had mass appeal. In addition, with music theatre one cannot entertain the masses, but merely inspire fans, only for themselves, identifying with what we did musically and artistically. So we do not have reached the masses, but we do have built up a loyal fan base that is travelling hundreds of kilometres to see a new musical performance by Goethes Erben, especially since "MENSCHENSTILLE" can not be financed as a tour due to the the complex stage construction and the specific requirements of the venue.
Oswald, is it correct that you worked in the nursing staff of a psychiatric hospital? Did this affect your lyrics?
As part of my training as a nurse, I worked for about 6 months in a psychiatric hospital. The song "5 Jahre" dates from that time. The dark side of our human existence has always artistically inspired me. I compose when I'm not feeling well, I write and compose to calm my soul, in order not to suffocate by what I have experienced. I only write when I have something to say and not to meet contracts with record companies or publishers.
You not only sang about Weltschmerz and Sehnsucht, but also criticised society in some of your work. Social criticism used to be important in pop music decades ago, later it mainly occurred in alternative music styles and nowadays it even seems to be of secondary importance. Do you also regret this tendency? And what could be the reason? Are bands careful to express harsh opinions in order not to offend any fans?
Many bands are very careful not to criticize or embarrass their fans in order not to lose them by unpopular statements. I never cared about that, I say what I mean and if it is not popular, then it is not popular. If I lose fans through my statements, then I'm not sorry, because then they have probably never understood what Goethes Erben is all about. The aim was to see the world as it is and to point at the dark side of it. Goethes Erben's music hurts in order to feel better after describing and understanding this darker side. For me it was always about reaching people and trying to translate the feeling that you are not alone with your thoughts or your pain, that others think so too. We are different but not alone. In a Goethes Erben concert you may cry or let your emotions run wild, something that wouldn't happen at an EBM concert, but with Goethes Erben, it is important to be emotionally involved as a spectator. It is also important to use your own mind in order to make our world a little bit better. This includes observing live critically and to respond to things that are not OK, that are wrong and that you can change.
With the new project "MENSCHENSTILLE", will there be a new Goethes Erben album?
That album has not been recorded and will not be recorded, simply because it can not be an album, since music theater also needs to be supported optically.
A remark that I heard a few times about Goethes Erben is that your theatrical live performances tempted the people as a total experience, but that your records, especially the minimalistic records from the beginning, failed to do that. Later records did have a richer instrumentation. Aren't there any plans to rearrange, to rerecord those older tracks in order to revalue them?
On the DVD " Rückkehr ins Niemandsland 2014", we have rearranged a lot of older pieces and played them live. Currently I am not thinking about recording a new album. Perhaps now and then a single track as a tool to generate the interest in the new music theater piece. But we will document "MENSCHENSTILLE" as the live performances will be filmed again and published as a DVD.
Will you use crowdfunding for this DVD , like you did for the most recent Henke CD?
There will be a DVD when the recordings, in terms of quality, warrant publication. Thus, this question can only be answered when the shows are over. The plan is, however, to publish a DVD. The public will experience the very intense theme of "MENSCHENSTILLE": the loss of life, vitality and courage. This can only be experienced in a proper way during the performance itself.
Could you tell us more about the content of thi new project "MENSCHENSTILLE"?
"MENSCHENSTILLE" is about a man who lost his belief in life, gets into a depression and likely will commit suicide, but maybe he manages to discover a way out, to overcome this depression? It is a very dark piece with a lot of text, the music varies from delicate chamber music to a wall of sound, created by guitars and electronic sounds. The texts are not only spoken by me, but also by other actors. There will be dance, monologues, drama, music and a special stage, constructed by wood sculptor Remo Sorge. Carsta Köhler makes the costumes for these characters, that are waiting together in an old house, to ensure that life can go on (barely).
Sonja Kraushofer (L'Âme Immortelle) will play keyboards/vocals during your shows in 2015? Will she remain a guest member or might she become a permanent member?
I have the intention to perform longer with the current ensemble, which also includes Sonja Kraushofer. But I'm at an age that I do not longer make plans for the distant future. The live plans with Goethes Erben will currently end with the last Festival on 25/12/2015 in Chemnitz, the Dark Storm Festival. For 2016, there are momentarily no further plans.
Your website says that there are 8 people in your 2015 live band. Will we still see them on stage in Antwerp? Maybe dancers or a ballerina?
In Antwerp, the band will be a 10 piece ensemble on stage. Oswald Henke - words, Susanne Reinhardt - violin, Markus Köstner - drums & percussion, Cornelius Sturm - bass guitar, Frank Zeutschel - guitars, Tobias Schäfer - keyboards, Sonja Kraushofer - vocals & electric piano, Sue Ferres - violin & nycelharpa, Martin Höfert - cello, Jule Klimpel – voice. The stage in Antwerp is too smal for our dancers, so they will stay at home, which is also the case for the performances in Berlin and Leipzig.
Any last words for the fans?
I'm very happy to return to Belgium, because it is there that we have experienced some of the finest performances of Goethes Erben in the past.
Benny CALUWE
11/02/2015
---