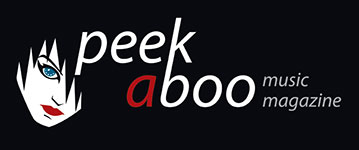 like this interview
---
GRANDCHAOS
Everything is really a question of authenticity and friendship in this movement.
21/08/2013, Peter DOLPHEN
photos: © Johan Vanhees
---
Hello Tcheleskov! How are you doing?
Now is a good time : a concert scheduled for September at the Electric Summer Night and a new album expected at the end of the year. I cannot ask for more…

Can you first tell us some more about Grandchaos?
Grandchaos is a solo project I created after the split of my first group Ivanovich DLO. I started the electronic music in the early 80s playing with analog machines and listening to legendary bands like Cabaret Voltaire, Suicide or Chrome; these are my roots... Indelible memories!
Grandchaos is a 20 years old project 100% Oldschool.

And what is the story behind Tcheleskov? A Belgium-based musician with Russian roots if I can believe the internet…?
In the eighties, Brussels was a haven for many musicians… Many groups lived in the capital, that was "the place to be". My brother, Trevosky and I were students at the Academy of Fine Arts of Brussels… It was an amazing time... Everything was possible!
The concert venues (Plan K, AB, Beursschouwburg, Klassik... ) were "avant-garde" and there were lots of labels (PIAS, Crammed, Factory Benelux... ).
The record stores papered their windows with albums of the land (front 242, A split second, Neon judgement, Klinik... ).
Media support was important, TV channels, radio stations and the newspapers played the game...

You started making music in the 80's. How do you feel your sound has evolved during this period?
The 80's were full of musical adventures... It was the beginning of the first democratic synths; with a Juno 106 and a TR707, it seemed to touch the "future".
The sounds were harsh and the recordings were arduous but we really felt as if we were laying the foundations of a new music... Young modern people!
My passion for the hardware is still the same...
I don't use virtual synths!

In Belgium, the scene is not that big, but where can we place Grandchaos in the world-scene?
Honestly, I have no career plans; I don't search concerts... I'm just glad to have multiple labels (Urgence Disk, EKProducts...) and to release the album I want. It pleases me...
Grandchaos also has the chance to be the band that plays with SA42 on stage, this experience is diametrically different! with Jacky (Meurisse), I can travel over the world and play on the biggest stages for many people… Shadow and light!

I remember writing a review of the "Refuge"-remix album back in 2012, which was followed by "Rumours of my life" just a few weeks later. This was high-level material! Is there anything new coming up in the near future? Maybe some new tracks you will play on the festival?
I enjoyed with "refuge", many friends have made wonderful work… The remixes of Mechaload, Electro Synthetic Rebellion, Operation Of The Sun, BAK XIII or SA42 (to name a few) are great!!!
The ESN will be the opportunity to test some tracks of my next album... You'll be able to hear "The tempest", "Memory is a poison", "Fire is catching" or "Pulse"...
Of course, I'll play a few favorites such as "God is dead" or "Second Life"...
The set will be short and effective... This is an opportunity to discover the project for people who don't yet know.

What can our readers expect from Grandchaos on the ESN 2013? Why do they NEED to be there?
The Oldschool scene/EBM survived somehow in Belgium... The national media have quickly distanced themselves from the movement unlike other countries such as Germany.
So when irreducible decide to organize in Belgium an event like the ESN with confirmed bands as Jäger 90, Pankow and Orange Sector groups, we can only applaud... Everything is really a question of authenticity and friendship in this movement. There is much solidarity... EBM united! Grandchaos is proud to take part in this event.

Any last words to the public before you annihilate Le Cocquin in september?
I honestly look forward to it and I'm sure that ESN will be a full success
Peter DOLPHEN
21/08/2013
---