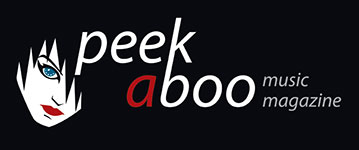 like this interview

---
GRAUSAME TOCHTER
I am much too emotional and restless to limit my creativity by sticking to just one style
01/04/2015, Benny CALUWE
photos: © marquis(pi)X
---
When people describe the music of Grausame töchter, one might easily refer to Die Form because of the industrial with BDSM images. When I reviewed your latest album, Glaube Liebe Hoffnung, I described it as a more industrialised Das Ich or as a harsher Untoten because of the frequent use of classical instruments.
Do you agree with this description (or would you describe your music otherwise?) and are the named bands influential?
I don't really put much thought into how to describe the music. The influences are more from other genres such as classical music, movie scores or even tango. In the studio we work on the music until the original musical influences are probably unrecognizable, that is why I couldn't name a band from a similar genre as an actual influence. Having said that, I find it really interesting how others, like yourself, see that and I believe in what you write.
Because of the eclectic mix of industrial, cabaret, EBM, classical, … Grausame Töchter has an original and varied sound. And also the vocals are very varied. In the review of your most recent album Side Line Magazine wrote: G.T. is not just one of the many monotonous bands or copycats in the gothic scene, but it is a standard on itself. It must be flattering to read this …
Of course I am happy to read that. I am much too emotional and restless to limit my creativity by sticking to just one style or even copy a successful concept.
Grausame Töchter is notorious for its BDSM, fetish and lesbian imagery, but you also sang a lot about relational problems. Are there other important returning lyrical themes?
In every relationship there is a significant element of BDSM inherent. The same goes for religion, which of course was the theme of our last album. It is much more interesting to find BDSM elements in all kinds of situations then to put into lyrics what any dominatrix would say to a slave.
As a lesbian, do you feel completely accepted in the so called modern and tolerant society, or is there still a lot of conservatism?
I never had any problems with that. But then again I really don't care what other people think when I kiss a woman.
On your website I found a quote of Aranea: "Verlogene Lieder über Liebe, Wärme und Verständnis gibt es genug, ich kann nur das Gegenteil machen" (Insincere songs about love, warmth and understanding are there enough, I can only do the contrary). Do you like to provoke? Or is this simply your view on the matters of life?
In commercial pop music many lyrics are just written with record sales in mind. I don't care about what has been put into lyrics for love songs a million times before. All kinds of extreme relationships and stories, bizarre ideas and unusual feelings fascinate me so much more and are long lasting. It is not necessarily my goal to provoke, but rather to shed a different light onto familiar circumstances. I love expressionism.
On your latest album we find the track Solipsismus, which is a philosophical term. In the chorus you repeat Ich kann nicht Lieben, Ich kan nichts fühlen, Ich kann nur töten. Unfortunately my German is not that great. Are you personally unable to love/feel? Or what is the reason?
Solipsismus was a play on thoughts. In the world of BDSM many people label themselves dominant because they want to cover their own weaknesses. Solipsismus however leads to true and scaringly consistent dominance.
There was a bonus disc accompanying Glaube Liebe Hoffnung, with intimate instrumental versions of the better known songs of the previous albums. How did you get the idea? And were you happy with the result?
You can express a lot by dispensing with words and using only classical instruments. It was very exciting to hear melodies, motifs and harmonies of our songs in completely different versions. When at night in my darkened flat I stand and wait for a girlfriend with a whip in my hand, this CD on high volume is the perfect background. I don't feel the need to use any words then. Or in the car during the daytime on a very hot summer day with the AC on, you feel like someone from another world.
On Glaube Liebe Hoffnung there is track called Wie eine Hyäne. On previous albums there were the tracks Wie eine Schlange and Wie eine Spinne. Is this a gimmick that might return on future albums?
Indeed, on our fourth album there will be another animal themed song! I like animals very much, but I can'tl tell you yet which one it will be.
Grausame Töchter released a lot of music videos, which are all made with care. Are videos essential to reach your public nowadays?
The videos are made more out of lust and fun then marketing considerations. Some of them I make all by myself, which is always a lot of fun. Others are made by the fantastic, competent and good looking Alexander Horn, who like me also is very enthusiastic about that work.
Personally my two favourite GT videos/songs are Beleidigte Engel and Rosen für dich. Both are dramatic and sound like darkened trip hop. A style that I didn't hear on your last album, but I hope to do so on the future ones …
Yes, that style is represented on our current album by 'Tränen in einer toten Welt' and also somewhat by 'Paradies'. Rest assured you will find something like that on our fourth album again. TripHop is a style that I love dearly and have done so for years.
Aranea sings Deutsche chansons as a solo artist. Do you perform for a completely different crowd? Or do gothic fans also attend these shows?
The audience is very mixed, recently there was a concert in a church at the Kurt-Weill-Fest in Dessau, where 60 year old Intellectuals sat next to Goths, Punk Lesbians and Upper Class Citizens.
How do you select those German chansons? Do you look for common themes or emotions?
I look at the work of the cornerstones of German chansons, people like Bertolt Brecht, Kurt Weill and Friedrich Hollaender, Kurt Weill is my favourite. I like to work with those songs that are hard to comprehend at first. Often it is a challenging task to master such songs, but when I finally do, it brings me closer to their true meaning.
Do these solo performances influence Grausame Töchter musically?
Everything starts in my head and always influences anything else evermore. Everything is inseparably connected to everything else.
On the upcoming Black Easter Festival in Antwerp you are in the line up with Goethes Erben. Their theatrical performances are as important as their music. Could we say that this is something you have in common?
You may be able to answer that better than we can, because I don't have that objective distance to what we do.
What can we expect on Black Easter?
Expect sixty minutes of emotions, cruelty and ecstasy
And then a classical peek a boo question: what is your favourite album and please state why.
Schostakowitsch 10th symphony e-moll, Berliner Philharmoniker/Karajan. True, sincere, ecstatic, intelligent, arousing, multi-layered, frightening, liberating.
Thank you for this interview !
photoshoot Grausame Töchter in Sittard, March 2015 (marquis(pi)X)
Benny CALUWE
01/04/2015
---