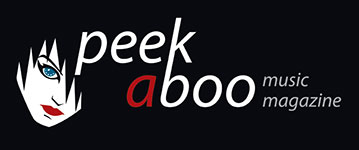 like this interview
---
GRAUSAME TOCHTER
The more you think you know an artist, the more you have to learn about him
01/09/2016, Stef COLDHEART
photos: © Marquis(pi)X
---
There are bands directly catching your attention and, whether you like them or not, making a serious impression. Grausame Töchter (which can be translated as 'cruel daughters') definitely belongs to this selected list. The German formation is driven by core member Aranea Peel (vocals) assisted by Gregor Hennig (drums and mixing) and joined on stage by multiple guest musicians and live performers. The sound of this band is really hard to define, but reveals elements of EBM, cabaret-music, punk, gothic, electro-pop and a few more for the rite. I got in touch with Aranea Peel.
I found an interesting quote at your Facebook page saying that Grausame Töchter 'produce electronic music to spread emotional coldness'! I'm fascinated by the aspect of 'emotional coldness' so what is it all about?That was for the context of our first album. Most of the songwriters show their positive aspects of their personality to the audience when they express themselves. But as you can imagine, that is just one side of the coin. People have also feelings which are directed towards the negative. This world is mysterious, unknown and difficult. It takes courage to know this world but the reward is a deeper consciousness. So let's go there together!
Over now to your new album "Vagina Dentata". What is it all about?
"Vagina Dentata" is a myth you can follow back till Siegmund Freud. It is about lust and death, which are the only things we can count on in this fragile and broken world.
I experienced "Vagina Dentata" as your most versatile- and still your best album to date, but how do you see this opus compared to the previous albums?
I am happy if you think that our new album is the best we've made so far. I am pretty sure, some songs are better than those of the years before, but isn't that normal? We all get better during time. But if you compare the music, the quality itself remains the same, because it is the same source, writing the song and the music.
Artwork, lyrics and even the image of Grausame Töchter always reveal a kind of provocative element! How do you explain this element and what's the deeper meaning behind?
There are no complex symbols and no marketing strategy behind our artwork and shows. When we go on stage, we just let free our inner lust and let it control us. The way to show our inner 'biest' (animal) comes from the motivation to go on stage and let your inner self get free. Just do whatever you want and whatever you can, before life ends.
The entire show also reveals a deeply artistic exposure. Can you tell us a bit more about this essential aspect of Grausame Töchter?
On stage, we experience our songs over and over again. Every time again it is different and new for us as well as for the audience. There is not one show like the other. We try to get free our inner lust and instincts and while the audience is carried away by our music, it is something we can share with each other, which makes it so special to us.
You often makes me think of the 'new' Nina Hagen! Do you feel some common elements with her?
I admire Nina Hagen. I think she is turning into flames, every time she's performing. But I actually don't know if we have something in common. I don't really care if my whole appearance make people think of other artists as well because in the end, the differences make us interesting and the more you think you know an artist, the more you have to learn about him.
Stef COLDHEART
01/09/2016
---
Er zijn zo van die bands die meteen je aandacht vangen, of je het nu leuk vindt of niet, bands die een serieuze indruk op je maken. Grausame Töchter (dat kan vertaald worden als 'wrede dochters') behoort zeker tot deze categorie. De Duitse formatie bestaat uit kernlid Aranea Peel (vocals) en wordt bijgestaan ​​door Gregor Hennig (drums en mix) en op het podium aangevuld met meerdere gastmuzikanten en liveperformers. Het geluid van deze band is moeilijk te definiëren, maar bezit elementen van EBM, cabaretmuziek, punk, gothic, electropop en zo veel andere dingen. Ik had een gesprekje met Aranea Peel.
Ik vond op je Facebook-pagina een interessante quote over Grausame Töchter, jullie maken elektronische muziek, maar met een emotionele kilte. Ik ben gefascineerd door dat woord 'emotionele kilte', dus wat bedoel je ermee?
Dat was in het kader van ons eerste album. De meeste van de songwriters tonen de positieve aspecten van hun persoonlijkheid aan het publiek wanneer ze zich uiten. Maar zoals je je kan voorstellen, is dat slechts één kant van de medaille. Mensen hebben ook gevoelens, en die zijn soms op het negatieve gericht. Deze wereld is mysterieus, onbekend en moeilijk. Het vergt moed om deze wereld te leren kennen, maar de beloning is een dieper bewustzijn. Dus laten we er samen naartoe gaan!
Laten we het over je nieuwe album Vagina Dentata hebben. Waar gaat dat over?
Vagina Dentata is een mythe die teruggaat naar Siegmund Freud. Het gaat over lust en dood, de enige dingen in deze kwetsbare en gebroken wereld waarop we kunnen rekenen.
Voor mij is Vagina Dentata je meest veelzijdige en tot nu toe beste album, maar hoe vergelijk jij dat met je vorige albums?
Ik ben blij dat je denkt dat onze nieuwe album het beste is wat we tot nu toe hebben gemaakt. Ik ben er vrij zeker van dat sommige nummers beter zijn dan die van een paar jaar geleden, maar is dat niet normaal? We worden allemaal beter met de tijd. Maar als je de muziek vergelijkt, dan blijft de kwaliteit dezelfde, omdat het schrijven van de muziek dezelfde bron is.
De artwork, de teksten en zelfs het beeld van Grausame Töchter bevatten altijd provocerende elementen! Hoe leg je dit uit en wat is de diepere betekenis ervan?
Er zijn geen ingewikkelde symbolen en er is geen marketingstrategie in onze kunst of shows. Als we op het podium gaan, dan bevrijden we ons van onze innerlijke lust die ons controleert. De dwang om onze innerlijke 'Biest' (dier) te tonen is de motivatie om het podium op te gaan en je innerlijke zelf vrij te laten. Gewoon doen wat je wat wil doen voor het leven eindigt.
De hele show onthult ook een diepe artistieke belichting. Kun je ons iets meer over dit belangrijke aspect van Grausame Töchter vertellen?
Op het podium, ervaren we onze nummers. Iedere keer is het weer anders en nieuw voor ons, net als voor het publiek. Geen enkele show is zoals de andere. We proberen ons te bevrijden van onze innerlijke lust en instincten en terwijl we het publiek laten meeslepen door onze muziek, het is iets wat we kunnen delen met elkaar, dat maakt het zo speciaal voor ons.
Je doet me vaak denken aan de 'nieuwe' Nina Hagen! Heb je het gevoel dat je een aantal gemeenschappelijke elementen met haar deelt?
Ik heb bewondering voor Nina Hagen. Ik denk dat ze iedere keer in vlammen opgaat als ze optreedt. Maar ik weet eigenlijk niet of we iets gemeen hebben. Het kan mij niet schelen als mijn optredens mensen aan andere kunstenaars doet denken, want al bij al, zijn het de verschillen die ons interessant maken. Trouwens, hoe meer je van een kunstenaar denkt te weten, hoe meer je te leren hebt over hem.
Stef COLDHEART
01/09/2016
---