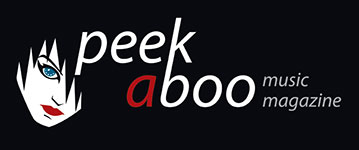 like this interview
---
HOCICO
In terms of attitude I think we are a punk band.
15/05/2011, Didier BECU
photos: © Marquis(pi)X
---
In our interview marathon featuring the bands that will we be on Shadowplayfestival, Peek-A-Boo proudly presents the loudest band from South America : Hocico. We had a talk with the ever so friendly Erk.
Everybody knows by now what Hocico means, but I've always wanted to ask you why you chose that name?
We picked that name because it contains aggression, it is a word used in a derogatory manner in Mexico and that fits our music perfectly, it carries out the aggression of our songs.
You've been around for more than 20 years. I can't imagine you had any idea back then that Hocico would still be immensly popular in 2011?
There was no way we could think of what would happen to us almost 20 years ago, but I'm glad to say that our whole carrier has been marked by magical and meaningful things, as if things were meant to be the way they are. We always believed in ourselves and so far it seems we will enjoy everything until the last day.
You are even considered one of the founding stones of the EBM-chapter. Do you see yourself as icons?
We are very glad and proud to have contributed to the development of the underground electronic music, but we don't see ourselves as icons.
Of course you have to face up to lots of Hocico-clones. Do you experience this as flattering or do you think it's rather stupid that bands clone each other?
In general it is flattering, some bands remind us a lot of when we first started and that is cool.
But when we are out for a club night it is hard to differentiate between bands and songs with a harsh electronic approach. It is like there already are a lot of bands with a similar sound. I think it is time we see bands coming with a fresh sound.
The reason why I asked is clear: you were obviously influenced by Skinny Puppy, but you transformed it to a very own sound!
Well, yeah, in that respect Skinny Puppy remains to be my favourite band, but we never tried to imitate or copy them. I think it is important to stay true to your feelings in order to create, nobody can tell your own story better than you can, so if you stay true to that, your music will speak its own language.
How is the situation in South America? I have the impression the EBM-movement is extremely popular over there, how come?
Yeah, it is an ever growing scene. Central and South America have always had an underground music scene. In Mexico, everything started in the 70s and 80s, with bands, special radio shows, etc. So there has always been an interest in music that is different. EBM is part of this heritage and now we happily see that there are parties, bands and concerts all the time.
I guess you agree if I think that you have a punk-attitude. What does punk mean to you?
Punk means an attitude of life to me, it means "stand up and do it, no matter how you do it and what others say about it". In terms of attitude I think we are a punk band indeed.
You also will agree that Hocico's music is extreme. Do you think a man has to have limits if it comes to extremes?
No limits, you are the only one who knows what you need to be you. You should know what you need to feel happy and there are no limits for that, if you need to go to the extreme of things to find out answers, emotions, feelings and sensations, just go for it. We need to inject Hocico with a touch of madness to make it real for us.
Soon you'll be performing at the Shadowplay Festival. Could you tell us what the audience can expect?
You can expect a band that will play loud and brutal, you will enjoy our new backing visuals and we will mix a good cocktail of new and classic tunes. Most importantly, we will unleash the hounds of hell, so make sure you bring meat to feed them!
What's your favourite record of all time and please state why?
That is a hard one to answer, many albums have been my favourite at different stages in my life. Music speaks to you depending on the stage you are passing through in your life, so it would be a long list. But one of the albums that I constantly return and listen to is "Too Dark Park" from Skinny Puppy. It makes me go back in time and see myself when I was 18 years old.
Who wouldn't you mind to be alone with in an elevator for 8 hours and what would you do then?
You probably expect me to mention a couple of girls I have never met, but I would like to spend 8 hours in an elevator with Julian Assange and we would chat about how to make life harder to the evildoers in this world.
Any special message to our readers?
Don't follow any advice, let your own spirit guide you.
FUN FACTS
FAVOURITE MAN : Benito Camelo
FAVOURITE WOMAN : Rosa Melcacho
FAVOURITE MOVIE : "Freaks" by Tod Browning
FAVOURITE BOOK : "Women" by Charles Bukowski
FAVOURITE COLOUR : Red
FAVOURITE PLACE TO GO : Hell
FAVOURITE CARTOONCHARACTER : El Santo
Didier BECU
15/05/2011
---
Peek-A-Boo is volop aan zijn interviewmarathon bezig want jawel, naar het schijnt 'doet zot zijn geen zeer' en daarom hebben we maar besloten om alle groepen van het Shadowplay Festival te interviewen. De tweede in het rijtje is Hocico! Wij spraken met de immer vriendelijke Erk.
Iedereen weet ondertussen wat Hocico betekent, maar kun je ook even toelichten waarom je die naam gekozen hebt?
Wij hebben die naam gekozen omdat het woord een bepaalde agressie uitstraalt, het is ook een woord dat in Mexico op een denigrerende manier gebruikt wordt. Het past perfect bij onze muziek en draagt de agressiviteit uit die je in onze nummers terugvindt.
Jullie zijn nu al zo'n twintig jaar bezig. Ik kan me moeilijk inbeelden dat jij toen ooit gedacht zou hebben dat Hocico in 2011 nog steeds even populair zou zijn.
Twintig jaar geleden hadden wij inderdaad geen flauw benul van wat er ging gebeuren, maar ik ben toch wel blij dat onze hele carrière gekenmerkt wordt door magische en betekenisvolle dingen. Soms lijkt het erop dat alles zo voorbestemd was. Wij hebben steeds in ons zelf geloofd, en tot nu toe lijkt het alsof we er plezier aan zullen blijven beleven.
Jullie zijn zonder twijfel één van de bouwstenen van de EBM. Zien jullie jezelf als iconen?
Wij zijn heel blij dat we deel hebben kunnen uitmaken van de ontwikkeling van de elektronische underground, maar zelf zien wij ons niet als iconen.
Er bestaan ook heel wat Hocico-klonen. Zie jij dat als iets dat je ego streelt of vind jij het belachelijk dat groepen elkaar gaan kopiëren?
Over het algemeen zijn we daar blij om, sommige bands herinneren ons aan de dagen dat wij begonnen en dat is cool.
Het is wel zo dat het in een club moeilijk is om een onderscheid te maken tussen al die verschillende groepen in het ruwe elektronische genre. Het lijkt wel of er al heel wat bands zijn met een gelijkaardig geluid. Het wordt wel tijd dat er wat groepen met een nieuw geluid komen aandraven.
Ik vraag jou dit eigenlijk omdat jullie in het begin sterk op Skinny Puppy leken, wat jullie wel hebben weten ombouwen tot een zeer eigen geluid!
Wel ja, in dat opzicht blijft Skinny Puppy toch één van mijn favoriete groepen, maar we hebben nooit geprobeerd om ze te imiteren of er een kopie van te zijn.
Ik denk dat het belangrijk is dat je trouw blijft aan je eigen gevoelens om te kunnen creëren, want er is niemand die beter je verhaal kan vertellen dan jijzelf. Als je daar aan vasthoudt, zal je muziek wel zijn eigen taal spreken.
Hoe zit de situatie in Zuid-Amerika? Ik heb de indruk dat de EBM-sector daar nogal populair is, hoe komt dat?
Het is inderdaad een scene die blijft groeien. Zowel in Centraal- als in Zuid-Amerika is er altijd een undergroundscene geweest. In Mexico is alles begonnen in de jaren '70 en '80 met bands, speciale radioshows, enz. Er is wel altijd interesse geweest voor groepen met een ander geluid. EBM maakt deel uit van die stroom en nu zijn we zeer tevreden dat er zoveel fuiven, groepen en concerten zijn.
Je zal er wel akkoord mee kunnen gaan als ik vind dat je een punker bent.
Punk betekent voor mij een levensstijl, het betekent "stand up and do it, het maakt niet uit hoe je het doet en wat anderen ervan zeggen".Ik denk dat wij wat attitude betreft dus wel een punkband zijn.
Je zal er ook wel akkoord mee gaan dat Hocico's muziek extreem is. Denk jij dat een mens grenzen moet stellen aan zijn extremiteiten?
Geen grenzen, jij bent de enige die weet wat je nodig hebt om jezelf te zijn. Je zou moeten weten wat je nodig hebt om gelukkig te zijn en er zijn hierbij geen limieten. Als blijkt dat je naar het extreme moet gaan om antwoorden, emoties, gevoelens en sensaties te vinden, moet je dat gewoon doen! Wij moeten Hocico met wat gekte injecteren om het voor ons echt te doen lijken.
Binnenkort staan jullie op het Shadowplay Festival, vertel eens wat het publiek mag verwachten?
Je kan een show verwachten van een groep die vooral luid en brutaal zal spelen, je zal kunnen genieten van onze nieuwe achtergrondbeelden, en we zullen een mooie mengeling van oude en nieuwe nummers brengen. Het belangrijkste is dat we de hellehonden op het publiek zullen loslaten, dus iedereen is maar beter stevig voorbereid!
Vertel ons even wat jouw favoriete plaat aller tijden is, en waarom?
Dat is een moeilijke vraag, omdat er zoveel platen tot mijn favorieten behoorden in verschillende periodes van mijn leven. Muziek spreekt je aan op bepaalde tijdstippen in je leven, dus eigenlijk zou dat een enorme lijst zijn. Eén van de albums waar ik wel steeds naar terugkeer en naar luister is "Too Dark Park" van Skinny Puppy. Daarmee keer ik terug in de tijd en ik zie mezelf toen ik 18 was.
Met wie zou je het niet erg vinden om 8 uur in een lift vast te zitten.
Je verwacht waarschijnlijk dat ik hier een aantal meisjes zou noemen die ik nog nooit ontmoet heb, maar ik zou best wel 8 uur in een lift willen zitten met Julian Assange en we zouden het hebben over hoe we het leven van boosdoeners harder kunnen maken.
Een speciale boodschap voor de lezers?
Volg geen enkele raad op, laat je volgen door je eigen geest.
LEUKE WEETJES
FAVORIETE MAN : Benito Camelo
FAVORIETE VROUW : Rosa Melcacho
FAVORIETE FILM : "Freaks" van Tod Browning
FAVORIET BOEK : "Women" van Charles Bukowski
FAVORIETE KLEUR : Rood
FAVORIETE PLAATS OM NAARTOE TE GAAN : De hel
FAVORIET TEKENFILMFIGUUR : El Santo
Didier BECU
15/05/2011
---