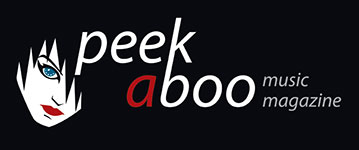 like this interview
---
HOT PINK SATAN
"Squirt" is a true story. "You better work, if you want to see me squirt". I mean, we shouldn't have to explain that one...'
26/02/2019, William ZIMMERMAN
---
Hot Pink Satan is a dark electronic adventure. HPS is Clea Cutthroat (Bonaparte) & Jeremy Creamer a.k.a. allinaline (DAATH, Chimaira). They joined forces in 2017 to create HPS, a blend of beats, noise, hooks, and sexual hellfire. After releasing 3 singles/videos and compiling a remix EP within 6 months, they completed their debut LP and hit the clubs running. Armed with edgy songs and a carnal stage show, they will take you on a dark electronic adventure into the sparkling flames of a Hot Pink Hell…
Thanks for taking the time for this interview. To start off, the name: Hot Pink Satan, where did it originate?
CLEA: Thank you! The name came quite organically to be honest. We were working in the studio together, writing lyrics, and somehow "Hot Pink Satan" rolled out of both of our mouths. As soon as we said it, we laughed, gave each other a high-five and we knew it was ours. I can't think of three words that could fit us more perfectly. Thank you Satan, and thank you Hot Pink!
You have an interesting history already. Can you talk about the beginning of the band and your time in Berlin?
CLEA: I lived in Berlin for 11 years. I toured with the band, Bonaparte, and also with my solo performance art/neo burlesque show (Clea Cutthroat). I met Jeremy (Chimaira, DAATH) over in Berlin, and booked him to play at a venue that I was running at the time. It was my last year there, and I was scouring the world for someone to collaborate with. As soon as Jeremy started playing that night, I knew he was the one! When I found myself back in the States, about 6 months later, I emailed him immediately with my fingers crossed. Now, the rest is history :)
What prompted the move back to the USA?
CLEA: Oh you know…matters of the heart. I thought I found love, so I leapt on over to NYC. But, that turned out to be a nightmare. So, I took all of that experience and made a ton of art. Nothing like pain and heartbreak to fan the flames of one's artistic fire.
How did the German culture help shape your influence if at all?
CLEA: I would absolutely say that Berlin has left a very welcome, and indelible mark on me, more so than Germany has in general. From Berlin's history, to the music scene, club culture, attitude about sex and sexuality, being the land of avant-garde, danger and anarchy. I fell in love with that red-lit city at first sight. It was Berlin, and the incredible group of artists that I was surrounded by, that truly pushed me. It's wild, but it's thoughtful. Huh, the way I 'm describing it, it sounds like Berlin is the crossroads, and in many ways, it is.
Can you talk a bit about your musical and non-musical influences?
CLEA: My musical influences are across the board. Some of my favorite artists would be Madonna, Diamanda Galas, Ministry, Siouxsie and the Banshees, Henry Rollins, Kathleen Hanna…
Non-musical influences I gotta say Bob Fosse (I started out as a dancer, so he really influenced me from a young age). Other artists would be David LaChapelle, Frida Kahlo, Hieronymus Bosch, and one of my recent obsessions, the painter Nigel Cooke.
I also went to an all girls' Catholic school (surprise! lol) So from early on, I have always loved to study all forms of spirituality, occultism, tribalism…and my studies absolutely do have a direct influence on my work.
SPELLS is the debut full-length album. Can you talk about some of the tracks on there? Also, are they based on personal stories or observations outside of yourselves?
CLEA: All of the lyrics and songs come from true stories, or moments, or people.
I keep notebooks full of journal entries, lyrics, words, moments, and then I bring them to Jeremy and we flush them out and create together. Sometimes it's two stories that become one in a song. There are many layers and colors, but the seeds are true.
"Squirt" is a true story. "You better work, if you want to see me squirt". I mean, we shouldn't have to explain that one (or maybe we do…hmmm.)
"3 X HOTT" was the first song that Jeremy and I wrote together in Boston. Now we got three incredible mixes that really carry the journey of the album.
"UTI" is a true story. Very true story. Just ask any lady and I bet they can relate! I always have had a strange fantasy of getting sprayed down by cranberry juice during that song.
You just released a video for the song "Breathe." Was putting something out that was edgy or provocative something you made a conscious decision to do or is this all natural?
CLEA: I had to laugh a little because sometimes I have to remind myself so often that what we are doing may in fact be seen as "edgy or provocative". The whole creative process behind that video was very organic and fluid for both Jeremy and I.
Have you encountered any problems with promoters or club owners in regard to your stage show?
CLEA: Well, knock on wood! So far so good! But, as much as we are wild, we're professional. In some States there are nudity laws…so I bring extra clothing for that. The stage show is full on regardless of if I'm in a leotard, or electrical tape. No amount of fabric is gonna keep me from rolling on the ground and get tangled in mic cords.
What's the biggest misconception about Hot Pink Satan?
CLEA: I feel like I should hand the microphone to my family for this one! ;)
Well, rather than a misconception; I would say that I find people are often surprised by how positive the energy is at our shows. I think when people see us live they get it more. It's a celebration of freedom: freedom to feel, lust, bleed, dance, love, scream. We all need a release, and music and live shows do that for us all in such special ways.
You've been known to say "What Would Madonna do" when making creative decisions. Why has she been so important to you other than from a purely musical influence?
CLEA: Oh man, I'll never forget being so little, and going to the record store with my big brother. BOOM! There was the Madonna album staring at me, with the chain around her neck, and "Burning Up" was my favorite song at the time. I just loved her. She was so sexual and badass. So confident and didn't care. She started as a dancer, and became this incredible artist. She would flirt with men and women, and had the best dancers on stage with her. As a little girl, that loved to dance and was sexually confused herself, I had nothing but hearts in my eyes for that Queen.
Any plans to tour Europe?
CLEA: Absolutely! I can't wait to get back over with Hot Pink Satan. I miss Europe, and both Jeremy and I can't wait to get over there. We're ready!
What's next for Hot Pink Satan in 2019?
CLEA: We got more videos and singles to be released from "Spells", and we are going to be playing everywhere. We got a lot up our sleeve, and we are very pleased to be starting off 2019 in stride. We want to take the momentum and keep going and keep touring! We got a lot of the globe to cover :)
Thanks for your time. Any last words here can be yours.
CLEA: Thank you for the interview and see you on the road!!! (I'll keep an extra bottle of blood just for you ;)
For more information:
https://www.facebook.com/hotpinksatan/
https://hotpinksatanmusic.bandcamp.com/
William ZIMMERMAN
26/02/2019
---