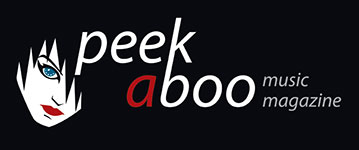 like this interview
---
HYSTERESIS
We'd love to make heavy opera industrial avant-garde krautrock hardcore bossa-nova musicals, but we always get stuck in the first 5 minutes.
13/07/2011, Didier BECU
---
Hysteresis are a Belgian indus/powernoise (or whatever) band that found a home on the now already legendary Hands-label. Music that's made to have an intense twist with the mind and as they soon will appear at Factory Noise Fest (the sub-festival that to Shadowplay), we decided to talk to them...and of course because we think they're fantastic too!
Let's begin with telling who Hysteresis are.
Belgians from Antwerp, we're friends from school, who kept on sharing the same interests in politics, music, and plenty of other things. People used to think we were brothers.
We started with free software on our PC's in the ninety's, sampling the theme song of Happy Days on deep basses and beats. Then we got in touch with the term "hysteresis" during education, and both of us thought that was a very appropriate band name. We organized a couple of concerts at "Scheld'apen" , back then it was still a squat.
We had Ah Cama-Sotz, Imminent, Hypnoskull, Sonar, Monolith, … and got in touch with Spectre records. They liked our demo and asked us to make a track for the "Angst" compilation cd. That's how things started for us.
You used to be on Spectre Records and now you're on Hands, do you think this change of label also indicates a change in music style?
The music changes anyhow, the label doesn't matter in that regard. Our equipment has changed during the years, as well as the rest of the world. So it's normal that the sounds are evolving and the atmosphere varies.
Sometimes there are some tracks that are too "different" to release, on both labels we've worked with. For instance: we did a cover of the track Rats, by the legendary punk band Subhumans, and we once had a psychotic variation on Ravel's Bolero. You can't expect industrial labels to release that stuff.
But we can totally understand the opinion of the labels, they know the audience better than we do; best advice you can get. Those deviating tracks mostly end up online as free downloads on Soundcloud and other sites.
I know you're not newcomers but it certainly must flatter your ego to end up on Hands?
Absolutely. We've been following Hands productions since 2001, when we found a double compilation CD in the local record store with strange and interesting band names like Needle Sharing, Mono No Aware and NKVD.
A new world of wicked music revealed itself to us, as back then we were more into rave music and dark psychedelic stuff. So to be able to make releases with them now, 10 years later, and also performing on Forms of Hands, is a thrill. But we were also flattered to work with Spectre. They're both legendary labels in the scene.
How did you get in touch with them?
Labels are going through hard times, so Spectre went into suspension. We've been looking for another label for a short period, but soon we got a message from the Hands people. They knew us from Maschinenfest and were also friends with the Spectre headquarters, so good references for us.
What I really like about your style is your open mindedness towards various styles, so I guess there're no real boundaries for the band?
Exactly. We'd love to make heavy opera industrial avant-garde krautrock hardcore bossa-nova musicals, but we always get stuck in the first 5 minutes. We like many genres, going from classical over new beat (only in the car) to the Beach Boys and Oriental stuff, even progressive rock. If it's good, we'll enjoy it, and then it will probably have an influence on the tracks we make. The fusion of various styles and tempos is also challenging, you never know what a track will be like before it's finished and if the things in your head will work out the way you'd like. Sometimes it's just impossible, and you have tot start again from scratch, with new ideas.
I heard so many things, someone even described "Calculus" as Jean-Michel Jarre on speed!
That is a very flattering compliment. There's a lot of modulations in that track, that's probably why people associate it with Jean Michel Jarre. It was a hard track to work on, took a lot of time, like doing a math exercise, that's why it was named Calculus.
You're a Belgian band. Can you really say that today in 2011 there is something like a Belgian Indus-scene?
There is a scene, but not as active as in Germany, France, Canada, Switzerland, etc. There's a lack of events, especially in Antwerp. There are many artists though, so everybody gets to know each other easily and that's an advantage. But there's a great Belgian festival coming soon and it seems like we'll all meet there!
You soon will be on at the Factory Noise Fest, what can we expect?
We were thinking of starting with a set of chill out tracks, as the hour we have to play is 2 pm. That's brunchtime. We hope there will be an audience at that early hour on the first day of the festival. But probably we'll just go for the apocalypse, ignoring time and space, that's more fun for us.
What's your favourite record of all time and please state why.
There's no such thing like "the best album of all time". There are plenty, depending on the mood you're in. Like the 5th symphony of Ludwig van Beethoven, because of the first 4 notes (and the rest as well, of course). And Blast Furnace by Converter, because of the distortion. The Middle of Nowhere by Orbital, for the modulations in the melodies. It would take a lot of space in your magazine to make this list complete.
With whom wouldn't you mind to be alone with in an elevator for 8 hours and what would you do then?
Bart De Wever, the party leader of the N-VA (New Flemish Alliance). We would rather choose not to incriminate ourselves by sharing the plans we have for him.
Do you have a special message to the readers?
The worst is yet to come.
Didier BECU
13/07/2011
---