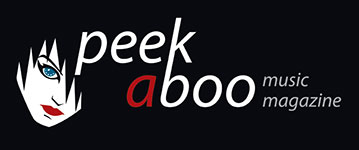 like this interview
---
IN THE NURSERY
Every individual has the power to create, it is the lack of ideas that can sometimes hinder people.
11/05/2011, Didier BECU
photos: © Marquis(pi)X
---
"Blind Sound" is the newest, impressive album by In The Nursery and once again they're overwhelming us with their well known cinematic atmospheres, in which you can hear the love these guys cherish for what is known as 80's post-punk. Peek-A-Boo had an exclusive interview with Nigel and Klive Humberstone.
In The Nursery celebrates its 30th anniversary this year. That's a long time, how do you look back on those three decades?
Klive: I suppose when you get milestones like these, you reflect on what has gone before. Recently, I have been asked to contribute to quite a few books and publications on post-punk music and the emergence of the gothic scene. So, I had to 'delve' into the past and collate my thoughts and memories.
It's amazing what you remember and the ideals that I have today are clearly visible in the early musical experiences of over 30 years ago. Being a teenager when the Punk explosion happened makes me feel very fortunate indeed.
I think we can surely state that you created a sound which is totally your own. What were your inspirations? Sometimes I tend to think "staying true to yourself" is at least one of them.
Klive: I feel we have kept true to our beliefs. Being inspired by bands like Joy Division in 1978 opened up the possibility for us to create our own music, to express ideas that we wanted to communicate. We have kept that 'passion' going over all these years. We do what we want to do, we are in control of what we create and how we share that with others, from the artwork up to the live shows and the albums. It's something that is a part of us, that we feel the need to share.
Joseph Beuys believed that 'everybody is an artist', 'anything can be a piece of art as long as it is a conscious act'. Every individual has the power to create, it is the lack of ideas that can sometimes hinder people.
Your music has already featured in movies. Is this something in which you can intervene or is it just a matter of using your songs?
Nigel: Music placements in film, TV and trailers can be very erratic - but when they do happen, they are very welcome because they help finance what we love doing, which is making music without compromise.
Getting to write a feature film soundtrack would obviously be great but we're happy with how our career has progressed and the opportunities that we've had. I'm pretty philosophical that 'what will be, will be'.
And then of course there's Sheffield, the city that spawned cold industrial sounds. Do you think you were ever a typical Sheffield-band?
Nigel: We were definitely inspired to create music by the other bands that have become associated with Sheffield at that time but never felt that we were ever part of a scene. It always felt as though bands were doing their own unique thing, being defiantly different, which is a distinctive Sheffield trait.
Klive: I think we intergrate more with Sheffield musicians nowadays, than we ever did in the early beginning. In the early 1980's we tended to keep ourselves to ourselves.
The only kind of communication with contemporary bands like Clock DVA, Hula, Chakk, was a knowing nod or a brief chat. Sheffield at the time, although bleak and post-industrial, was a vibrant hive of musical activity.
The energy that had been sapped out of the steel and cutlery industry had somehow transferred its power into the minds of alternative musicians. Cabaret Voltaire offered the template, which was followed, to a greater degree, by other bands such as Vice Versa, Artery, Clock DVA, The Human League, I'm So Hollow and Heaven 17.
The sound was bleak and experimental and felt different to the music I had witnessed in other towns like London, High Wycombe and Reading. This wasn't post-post punk or new wave - the music had a colder heart that still managed to pulse with vitality.
The music scene was very active. You could go out nearly every night and see bands playing in bars, clubs and pubs. It's true when people say that everyone in the audience was also in a band. That was the case in London as well - where I saw Cabaret Voltaire playing with Rema Rema and Throbbing Gristle on the same bill at The Prince of Wales YMCA on Tottenham Court Road. In the audience that night was Steven Severin and Robert Smith!
In regard to alternative music, you are undoubtedly icons from the 80's but apart from some very early recordings I never thought you had a very 80's sound, right?
Klive: We came into the 'scene' from no particular direction. Geographically, we were based in Sheffield, musically we had experienced punk & post punk, stylistically our contemporaries were Death in June and Laibach, editorially we were placed in the 'industrial' pigeon-hole along with Test Dept and 23 Skidoo. But none of that labelling conveyed what ITN were really about.
We came into the musical world, making music that we wanted to hear. No other attitude influenced us in our direction. I am glad to say that playing live is very similar to the early days. Audiences still enjoy seeing a live band (as do I). I loved going to Wave Gotik Treffen twenty years ago and still look forward to going there today! Music hasn't changed - but the production and the way it is transferred to us has. I like to think that fans of music react the same way that I do - they listen to the music, they research the history of the genre, finding new artists and references to explore fresh undiscovered works.
Well apart from Dolores, you are a band formed by brothers. Is this an advantage for being in a band or not?
Klive: Friendship does seem to be the way we work. Musicians like Matt Howden, Liz Hanks, Rob Skeet are all asked to play on our tracks primarily because they are friends we know well, whose work we admire and like.
David and Dolores are integral parts of the band, both for recording and live work. Their input is received differently to how we work with guest musicians.
Dolores came into the studio to work on several tracks of this album. The song 'Crepuscule' had already been played live a few times, so we knew the lyrics and phrases worked well. The other tracks were developed from initially building on melody lines, which in turn led to phrases and lyrical passages. Instinctively, recording, writing and then re-recording. That seems to be the best work pattern.
"Blind sound" is your latest album. One of the most impressive ones I have heard from you ever, but also a very dark one.
Klive : "Blind Sound" is very much going back to the essence of why we started making music. We have certainly learnt a lot over the years about how to compose and 'craft' a song. But I think we made a conscious decision to ensure that the prevalence of technology in making today's music (i.e. computers, software) didn't control what we wanted to create.
Sometimes, computers can take over the artistic 'reigns' of writing, creating lifeless music with no soul attached. It you are not aware of technology's powers, it can sap the simplest of ideas. We knew we wanted to create an album that could be performed live, sounded fresh and fused together all the different elements of our trademark sound and with "Blind Sound" I believe we have achieved that.
On the new album there are a lot of classical instruments and sometimes it even sounds like classical music.
Klive: Well according to Wikipedia, we are the purveyors of the 'neo-classical' sound! If i knew quite what that meant, I would feel honoured.
We find it just as hard as the journalists to define what style of music we create. If I thought too much about it, I wouldn't be able to compose anything worthwhile. "Blind Sound" has distinct aura, that has evolved out of the way we approach and score our music. There are the trademark marching drums and pounding orchestral percussion, which take a leading role in this album, along with the strident orchestration that we manufacture out of sampled sounds and real live instruments. If that is 'neo-classical', then I am happy, and proud to say it is true.
On the cover you see a building at night, with some rooms still filled with light. What's the meaning of that image?
Klive: The images on the new album are multi-layered in meaning. Quite a few 'hidden' references to the braille system, which incidentally was the first digital form of writing and sits well with the notion of "Blind Sound".
Guy J Brown is the photographer we worked with on this album and he has created a stunning set of 'bespoke' images that evoke the mood of both the music and the album title. Guy was inspired by the idea of the braille pattern concept that we came up with. The photographs convey the idea that 'blind sound' / 'noise' is all around us, we choose what we want to hear sometimes.
I think you have interpreted the imagery very well. We don't want to give reason to everything we do. It's the same with our music as well as the visuals.
This might sound a bit mischievous, but you're both 50 years old and it sounds like the In The Nursery has been blessed with a mature sound as well.
Klive: There are no secrets and there is no 'fountain of youth'. I guess our passion for music keeps us young in many ways.
Performing live, in front of an audience can feel just like it was when you were seventeen. The simplest of pleasures.
In the next months there are three concerts planned (Sheffield, Amphi and the Wave & Gothik Treffen in Leipzig), are there others in the make?
Klive: Yes, we have a London show planned for August, along with a series of shows in Germany in November and a further set of shows in Germany again along with Sieben in February 2012.
What's your favourite record of all time and please state why.
Klive: That's a difficult one - but easy at the same time. Will have to be 'Unknown Pleasures' by Joy Division. If I had never heard that record, then I guess I wouldn't be making music today.
With whom wouldn't you mind being along with in an elevator for 8 hours and what would you do then?
Klive: A good book. Perhaps something by Colin Wilson.
Peek-A-Boo thanks Klive and Nigel for this exclusive interview, your job now as reader is to discover the sounds by In The Nursery, one of the things you have to do before you die!
Didier BECU
11/05/2011
---