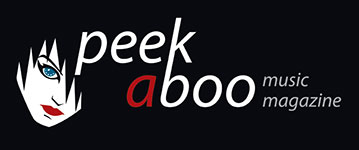 like this interview
---
JENNA JACOB
I'm an introvert person in private, but on stage I run free.
26/05/2016, Didier BECU
---
Jenna Jacob released the new EP No Turning Back which is perfect if you like symphonic and goth metal. So we had a chat!
Hello Jenna, because you are quite new to most of our readers, I would say: introduce yourself!
Like my CD cover reveals: I'm Jenna Jacob. I am a 25 years old singer and I am living in Germany. Beside my passion for music and my musical activity, I study media education in Magdeburg in the last semester. What else can I tell you... My personal highlight was standing on the Black Stage in Wacken with Chris from Grave Digger when he sang the Wacken hymn Wacken will never die – that was an awesome experience, really impressive! Some day I want to stand there again (laughs).
You do everything yourself, Jenna?
Actually, you're indeed dealing with a solo artist! Since I haven't found a band to work with yet, I contacted Lars Rettkowitz (Freedom Call) and asked him to make that project as my producer (KR Music). He contacted some musicians who wrote the music according to my ideas/expectations and I wrote the lyrics. Lars also played guitars and bass for the EP, but I don't have a whole band behind me – I'm still looking for the "right" musicians to work with full time.
No Turning Back is your newest EP. One definitely hears that you love 80s hard rock?
I definitely love the 80s music – that was the first music I heard when I started to listen to rock and metal. But I also love more modern bands. A bit of everything from time to time – depending on my moods and feelings: Alice Cooper, WASP, Aerosmith, Scorpions, Judas Priest, Dio, Avantasia, Jorn Lande, Magnus Karlsson, Firewind and many more. I also like German bands like Eisbrecher and Oomph. I'm pretty open to nearly every kind of music as longs as it's high quality and the lyrics have substance.
I guess it 's quite difficult to find the right label?
We needed two years to finish that EP (when many people work together and have other projects – totally understandable - and priorities, it's hard to finish such a small side project). Some fans always ask me when the songs will be published, lately nobody really believed that there would be a next EP. It would have taken way to much time to look for a label for my first EP, so I decided to make a self-release. For the next project I'll definitely care for some label support (and a faster progress).
How does Jenna Jacob fit in the Germany hardrock scene?
That's a real good question – actually, I haven't thought about that until now... Basically, I don't care if I "fit in", I simply want to make music that I love and that I can stand for. But well, I think more girls in the rock and metal scene is never bad because – personally – I think there're still more male fronted bands and even though they make amazing music and write excellent lyrics, we women have a different view on things sometimes that has to be shared.
When looking at your biography, we see that you learned to play almost every instrument. As if you really wanted it all....
Uhmmm... I play guitar and I had piano lessons, though I wouldn't call that every instrument – but you're right, I really wanted it all – and I still do. Before I even went to school, I wanted to learn to play the guitar; I got lessons and met my vocal coach 3 years later on a small music school concert. Since I had vocal lessons, my passion for singing grew and – even though I also had several lessons in music theory - singing became my total priority. I always loved to stand on stage and perform. People who knew me from school never expected me to sing and stand on a stage – I'm an introvert person in private, but on stage I run free.
Because people like to label musicians, I guess you eventually will end up in the female fronted metal category. Personally, I always thought it was a quite stupid term.
I don't think that it's rare to have women on the microphone – but there are just a few bands that are really famous (like Nightwish, Epica, Delain, Battle Beast) and I guess that most bands are more in the symphonic metal genre. The scene could definitely use more women – and bring them to the top – for their music and the messages they want to spread with their songs (not just their outer appereance)!
What can we expect from you in the future?
More music, more songs, finally gigs (hopefully, I find a band very soon) - and I would love to collaborate with some other musicians/band in different projects in the near future. It would be interesting to sing a duet with a male or femal singer. I also want to work on another solo album (even though it will take some time to get that started) and I guess the songs will be different from the song on No Turning Back. Since that was my first solo project, I was pretty inexperienced and didn't know a lot of things – now I know how I want to work and what works for me and what doesn't, that will influence the future songs.
What's your favorite album of all time and please state why.
I don't have a favorite album because what I like to hear always depends on my mood. But there are albums I play often, like the Allen/Lande project produced by Magnus Karlsson. I love a lot of their songs – the music is great and the lyrics are awesome. Moreover, the production totally meets my taste and if two of the greatest voices come together, there is no other way than to love the outcome!
With whom wouldn't you mind to be alone in an elevator for 8 hours and what would you do then?
I really have to admit that this is one of the hardest questions – I thought about different people; but well, since it is an elevator and I simply love having real conversations with people, I would prefer to be with an artist – maybe The Hollywood Vampires or Rudolf Schenker or Paulo Cohelo - but at the end there is just one person I would really like to be with for 8 hours in an elevator – it's simply the one and only:Doro Pesch. For me, she is the one who built up a solo career in a time when the scene was completely dominated by male artists. There are no other (really famous) artists like her. Of course we now have way more female singers, but solo careers in the heavy metal scene like hers? I think talking to Doro would be interessing due to her experiences. She definitely seems to be a real pleasant person. And – the best thing of all – we could talk German; that makes things easier (laughs).
The last word is yours....
During the last month we lost a lot of great musicians – and of course it's sad and hard to really face it. But that also shows us how important it is to invest more in new arists – they are the future. Of course they can't replace the old heroes, no one will ever be able to do so, but we should see it as a chance to discover new bands and give them a chance – otherwise the places will stay empty and we will have no one to reach for anymore. Our old heroes also started as small, unknown artists who had to work real hard to get where they finally stood. But without a real fan support, it's hard nowadays to reach that level. I don't like to download music (especially not for free) – I still buy CDs, because it gives me a good feeling. Not just because I know I can support musicians that way, but also because I can read the lyrics in the booklet – sometimes even background stories. The work artists do every day should be valued and not just be taken for granted.
Didier BECU
26/05/2016
---