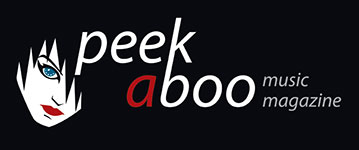 like this interview
---
K-BEREIT
I want to show to women that you can do what you want, even if you're not a beauty, skinny or sexy. As long as you have something to say, say it!
21/07/2014, Filip VAN MUYLEM
photos: © photo 2-4 Filip Van Muylem
---
When I saw K-Bereit in Vlissingen (at the Terra Gotha XXI) I heard that they were working on new tracks and together with a great performance I knew that there would be a good time for an interview in the near future... I got surprised by an e-mail with great tracks...
My logic start: what does the name mean and what's the philosophy behind it?
Dom : K-Bereit comes from my first band Kriegbereit. We didn't want to use the name again so we changed in a less aggressive name, but still remembering the good old times and history.

Question for Dominique: before you started with K-Bereit you did some recordings with what I call the all-star of Electro: Cobalt 60! It must have been really amazing for you? Can you tell the people who missed it to whom I'm referring to?
Dom : Cobalt 60 was really a great experience for me. It was really fun and Jean-Luc (and other big musicians) taught me lots of things. I used my Cobalt 60 experience on K-Bereit.

Just as Cobalt 60, K-Bereit changed too, why did Fred leave the band?
Dom : Fred wanted to quit one year before he left really. The new project was not what he wanted. It was not enough (EBM) for him. So, after one year, he decided to leave.
Audrey : Fred decided to leave the band twice. Once I ran after him, but it was his choice. Sometimes you have to make decisions in your life, this one was his, we have to respect it and wish him luck. Our musical taste was not fitting anymore: that's life.
Question for Audrey: I saw that show in Vlissingen (Terra Gotha XXI) and heard that the other gigs had almost the same kind of energy and stage play. Seems like you are born to be on stage and giving it all? How logical was it, you could have been looking for another member?
Audrey : I never felt that I was born to be an artist. In fact, I am not. I am a "good" performer.
Of course, in the beginning we were thinking about taking someone new in the band, but we had lots of gigs coming, and so many projects: it was impossible to find someone with ability to learn that fast, and with all the time we needed for the band. I was there at each gig, I knew all the songs, and I was helping with the visuals, managing them, promoting them.... I was already a member of the band, but behind the scenes. So I tried. My first gig was in Berlin, the second in WGT. I didn't like those gigs. I was too much into copying Fred, and I'm not him. As you said in your review of the gig in Vlissingen: I vent a lot of feelings on stage: anger, passion, rage and madness... The stage helps me to liberate myself from all off that.
I came from the Rock scene. I grew up with PJ Harvey, Courtney Love, Veruca Salt, Tori Amos, Shirley Manson... Somehow I was focused on strong women in the music scene! I felt stronger than some of the boys around me.
When you're on stage you have to give everything, and even more. With the songs that will be now my songs, it's gonna be terror on stage. Be ready boys!

Dominique: my son loves your mask, how did you make it and how did you decide on it? It looks like a real warrior or a super hero! Isn't it hot on stage with that on?
Dom : I thought of a new way about K-Bereit in 2010. I was fed up of this stupid military visual. My way was to go to something more dark and danceable. Something mysterious, glam and industrial. We are in 2000's not in the 80's! So I don't think it was a mistake. The new visual and the music seem more attractive for the audience.
As I really enjoy being on stage, I don't think about inconveniences of the mask (hot, breath, sweat, blind...).

Question for Audrey: are you still the manager and taking care of everything?
Audrey : Dominique makes the music and all the productions and technics. I am still the manager and the singer. It's my baby (I don't have children). I won't let anyone use our image, or plan anything. I need to be involved in everything : from music to merch. K-Bereit is my life, I have nothing else.

Since you toured a lot this year it must be a lot of work?
Audrey : Yes it is. I have a lot of health problems so it's sometimes hard to do more than 20 show a year, but I will continue as long as possible. And when I'll be dead, maybe my record will sell better (laughs).
Some people say that France has a small scene, but the more bands that pass by the more I think it's time to create a CD: bands from France or even start a complete festival with only bands from France: K-Bereit, Soror Dolorosa, Punish Yourself, Herrschaft, … (to name just a few). What do you think of it?
Dom : Punish Yourself is a great and big band. The most interesting in France for me. We are thinking about doing a big compilation with bands from France and Belgium, like if you remember it "French & Belgium Industries compilation" released in 1993 on Machinary records. We want to introduce interesting French bands outside our country. I don't know Soror Dolorosa and Herrschaft. Chemical Sweet Kid is one of the good bands you should follow.
Audrey ; I'm a bitch : I don't listen to our kind of music. I listen to the same music for more than 15 years now (laughs). But as we tour we meet other bands, and sometimes we get surprised in a good way. In France, I would say like Dom : try Chemical Sweet Kid, you won't be disappointed. They will tour with us as support on some dates!

A new album will be released soon, will it be on Emmobizz-Records and how will it be called?
We are very proud to announce that our new album will be out on October 22. 2014 at Emmobizz.Records. The album is called "Glamustrial". It's a name we found one day, on the way back from our concert, and Dom and I fell in love with that name and created a whole concept about that name.
We will never be able to thank Jörg Freier enough, he's the label boss: we really have to thank him for believing in us as he does.
If I can go back to the French bands, is there one you would want to work together with for the new cd? Or are there plans to do something with another artist (guest vocals)? XMH for example?
Dom : We are open to work with interesting people and bands. The next one should be Chemical Sweet Kids.
Drey : Claus Larsen from Laether Strip asks me samples for his songs "Strong boys". I was very happy about it, and I'm proud to be on that amazing song.
He is singing on one of our song too on our new album, called "Wake the dead". And we also have some samples from the amazing Marco from Spanish band Larva on the epic song "Inquest".
Of course we hope to work with other bands. We're totally open minded, if we have time, we will do.
First we get the EP, in September, same line? You amazed me with the complete reworked version of 'A Forest', you really changed it into one of your own tracks! Thumbs up for that! How did it go?
Dom : I took the same base as the Kriegbereit version. I lost all the sounds and raw files from that period, but I reworked the basic sequence. After that I put some new stuff on it to give it a modern sound.
Audrey : First, thanks for the compliment. We had some from friends, but now, from people who know the scene it's amazing. It was hard for me to do this cover as I'm a big fan of the Cure. I wanted to do something different, not just a copy. I will be very glad if people enjoy it. The danceable part is Dominique's work, and I hope it will be a murder on the dance floor again and again and again.....
The EP will be out as a vinyl edition with 2 songs on 10.10.2014.
Does The Cure already know about it? Will it figure on some tribute to The Cure too? I heard that Alfa Matrix will launch one soon!
Dom : We don't know, but the label did everything to the rights, so they could know it. We didn't know about AM plans. It was more a "memory of the past" joke. The first version is 20 years old. Good anniversary for the new version.
Audrey : I don't think that they know, but I will send them a vinyl.
'Life is not a Fairytale' is another great track that will figure on it, can you share the hard times you went through?
Audrey : That was the first song we did together. The vocals will not be the same on the album : now I know how to sing (laughs).
It was a way for me to explain the hell I was going through. I'm still in it, but slowly coming back to life.
And also, I wanted to make people realise the fact that "stuff" does not bring happiness. A wise man once told me "The more you have, the less you care"
The lyrics of 'Zombified' needs some explanation, to what is the question pointed out: shoot me in the head and don't miss me?
Audrey : We love zombies and I wanted to do a song about it. No real meaning : just shoot me in the head, and don't miss me, because if you miss my head, I will be back and I'll bite you, and you'll be the zombies we will had to shoot. Never ending story.
Soon you'll be playing at the Alt-Fest, it seems to be the best festival of the year, with only one eye on the list of bands that will perform … How do you feel about it?
Audrey ; Very lucky. I send an e-mail almost 2 years ago and the mastermind is a huge fan of Dominique and likes girls in a band. He told me yes without any negotiations. As the festival was getting bigger and bigger I was like "Oh my God, I can't do it". But I will, and I will rock the place!
What is your ultimate dream with K-Bereit?
Dom : Stay alive for a long time to do everything we want to do.
Audrey : Release the vinyl and the album, make some good gigs, and play at some big festivals as long as I can.
Show to women that you can do what you want, even if you're not a beauty, skinny or sexy. As long as you have something to say, say it!
Anything to close this interview?
Dom : Follow your way. If you are good, people will know it. If not, do not blame the good ones because your work is bad ! Thanks for your support!
Audrey : Thank you for your support. Knowing people like you gives me energy when I'm on stage, or recording new songs. You're our fuel, never forget that. Without audience, no bands.
pictures K-Bereit at Vlissingen
live review of K-Bereit at Terra Gotha XXI
Halloween gig in Liege 31/10/2014
Filip VAN MUYLEM
21/07/2014
---