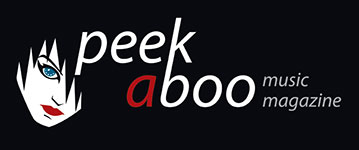 like this interview
---
KEIKI
Contrary to Santa Claus, Satan conveys a rebellious and menacing imagery we can relate to.
10/01/2013, Xavier KRUTH
---
Keiki will be playing on January 18th at the sixth edition of the Dark Entries Night in Ghent, together with Lizard Smile. In their six years of existence until now, Keiki produced three albums, the last being the brand new 'popcorn from the grave'-cd at the end of 2012. We asked the Brussels-based satanic pop-duo about their motivation and their perspectives.
Why did you start Keiki and what was the initial concept?
Raphaël: We started keiki around 2006 as a 3-piece. At first, it was a side project of naifu, our main band at the time. There was Dominique, France-Marie on bass and me. Our drummer in naifu had just left and we decided we didn't want to remain inactive while finding a replacement. You know, good drummers are always very busy and hard to find. So, while naifu was in stand-by, we decided to start keiki as a different project with a different and more minimalistic musical direction.
Thus we started composing with drum machine rhythms and sounds in mind. The idea was also to musically break free from what we were doing with naifu and explore whatever idea we had. A bit later, we found a new drummer for naifu but we were hooked by the freedom and possibilities offered by keiki's simpler set-up and sound. So we continued both bands.
After Keiki's first album, France-Marie became too busy with her second child and left the band. Dominique and I realized that it was as cool being just a duo with the sort of logistical and musical freedom and straightforwardness it offers.
'Popcorn from the Grave' is your third cd. Did it meet your expectations?
Raphaël: Artistically, we were a bit nervous starting it as we thought that our previous album 'Waltham Holy Cross' had a lot of very good songs. We had good feedback and reviews for it and it was the album where our style and sound really gelled. So, we decided: OK, let's not start to compare and try to copy or outdo it, let's just write music we like and we will see. In the end, we are really happy how 'Popcorm from the Grave' came out. It is different: maybe less poppy and darker. In the meantime, we think that we sort of expanded our sound while having an album that is more focused. This is partly due to the fact that we really worked the album as a vinyl album, with an A-side and a B-side.
Being able to have Pete Simonelli from Enablers and Eugene Robinson from Oxbow singing on two songs on the album was great too. They are both great singers with, each of them, a unique vocal personality. We are very proud that they liked the idea of working with us.
You call your music 'satanic pop', and your label is called 'Cheap Satanism'. Though it is difficult not to see the tongue-in-cheek, why do you use this image of satanism so much?
Raphaël: Basically, I am not a believer. So, as I don't believe in God, I don't believe in Satan or Santa Claus either. But, contrary to Santa Claus, Satan conveys a rebellious and menacing imagery we can relate to. It is a simple way to say "f*ck you, f*ck mainstream, f*ck good taste, we are what we are and we do what we want". Also, we thought about the Satanist imagery in heavy metal or B-movies, which is rather badass and funny.
It is cliché and cheap but it is a good aesthetical and cultural base we can play with. We can distort it in your own peculiar ways… like using pink instead of black. This way, if it is not used too literally, it fits us rather well.
Dominique: You'd be surprised though, not everyone gets our tongue-in-cheekness!
The lyrics obviously take an important place. But you choose not to reproduce them in the booklet neither on the website. They sound like they're full of irony and twisted images, but I can't seem to grasp them fully. What do you aim at when you write lyrics?
Dominique: When writing for keiki I aim to express some sort of quirkiness and bitter-sweetness. It suits the slightly twisted music that we make very well, I think. Often I will hear a line from a B-movie and this will trigger a song. For instance, I went to see "Emmanuelle 4" at Cinematek a few years ago and it triggered "Stab You". Or I saw "Dragonwyck" by Joseph Mankiewicz and there was a line by Vincent Price that went: "deformed bodies depress me". This inspired "Deformed Bodies".
Your new cd opens with a song called 'Hiroshima-Nagasaki'. Can you explain what it's about? What were the reactions?
It tells the story of a Japanese man called Tsutomu Yamaguchi. The poor fellow was working in Hiroshima when the bombing took place on August 6th, 1945. Three days later he returned home to Nagasaki and was also the victim of the atomic bombing there. But he went on to live until 93. He died in 2010. He was the only human to have been the victim of both bombings.
There is some sort of story telling involved in your lyrics. Let's take 'Hotel Saint Amour' as an example.
Dominique: I once read an interview of the manager of a clandestine love hotel and this inspired the song. It's about earrings, wedding rings and sunglasses left behind by lovers. The manager explained that no one ever came back to claim any of these. It is as if the hotel and the meetings that took place there had never happened.
Now we're at it, can you give some comments on 'Full Body Wolf' too?
Dominique: I find taxidermy a very strange hobby. It seems to me that the people who are into this must be pretty obsessed. I did some research on the Internet and found a forum dedicated to the subject, full of tips, photographs, stories… I sent the words and the music to Pete Simonelli from Enablers and he agreed to do the song, without changing a single word. It was such an honor to work with him.
Obviously you are big fans of Black Sabbath, though defining your music as metal would be farfetched. In what sense does this influence manifests in you music?
Raphaël: I really like early Black Sabbath because they started as a sort of blues rock band – a style that was quite common in the late Sixties – but they twisted it in their own way by giving it a darker, spookier edge… and, by doing this, by breaking from the standard form, they more or less invented a new style: heavy-metal. Tony Iommi may not be the best guitar player around, but he wrote some of the best guitar riffs ever made. Now talking about metal, both Dominique and I were metal fans as teenagers.
Of course, you can hear that we moved away from it and broadened our tastes. Today, I can't say I'm a real metal fan but parts of that genre still appeal too me and I still listen to a lot of music that is more or less categorized as metal. With keiki, we don't want to do typical metal music as, like Black Sabbath at their beginning, we want to carve our own style but, clearly, some metal influences runs underneath and we certainly don't feel we should reject them.
Also in musical styles, you seem to contradict the harder rock sounds with pop influences and extensive use of the Theremin. Is this conscious?
Raphaël: Yes. Music is interesting if it is not too predictable. We don't want to be straightforwardly pop or punk or metal or electro or… but these styles find some place into our music. If we stuck to just one style or feeling, it would just be too boring. So, we sort of navigate between them, making our own recipe, mixing bitter and sweet. We like it when the feelings conveyed by our music are a bit mixed. Like, it is cruel but sweet or angry but laughable… So, it is more open to the listener's mood and interpretation. Strangely, some people are very uncomfortable with it or don't get it but that's OK with us.
Dominique: To me, the theremin adds a spooky element that gives an interesting twist to our metal influences.
You once got praising comments by Penny Rimbaud of the seminal anarcho-punks of Crass. You also visited the Crass-farm, also known as Dial House, where some members of Crass now reside. Tell us a bit about this experience.
Raphaël: It's a bit funny because the first few times that I went to Dial House, I didn't know that the people living there were ex-Crass members. Actually, an English friend of mine was going every summer to that "farm where he could see old friends and have a break from the city life". He told me that the farm had been squatted for 20 years, that it was communally run and that the doors were open if I wanted to come and stay for a few days. I thought it would be cool and went there for a few summer days. So, to me, the people living there were just cool old radical hippies and, it was just a nice place where I met my friend and could hang around with all sorts of people coming and going.
The only thing I knew was that my friend said that Gee, Penny and Pete were in a punk band in the early Eighties. I didn't know the names of the Crass members at the time and I just thought "OK, cool. Anyway, everyone was in a punk band in the Eighties". Then, a couple of years later, it was about my third visit there and my friend told me how he had met them for the first time when he was a teenager putting up a Crass concert in his hometown in England… That's how I realized who those "hippies" were, haha… A bit later, I told Dominique about this and we took the habit of going to Dial House for a few days each year. We never went there specifically to talk about keiki or music. Staying at Dial House was more about meeting friends, having good laughs and conversations, and taking part in the house's life for a few days, like gardening, feeding the cats, building sheds, going for a walk…
Then, of course, we would talk about music as most people there were very active artistically. It's been quite a long time since I've been to Dial House but it always was very refreshing and inspiring to be there.
Dominique: Personally, I still visit about once a year. What I like about the place is that every time you go there, there are always some surprise visitors. Recently a proper recording studio was set up in one of the sheds, so quite a few musicians have been turning up.
The live appearances you did with 'Popcorn from the Grave' even brought you to California. I guess that's a consequence of your collaboration with The Enablers, whose singer Pete Simonelli also features on your cd. How were the reactions of the American public? And how did you enjoy the journey on the whole?
Raphaël: I used to think that we were in a globalized World and that rock as a music form was kind of even more globalized. You know what I mean: we listen to bands from everywhere, MTV, Internet… Actually, this isn't quite true. In the US, several people told us we had a very different and European style. Also, while almost nobody seemed to care about our CD or vinyl, lots of people who enjoyed our concert wanted to buy us drinks. I guess, that's how you become an alcoholic touring musician if you do it for too long, haha. Having said that, playing conditions are sometimes very hard, like you get totally broken down PA, a door keeper running away with the money or cops coming to stop the show.
I now understand why US bands that come to play in Europe think they are in paradise. Anyway, for us, playing there was a great experience even if it was just a small tour. We did four shows in about one week. Two shows were put up by Kevin Thomson (one of the guitarists from Enablers) in San Francisco and downtown Oakland, another show was in Oakland and the last one in Los Angeles. It was great to spend some time with Kevin and Joe (Goldring, Enablers' other guitarist) as we stayed a few days at his place. Also, we met for the first time Stephen Wilson (from the band SWilson) who invited us to play with SWilson in LA. That was very funny.
We were playing at this house show in someone's backyard, there was a barbecue and quite a lot of tattooed people coming in with beer and sausages. Strangely, people were really into our music. Their minds were probably more in 'party' mode than in 'barbecue' mode and we were nicknamed 'the best barbecue band in the World', haha… You don't really see that in Belgium. Maybe, there is not enough sun and tattooed people?
What are your plans in the future, both with Keiki and other projects you are involved in?
Raphaël: With keiki, we are currently booking more shows for this year, especially outside Belgium but nothing is firm at the moment. Without a booking agent, it is a bit difficult to get a full tour but we try to get several small tours, like two or three concerts in a row, to make it viable. In the meantime, we are still writing new songs. We already have several that are ready to record but we don't know if we are going to release some soon or if we will wait until we have enough of them for our next full-length album. Also, our label will probably have a digital re-issue of our very first album "10 pieces" during the year.
Dominique: personally, I just finished recording vocals on Doug Scharin's (Enablers, Codeine, June of 44…) solo album. It's an ambient album, so it is quite a challenge for me. Earlier last year, I finished recording - with the help of Raphaël - an album for a project called Las Vegas, in collaboration with Eugene Robinson from Oxbow and with Kris Engelen from Lost. We are currently looking for a label to release the album.
Xavier KRUTH
10/01/2013
---