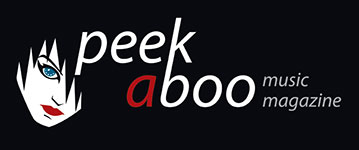 like this interview
---
KELUAR
In the end you have to accept that perfection is just temporary
23/03/2015, Pascal VERLOOVE
photos: © Marquis(pi)X
---
Do we still need to introduce Keluar? The Berlin-based duo, formed by Zoè on vocals and Sid on electronics, has released two EPs to date, nevertheless, they are already quite famous on the dark/minimal synth scene. They will be touring again soon and will stop in Belgium on the 25th of April, so it was the right time to ask a couple of questions…
Zoè, Sid, thank you so much to spend some time to answer a couple of questions for Peek-a-boo!
Unless I am wrong you are currently working on your next EP. Could you tell us what the status is of this next release? How far are you with the compositions and the recording?
Zoè: The EP has long been finished, and simply awaits its release.
Sid: It is just a short EP, consisting of 3 songs plus a remix.
Are you already working in parallel on the artwork? The cover photograph maybe, or some other ideas, like videos, or is this something that only comes later when the recording is completed and when you know exactly how the songs will sound?
Zoè: All our visual elements are created after the songs are completed. You can't film a music video without a finished song. We collaborate closely on all of them. If you are asking about the new EP though, we can't divulge too much at this point.
Do you have difficulties deciding when a song is finished? Are you the kind of artists who believe a work of art is never completed, and so you always want to add or change something? Are there people external to the band who are regularly listening to your demos and help you to say "this is it – don't change anything"?
Sid: I feel like a song can always be better. But it can be over the top as well. On the songs of the upcoming EP for instance, we reached a point where we thought "Wait a second, this is too full. We worked too much on it." So we took out parts – made it more minimal again. In the end you have to accept that perfection is just temporary. You try to be perfect in what you are capable of for this very moment, but you have to accept that there will always be imperfect elements, which you are not good enough to deal with yet. (And this can even include an imperfection in trying to make a song sound imperfect.) When it comes to mixing, I send a song to friends to hear their opinion occasionally. Sometimes it helps, sometimes it doesn't.
Zoè: I try to view a song as a crystallization of a certain period of time in my life, and once that time has passed, it should be immune to modifications influenced by hindsight. But of course I could drive myself crazy thinking "what could have been", if I let myself think about it. I have a different view of perfection than Sid. I don't feel that fixing imperfections has anything to do with being "good". It is all too subjective to rank it like that.
You both live in Berlin now. When I read "Berlin" I always think of Bowie and his "Berlin trilogy" first. And obviously "Heroes" quickly comes to my mind. Would you mind sharing with us who were your "heroes" when you were teenagers (artists, or just anyone else) and why?
I really disagree with the whole concept of "heroes". I just can't view any human as worthy of being looked up to so highly – not to mention those who manage to become famous and thus viewed as potentially "heroic" tend to be the most flawed of us all. You can admire and emulate certain behaviours, but that doesn't require a pedestal. That said… as a teenager I hadn't yet developed this opinion. The gods in my eyes were (in chronological order from adolescence to adulthood) Daniel Johns, Brian Molko, Brody Dalle, Maynard James Keenan and Lisa Gerrard. The last two I still admire today, the others are only relevant if you're interested in how much my musical taste has changed since I was 13.
Your two first EP's were released on vinyl, which 5 or 10 years ago would have looked like a really crazy idea, but it seems so logical (again) today. However, the future of music (how people will buy and enjoy) will most probably be digital, and we now see the emergence of high quality downloads that even offer a quality that is higher than CD. About the sound quality of your recordings, are you purists in the sense that the sound quality of the recording is of paramount importance, or do you feel that the emotions, the quality of the melodies etc. prevail even with the possibly of a lower sound quality?
Sid: It surely can. Sound quality is relative. First of all, a certain encoding influences a sonic spectrum as any effect device does. A tube saturation changes the spectrum – so does an MP3 codec. Whether you like it or not, is an individual evaluation. Even though I usually find that MP3 encoding makes hi-hats sound worse, I heard songs in which I thought the hi-hats sounded better after being encoded. Also, it depends on contexts and association. Limitations of tape or vinyl can be considered as a decrease of audio quality, but there are a lot of people out there who especially like it, which might partly be due to the actual changes in the sonic spectrum, but also due to nostalgic associations or genre codes in other parts. This could happen to bad MP3s as well. All of these factors influence musical atmosphere and the emotions it transfers. Certainly, there is a range of how spectral timbre, transient response, etc. can change it, but there are still other quality-independent parameters like pitch, tempo, rhythm patterns, etc., which aren't effected by this sort of processing, but do make a big, probably the bigger part of the musical expression.
Keluar is a duo. Is that already complicated enough to agree on arrangements between you two, or would you consider adding new members in the future? Would you, for instance, consider adding a bassist or a guitarist one day?
Zoè: No. And it isn't about the complications of agreement, but the aesthetic of our sound and practicality of touring. An extra band member wouldn't add anything to our sound that we feel we need, and would only become an extra set of requirements on our technical rider and another plane ticket to pay for.
I am not too sure about Sid, but Zoè, it seems that you have been moving a lot since you were young. When we look at all the cultures you have been part of: Germany, UK, Australia, Malaysia … it is your life, so it certainly has an impact of how you see things, how you compose, the stories you tell in your lyrics. Is that something you perceive yourself, that the sound and the lyrics of Keluar would be different if you had always lived in UK for instance?
Zoè: If I had lived anywhere my whole life, it would have been Australia, as that is where I was born. I can't even imagine what my life would be like, had I been there the whole time. I wouldn't be me at all. Perhaps this non-me would be a little more emotionally stable and have a clearer sense of identity, but I doubt she would be making music. She would probably be quite miserable, actually. My somewhat unusual past is a huge part of my inspiration, and it is where I found my voice.
Switching away from music. When you see the Islamic State in Iraq destroying statues in museum, or attacking archaeological sites with bulldozers, destroying in minutes what was preserved during millenaries, how do you feel? I suppose that for Zoè, having studied archaeology it must be even more revolting?
Zoè: Honestly, it doesn't affect me. I studied archaeology, yes, but the clue to my present interest in it lies in the past tense of the word "studied". Before I even finished my degree, it started to dawn on me that the present and future were where I would much prefer to do well, and this decision has only been strengthened by my post-university life experiences. I'm all for learning from the mistakes of history to prevent them from repeating themselves, and I am well aware of the potential importance of seemingly silly questions like "did Neanderthals brush their hair?", in the understanding of what we are as Homo sapiens. I can appreciate the work of archaeologists who have a passion for it, but it is by no means a vital discipline in dire need of protection, and the fact is that the decay and destruction of all things is inevitable – and just like the inevitability of our own deaths, there is little we can do but accept it. Ponder eternity for what it really is, stare into the void of the deep and distant future, and the physical remains of the past lose their potency. They are just stones and bones, and I don't believe the human species will suffer too badly from the loss of the information they could have provided.
Perhaps we should be thankful those particular members of the IS are focusing their energy on destroying a few statues instead of using the unnecessarily gruesome slice of a blade to rob conscious human entities of their earthly existence so their loved ones can be certain to never ever hear their voices again.
Do you think the world will be a better place to live in 10 or 20 years from now?
Zoè: I would love to hope so, but hope can dwindle. One thing I am fairly certain of is that accurate predictions are pretty much impossible, and few things seem to turn out as dramatically as we expect. I have faint hopes for Ray Kurzweil's "singularity", but who knows… it is all such a mystery. Maybe once virtual realities become immersive enough we will just give up on "IRL" altogether and vegetate in an artificial idyll. The end of civilization as we know it not as a bang, but a whimper.
Thank you so much and looking forward to see you play in Belgium soon again!
Pascal VERLOOVE
23/03/2015
---