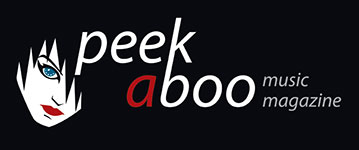 like this interview

---
KELUAR
All Sid and I wish to achieve is to make music we're continually proud of, and so far so good.
21/09/2013, Chris KONINGS
---
It started as an exchange of material and ideas between Berlin (Sid from Schwefelgelb) and London (Zoè/Alison from Linea Aspera), eventually settling in Berlin. Contemporary and vintage hardware, software and percussive sounds from objects form the very rhythm oriented instrumentals, while the voice provides them with the melodic component. Creating homogeneous atmospheres is the main musical focus. The lyrics explore the nature of the mind, cast through the lens of personal experiences, and reveal a philosophy of continuity and fluidity. The present is an EP (Ennoea) and a concert in Brussels, on the 7th of December 2013.
Can you introduce Keluar to our readers?

We're a Berlin-based duo in the trade of making electronic music: Zoè on vocals, and Sid on machines.

Where does the name come from? I saw that it's Indonesian for "to take out, to remove, to produce". A reference to your Malaysian origin?

It's got a very general meaning in Bahasa (the term for both Malaysian and Indonesian language), which is 'to go out'. A reference, or perhaps just the result of influence. We chose it more for the sound and relative obscurity than the meaning.

How did you hook up with the other member of Keluar?

We met at a Gothic Pogo Festival in the spring of 2012, 2 months before two of our former projects were due to play together at a night in Berlin.

You were very sad with the end of the project Linea Aspera. Looking back, how do you feel about it now?

No regrets.

You told us this new project will be richer in sound, like you hinted already in the "Kinabalu" song. What do you want do achieve?

I wouldn't call Kinabalu a hint for what was to come in Keluar. I once said it was a direction in sound that I'd like to pursue one day, but that day hasn't yet come. All Sid and I wish to achieve is to make music we're continually proud of, and so far so good.

And one more question, what are your expectations for Keluar?

Expectations breed disappointment… We'll keep writing and playing shows, but the rest is out of our hands.
Thanks for your time and have fun in Brussels!
Keluar live in Brussels - 7/12/2013
Chris KONINGS
21/09/2013
---