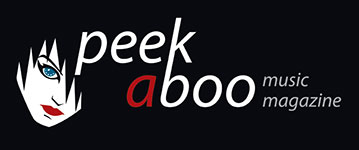 like this interview
---
LIVINGTOTEM
'INDUSTRIAL INFUSED ROMANTIC TECHNOID MUSIC'
24/01/2018, Stef COLDHEART
---
Behind LivingTotem is hiding András Gulyás, a Hungarian artist and DJ who released his first official album under the LivingTotem moniker on Advoxya Records. The band name reflects 'the replication of an imaginary universe with the help of industrial sounds'. This industrial sound caught the attention of Ant-zen on, which András has now released his new album "Raw Effort". The work is a fine mix between minimal-electronics, IDM, industrial and even trance influences. I consider this work as one of the best productions from 2017 so I'd enough reasons to get in touch with the artist.
What can you tell us about the origin of LivingTotem and your personal background in music?
This one-man-project started in 2006. I produce music with hardware (groove-box, samplers and synths) with the emphasis on always performing as a live-act.
Your previous album was released on Advoxya Records while "Raw Effort" has been released on Ant-zen. The labels are quite different in style and in audience. How do you explain this move and what have been your first impressions being now on an 'industrial' label?
In Hungary it is very difficult to find a record label for underground artists. I was a good friend Advoxya Records label manager and this label was still the closest to my style, the rest is history. When I was approached by Ant-zen regarding a possible release of my new album, I felt very honoured. Actually, I consider my music to be industrial-tribal-techno, eventually dark ambient. Those who have seen my gigs at 'Schlagstrom Festival' or 'BIMfest' could already get an impression about my 'dark' influences.
"Raw Effort" is not that easy to define as music genre, but rather sounds like a fusion between numerous music styles. What's your own perception and tell us a bit more about this new work?
András: As a DJ I am influenced by a variety of music genres like EBM, industrial, experimental, psychedelic, electro, rhythm & noise, new-wave, dark-ambient, techno….. Therefore it is hard for me to define where exactly I am going to with a new track. I like to combine different styles. The outcome is usually some industrial infused romantic technoid music.
What kind of album did you have in mind and what was the main focus in the production process?
It's a mix of industrial themes and rhythms with a tribal ritual atmosphere, amended with some dialogue samples from movies. I like music that gets you into a trance, whether listening at home or at a concert. During the creative process I act as a sound designer, using my hardware to create a unique design for each and every sound. The concept is that there is no concept.
There clearly is a kind of 'trance' dimension running through your work! Where does it come from and do you have any affinity with trance music/artists?
Indeed, I played DJ sets at the "SpiralExit", "Ozora" and "S.U.N." festivals in Hungary where I met a lot of 'big names' of the trance scene who had a huge influence on me. Artists like Laibach or Test Dept also experimented with some forms of trance, while Juno Reactor return to the industrial sound from time to time. I enjoy taking an adventure to different styles, of course within reasonable bounds. Although in the meantime I am less into the world of trance music, you can still discover some trance inspiration in my current tracks alongside the industrial influence.
You already mentioned you're also active as DJ and involved with a few more music projects. Tell us a bit more about your other 'bands' and what kind of DJ are you?
I am regularly spinning (known as DJ Kraak) at EBM, industrial and rhythm & noise parties, being also the promoter of these events under the labels "Ipari Szakadárok" and "Industrial Fusion". I am also DJing at a monthly new wave party. Well worth a mention is my other live-act Panoramic Barrier using CV controlled analog gear only. There are a number of other projects (music + film) I am involved in but time is too short for doing all at once.
Stef COLDHEART
24/01/2018
---