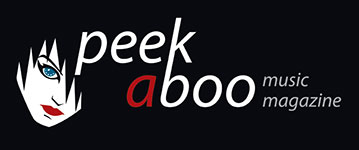 like this interview

---
LIZARD SMILE
Goth music has never been extremely popular in our parts - and certainly not in Antwerp
03/03/2015, Didier BECU
---
What would Black Easter be without some good old goth rock? And why not dig in the Belgian goth past, and pick up one of the bands that is already in the business for ages. If you do that, then you automatically come across Lizard Smile…
Hello. If my list of facts is right, then you celebrate this year you tenth anniversary. How would you describe this decade, both highs and lows?
Strobo: That is not entirely correct. Our first album was recorded in 1999, fifteen years ago. There are undoubtedly people around who saw us in previous years on stage. Looking back on the past decade, it strikes me how quickly things have evolved technically regarding the making of music. When I see that our last album was mastered in Berlin (by Erik Van Wonterghem) and that we could send it all over the world by internet, then….
Albi: No. We are 20 years on the run! (laughs)
Personal heights: The support for The Mission and Red Lorry Yellow Lorry, Gotham Fest, playing in a crowded Devonshire Arms, while 500 yards further The Sisters Of Mercy were doing their thing, the encounter with Carl McCoy backstage at Shadowplay Fest and then I forget so many other things. Lows: broken strings and cables, lugging with amplifiers and not enough gigs.
In all honesty, I really have a huge respect for bands like yours. You have to fight hard, the press coverage is minimal, you will certainly not become rich. I suppose there is only one reason: the love for music, right?
Albi: Check!

Strobo: Especially the development of new songs during rehearsal. That is a factor that keeps us going constantly. That process and playing live is something addictive. Unfortunately, the last few years there are less chances to do that.
Talking about love. So many things have changed. Everything is digital, a music collector is more rare than a philatelist.
Albi; I think that mp3 is a symbol of the throwaway society. The motto "I'm tired, so let's delete it' is easier than throwing away a whole collection of LP's, not? Of course, the digital music also has the advantage that everything is easier to find, to listen to or to buy... You don't have to underestimate the global reach that the net has created. Previously this was less evident. Then you had to beg people to buy your tape or single, go every day to the post office. I am a man of physical things. I love the smell of vinyl in the morning (laughs).

Strobo: Lots of systems change or even disappear, the music itself or play live for an audience, that is something that won't go away.

Beat Nick: Man is a lazy animal and you can not stop evolution. If It is easier, it will be more popular. That being said, holding a physical object in your hand with your recording on it, does make it feel more 'official' and real.
If my memory serves me well, then Lizard Smile originated from This Vale Of Tears. Only to say that you are among the pioneers of the Belgian goth rock genre. Was the past so much better as they say?Albi. Gothic Rock is dead to me or at least almost. At festivals like WGT, you would think differently, but still… But everything comes back. For instance, take EBM. In the early 90s you had suddenly a gothic revival. It used to be better, but not different.
Strobo: I remember the period 2004-2008 as a very good period. Performances at Paradiso in Amsterdam, supporting The Mission and Red Lorry Yellow Lorry, performances in London... Also some very nice gigs on festivals of Bernd from Waregem or Kortrijk... It seems that the dark scene has shrunk in the past five years, and that fewer people are busy organizing things.
Beat Nick: Goth music HAS never been extremely popular in our parts - and certainly not in Antwerp.
I am a grumpy old man, so please forgive me. Now there are the social media, you have a hundred thousand sites and many groups. Everyone finds himself fantastic. How can you profile yourself as a band? How can you stand out among the others? Everyone claims they do, I can't see it myself...
Strobo: Honestly, I do not think that Lizard Smile was concerned with profiling, and that has never been so. That is perhaps our lack of marketing instinct. We just make music as pure as possible, music that reflects our shared tastes and inspiration, and we hope that there are people who may be affected by this music.
Beat Nick: It may be our biggest flaw: we are not very good at selling ourselves.
I am an avid goth rock fan myself. It strikes me that "serious" music connoisseurs always look down on this genre. I suppose as a goth musician it is even more depressing to defend your art.
Albi: No, not really. It nerves me that a certain radio station, that presents itself as an "alternative" station, organizes a week of Belgian music, but simply ignores a lot of bands. Every day the same bands with the same song on the air, but I do not think that The Klinik, Siglo XX, Insect, The Juggernauts, Stin Scatzor or Lizard Smile are played on Fucking Stu Bru - oops, now I said it. Really sad, you do it either well or you don't do it at all.
Strobo: I notice that less and less people are able to imagine what the term "goth" is all about. Gradually, it is a genre that is not only in the underground, but one that should be sought in the "archeology" section. Something for underground archaeologists or so.
Beat Nick: The stigma you refer to seems to be fading somewhat. We have never really worried about it anyway, as you say.
In ten years time you have released three CDs. Every musician says that his latest release is the best. What do you think yourself of your discography?
Strobo: Indeed, I find the latest release also the best.

Beat Nick: I think it is only natural to consider your latest album as the best. Otherwise, what is the point of producing it? Strobo and I were discussing that a while ago. If I listen back to the early recordings, I sometimes ask myself what the hell we were thinking to do a song in that particular way. But as pointed out by Strobo, it was exactly how we felt at the time. It was who we were. And that is actually not a bad thing at all.
Fans want to know if there is a new album on the way.
Strobo: I would rather say: come and see us and listen, because there are always new songs which you only hear first when we play live. The inclusion of these new songs, we know that from experience, that can take a while.

Beat Nick: We have quite a few new songs in the pipeline. Enough for a new mini-album.
You also do everything through your own Reptile Records. I understand that the labels are no longer interested in bands like Lizard Smile. But suppose that tomorrow you may work for a major label (why not Sony!)would you do that, or would you stay true to that punk DIY attitude?
Strobo: I refer to my previous answer. If a label ensures that we have enough studio time in a good studio to record an album, then please, yes!

Beat Nick: I see no reason to refuse such an offering. It is not out of some principle that we do this, it is because we actually can produce things ourselves, instead of waiting for someone who gives us a chance.

You are a Belgian band. Is there also interest from abroad? I mean, you would fit perfectly on a label like Manic Depression....
Strobo: We are indeed in touch with Manic Depression. Also with Resurrection Records (first through the shop in Camden, London, and now even by mail order) to distribute our records. And it is through the latter that our CD's are now available at online stores in other countries. About Manic Depression, we already have played in all nearby countries, except France, so if there is still space in Paris, let me know.
You will soon be on Black Easter. What can we expect from you, and which bands will you watch yourself?
Strobe: If everything is technically goes right, then we will play the gig of our lifetime, that will shock Antwerp. A mixture of old and new songs, and maybe a surprise. I will have a look at Grausame Tochter and The Breath of Life as I'm curious what they will be doing now.

Suppose (on Easter everything is possible) that the Pope is among the crowd. What would you say to him?
Albi: Do you have any records of Christian Death? (of course the one with Valor).
Beat Nick: We have had a lot of worse popes than this one. It is clear that he has the balls to try and change something. Perhaps something like: "Hey, Francis, you are the first pope I actually find interesting."

Why do Goths go to black parties during Easter and why not just eat some brown chocolate eggs?
Albi: I will put some eggs in my backpack, so chocolate freaks can come and ask some. If they laugh and buy one Lizard Smile CD, they they get one, if they buy 2 CD's, then they get 2 eggs, etc. With some luck - that depends if I survive day one - one can make me a sunny side up! (laughs)
Thank you for the interview !
Didier BECU
03/03/2015
---