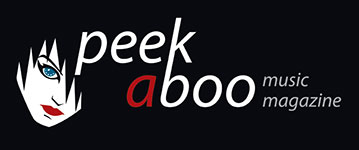 like this interview
---
LIZARD SMILE
After our daily 9 to 5 routine, getting together to write and play music is something we look forward to.
26/06/2011, Didier BECU
---
There is a lot of Belgian talent at Shadowplay as well. Lizard Smile are somewhat of a gothrock instution over here and before they enter the stage of Kortrijk, Peek-A-Boo had a chat with those crazy three.
Lizard Smile have now been around for 15 years. How do you see those years?
Strobo: It's something I don't think about, really. We've been doing this since the end of the 90's (our first record was released in 2000) and it feels just natural that the band is still around.
In 2005 we took a year off, but apart from that, we've always kept rehearsing and working on new songs.
That's what keeps us going, experimenting with new songs and trying them out on an unsuspecting audience. And of course, going on stage with a grin!
BN: Personally I think we evolved in those 15 years. Our sound got more defined and recognizable. We also developed a natural way of working together.
I interviewed you ages ago when I was busy with my fanzine. Back then, Lizard Smile were a real DIY-band.
Strobo: That approach hasn't changed. Some parts of our last record or the new mini-album we're working on were recorded in a professional studio. That means that some of the recordings and particularly the mixing are in the hands of an outsider.
The first album was recorded all by ourselves, which, to be honest, you can hear.
The rest of the process is still in our hands. Along with the audio engineer we decide what sound our songs will have and Beatnick is still the driving force behind the visual aspects of Lizard Smile.
BN: The last 'finishing touch' that is needed to lift your songs to the level of a commercial release is really necessary. You just can't ignore that.
It's also important that someone outside the band is taking care of this because they can listen to your music with a fresh ear. Some things you simply don't hear in your own songs.
You have a gothsound, but still your own gothsound.
Strobo: Thanks. We're aware of the tradition we're coming from but during the writing process we first try to go for a distinct identity for each song.
In trying to achieve this, everything is possible when it comes down to sounds or structure.
If it sounds fine and it works, then it stays. If there's a reference to another goth band, so be it, but it's not a must at all.
How important is pigeonholing for you?
BN: Lizard Smile has its roots but it's really not something we worry about.
Albi: I'm glad you mention it …I still have to fill in my tax letter!
I believe that not thinking in boxes and using other genres may very well be a fundamental ingredient of Lizard Smile.
All I want to say is nobody is waiting for a new Christian Death, VNV, Suicide Commando or Sisters.
Let's be honest those who make music in Belgium have to do it for the fun of it as you can't make any money with it.
Strobo: Totally true. We've been lucky to do some great gigs thus far. We did the support act for both The Mission and Red Lorry Yellow Lorry, played in the Paradiso in Amsterdam, played in London several times... It's really the places you go, the people you meet, the organizers and the audience that make it great to play music.
If you can touch someone with your music and you can share that feeling then it's just fantastic.
BN: I think it's clear by now that we do this for fun. Earning money almost sounds like utopian thinking. We're able to fund our equipment and studio time with the sales of our cd's and gigs, and that's what counts.
If you have a look at the Belgian underground, do you see a positive or a negative evolution?
Strobo: At a certain point in time I noticed that the goth scene was beginning to evolve in itself, as opposed to being a style that evolved out of other styles. Not a bad case at all, as I'm always interested in how things work out. I do notice though that I'm less surprised than I used to be.
On the other hand: the themes, feelings or sounds I always loved in the goth underground can now be found in bands that don't fit that label at all.
A fairly new band I can recommend for instance is Warpaint. The Raveonettes and Yeah Yeah Yeahs are also bands that always grab me by the neck, the same experience I have when listening to Bauhaus, Sisters Of Mercy or Alien Sex Fiend.
Albi: Strobo has a point here. The surprise-effect from bands like Virgin Prunes, Nitzer Ebb or Das Ich (even if it was for 5 minutes) has gone. I guess we're getting old. There are surely some good bands around who are operating outside the goth label. Our Belgian scene always has been more oriented to electronics. At the moment, there are quite some interesting things to discover.
And when you were standing on a stage next to those great names, did you never think: damn, that should have been me!
BN: Not quite. Any gig can have that effect on me, but it's just as likely to happen when I see good performance by a local band.
Strobo: Not really, no. I must say that I've already been pleasantly surprised by the way big names act backstage. On the other hand, you can't help but notice that in the end those guys are doing their job, and often a tough job at that.
Albi: Aren't we are allowed to dream? Honestly, no!
It's like Strobo says: for some it's a job.
After our 9 to 5 job, getting together to write and play music is something we look forward to.
I know that once there was an interest in Lizard Smile from other countries. How's that today?
Strobo: Well, we were booked for a concert that would take place in Sheffield. Later it moved to Whitby, but now it's completely cancelled.
There is certainly interest from other countries, we see that through the reactions on our My Space site. We got a worldwide distribution through Resurrection Records in London. Well. As the saying goes: have instruments, will travel.
Soon you will be playing at the Shadowplayfestival. I assume you'll see that as one of the highlights of your career?
Strobo: I am always looking forward to a new highlight, and the funny thing is that you never know when that will be.
At the moment we're really hungry to perform some new songs. They were recorded at the end of 2010. At the moment they're getting mixed, and we're quite curious for the reactions to come.
BN: True. A gig from which you expect nothing can turn out into something brilliant and vice versa. You just can't predict and it really doesn't help worrying about it.
Albi : I am really looking forward to it and kick some assJ.
What's your favourite record of all time and please state why...
Albi: That is a very difficult question as it changes a lot. For the last 2 weeks I've been listening to the latest The Raveonettes album constantly.
If I really have to make a choice I'd go for "Earth Inferno" by Fields Of The Nephilim. The first time I heard it, it blew me away.
BN: That's true. You play some record for some time and then you go to another. I'd go for "First and last and always" as this album helped me through a difficult period of my life.
With whom wouldn't you mind being alone with in an elevator for 8 hours and what would you do then?
Strobo: Selma Hayek and a boa constrictor. Say more … ?
Albi: With the redheaded vampirella Jessica from True Blood and Shirley Manson from Garbage. What would we do? Use your imagination for once please!!
BN: A year ago I would have gone for Brittany Murphy but sadly enough I'd rather not spend 8 hours with her in an elevator in her present condition.
Strobo:
FAVOURITE MAN : Socrates
FAVOURITE WOMAN : Patricia Arquette
FAVOURITE MOVIE : Once upon a Time in the West
FAVOURITE BOOK : Please Kill Me (the oral history of punk) – Beatnick: please return it to me one day...
FAVOURITE COLOUR : strobelight (blinding white)
FAVOURITE PLACE TO GO : The shower
FAVOURITE CARTOONCHARACTER : gotta love ERIC CARTMAN
Beatnick:
FAVOURITE MAN : Peter Murphy
FAVOURITE WOMAN : Kara Thrace
FAVOURITE MOVIE : Donnie Darko (2001) – original release
FAVOURITE BOOK : Song of Ice and Fire
FAVOURITE COLOUR : Orange
FAVOURITE PLACE TO GO : The movies
FAVOURITE CARTOONCHARACTER : Ren Höek
Albi:
FAVOURITE MAN : Lemmy "Motörhead" Kilmister
FAVOURITE WOMAN : Shirley Manson
FAVOURITE MOVIE : Blade Runner
FAVOURITE BOOK : White Line Fever (Lemmy's bio)
FAVOURITE COLOUR : Black
FAVOURITE PLACE TO GO : The pub
FAVOURITE CARTOONCHARACTER : Homer Simpson
Didier BECU
26/06/2011
---
Op Shadowplayfestival kun je heel wat Belgisch talent gadeslaan. Daartoe behoren ook Lizard Smile en bijna zouden we ons kunnen gewagen om te spreken van een goth instituut. Alvorens ze het Kortrijks podium betreden had Peek-A-Boo een gesprekje met de gekke drie.
Lizard Smile, vijftien jaar of zoiets. Vertel ons, hoe zien jullie dat?
Strobo: Ik sta er totaal niet bij stil dat het al vijftien jaar of langer is. We zijn nu bezig sinds eind jaren negentig (onze eerste plaat kwam uit in 2000), en ik vind het nog steeds vanzelfsprekend dat de groep er is. We hebben een jaartje stilgelegen, in 2005, maar afgezien van die periode blijven we continu samenkomen om aan nieuwe nummers te werken. Dat is wat ons gaande houdt, elke keer opnieuw experimenteren met nieuwe nummers. En ze loslaten op een nietsvermoedend publiek. En met een grote grijns het podium afkomen.
BN Naar mijn gevoel zijn we in de loop van de voorbije 15 jaar sterk geëvolueerd in onze sound. Onze sound is duidelijker gedefinieerd, meer 'eigen'. We hebben ook een natuurlijke manier van samenwerken ontwikkeld.
Ik herinner mij toen ik me bezig hield met fanzines, u zult zich misschien herinneren dat ik jullie ooit reviewde voor mijn eigen magazine The Original Sin, herinnerde ik mij dat Lizard Smile een groep was die vooral in de DIY-cultuur geloofde. Ik veronderstel dat dit niet echt veranderd is na al die jaren.
Strobo: Nee, da's nog niks veranderd. Bepaalde delen van onze laatste plaat, en de nieuwe mini-LP die er zit aan te komen, zijn wel in een professionele studio opgenomen, waardoor een deel van de opnames en vooral mixing in handen zijn van iemand buiten de groep. De eerste plaat hebben we nog volledig zelf opgenomen en gemixt, maar eerlijk gezegd, dat hoor je ook, een "eerlijk onbeholpen plaat". Grijns. Voor de rest hebben we het hele proces nog steeds volledig zelf in handen. We bepalen samen met de technieker in de studio het geluid van elk nummer, en Beatnick is nog steeds de drijvende kracht achter alle visuele aspecten van Lizard Smile.
BN: De laatste 'finishing touch' om je songs op het niveau van een commerciële release te brengen is echt nodig. Je kan dat gewoon niet achterwege laten. Het is ook belangrijk dat het in handen van een buitenstaander ligt, want zelf hoor je bepaalde dingen in je nummers niet meer.
Jullie hebben een goth geluid, zoveel is zeker, maar wel een eigen goth geluid vind ik.
Strobo: Dank je. We zijn ons goed bewust van de traditie waarin we muziek maken, maar in het schrijfproces proberen we te streven naar een aparte identiteit voor elk nummer. En dat brengt mee dat qua sound en structuur alles mogelijk is. Als het goed klinkt, als het werkt, blijft het er in. Als er dan iets refereert naar een andere groep uit het goth genre is dat zo, maar da's zeker geen must.
BN: We hebben wel degelijk onze inspiraties en ik vind dat je ook citaten in onze nummers hoort, maar dat zijn eerder 'knipogen' en zeker geen bewuste keuze. We werken overigens zeker niet bewust aan een goth geluid. Het komt natuurlijk.
Albi: Merci! Meestal worden we vergelijken met bepaalde namen die allen wel bekend zijn voor het referentiekader. Ik ga niet ontkennen dat onze "roots" in de muziek zitten. Zeker weten!
Hoe belangrijk is dat hokjesdenken voor jullie?
BN: Lizard Smile heeft uiteraard haar roots, maar we houden ons er niet op zo'n manier mee bezig.
Albi: Doet er me aan denken dat de belastingsbrief weer ingevuld moet worden.
Ik denk door niet in hokjes te denken en uit andere genres hier en daar leuke dingen mee te pikken dat dit net is wat Lizard Smile, Lizard Smile maakt. Het komt er eigenlijk op neer dat niemand zit te wachten op de nieuwe Christian Death, VNV, Suicide Commando of Sisters.
Laten we een kat een kat noemen, maar wie zich bezig houdt in België met muziek moet het in de eerste plaats voor het plezier doen, want geld valt er niet met te rapen...niet dat dit hoeft!
Strobo: Da's juist. We hebben het geluk gehad de voorbije vijftien jaar al fantastische optredens te kunnen doen. We speelden het voorprogramma van The Mission en Red Lorry Yellow Lorry, speelden voor het eerst buiten België in de Paradiso in Amsterdam, traden verschillende keren op in London, … 't Zijn de plaatsen waar we komen en de mensen die we er ontmoeten, zowel organisatoren als publiek, die maken dat muziek spelen zo'n plezier kan opleveren. Als we iemand kunnen raken met onze muziek, en je kan dat delen, da's onbeschrijflijk. Voor wat geld betreft: zie de vorige vraag over DIY-cultuur – door alles zelf onder controle te houden kunnen we perfect blijven investeren in de groep.
BN: Het zal ondertussen wel duidelijk zijn dat we dit doen omdat we het leuk vinden. Geld verdienen aan muziek lijkt bijna utopisch. We hebben gemerkt dat we met de inkomsten van onze cd en optredens de aankoop van materiaal en studiotijd kunnen garanderen, en dat is het belangrijkste.
Als je zelf de evolutie binnen de Belgische underground ziet, merk jij dan een negatieve of positieve evolutie?
Strobo: Ik merk dat de goth scene op een bepaald moment heel in zichzelf beginnen evolueren is. Op zich is dat geen slechte zaak, ik ben altijd benieuwd naar het resultaat, maar ik wordt minder verrast dan vroeger. De thema's, de gevoelens en klanken die altijd thuis zijn geweest in de underground scène vind ik wel regelmatig terug in groepen die niet onder het label "Gothic" passen. Een groep die ik enorm kan aanraden zijn WARPAINT. Ook RAVEONETTES en YEAH YEAH YEAHS zijn groepen die me iedere keer opnieuw bij mijn nekvel grijpen, net zoals dat is als ik BAUHAUS, SISTERS OF MERCY, ALIEN SEX FIEND hoor…
Albi: Strobo heeft hier een punt. Het verrassingseffect is weg van wat bijvoorbeeld 20 jaar geleden de Virgin Prunes, Nitzer Ebb en zelfs Das Ich (voor 5 minuten) op ons hadden. We worden ouder zeker? Er zijn inderdaad zeer goede bands buiten de noemer "Goth" die de sfeer van weleer dragen.
De Belgische scène is altijd meer Electro gericht geweest. Er zijn voor het moment wel een hoop leuke dingen te zien, te horen en te ontdekken.
Jullie stonden ook met grote namen op een podium...denk je nooit..dedjuu: moest ik dat nu eens kunnen zijn!
BN: Niet echt..Als ik een goed optreden zie, kriebelt het soms. Maar dat kan evengoed bij de lokale band in het café om de hoek zijn.
Strobo: Niet echt, nee. Ik ben al heel aangenaam verrast door een paar grote namen, de manier waarop ze zich backstage gedragen. Langs de andere kant blijkt ook vaak dat die groepen vooral een job doen, en een zware job.
Albi: We mogen allemaal eens dromen he. Eerlijk? Niet echt want gelijk Strobo zegt voor die groepen is het soms een job. Voor ons blijft muziek maken nog steeds een passie naast onze deskjockey dagtaak van 9 tot 5.
Ik dacht dat er ook steeds een buitenlandse interesse was voor Lizard Smile. Hoe is dat anno 2011?
Strobo: Wel, we waren onlang nog geboekt voor een festival dat in april in Sheffield (UK) zou doorgaan, dat dan verplaatst werd naar Whitby, en nu integraal afgelast is. Er is zeker interesse vanuit het buitenland, dat merken we aan reacties op onze myspacesite en we worden wereldwijd verdeeld door Resurrection Records in London. Well, as the saying goes: have instruments, will travel.
Binnenkort op Shadowplayfestival, ik neem aan dat je dit ziet als één van de hoogtepunten uit jullie carrière, niet?
Strobo: Ik kijk altijd uit naar een nieuw hoogtepunt, en het leuke is dat je nooit op voorhand kan weten wanneer dat er komt. Op dit moment zijn we heel gretig om onze nieuwe nummers te spelen. Ze werden opgenomen eind 2010, worden momenteel gemixed, en ik kijk enorm uit naar de reactie.
BN: Yep. Een optreden waarvan je niet veel verwacht kan geweldig goed uitdraaien en omgekeerd. Het valt echt niet te voorspellen en het haalt niet veel uit je er druk om te maken.
Albi : Ik kijk er alvast naar uit om er een stevige lap op te geven.
Wat is jullie favoriete plaat aller tijden en waarom?
Albi: Dat is een heel moeilijke vraag daar dat constant veranderd. Voor het moment steekt de nieuwe van The Raveonettes al 2 weken continu in de cd- speler. Als ik dan toch moet kiezen ga ik voor de plaat die me totaal van mijn sokken blies toen ik ze de eerste keer oplag en dat was Earth Inferno van Fields Of The Nephilm.
BN: Inderdaad. Je speelt een plaat een bepaalde periode en daarna komen er andere in de plaats. Als ik er een moet uitkiezen, dan maar First and Last and Always. Ze heeft me door een lastige periode geholpen.
Met wie zou je het niet erg vinden om 8 uur in een lift vast te zitten en wat zou je doen?
Strobo. Selma Hayek en een boa constrictor. Say more … ?
Albi: Met die rosse vampirella Jessica uit True Blood en Shirley Manson van Garbage. Doen? Tja laat uw verbeelding eens gaan.
BN: Een paar jaar geleden had ik Brittany Murphy gekozen. Ik spendeer echter liever niet 8 uur met haar in een lift in haar huidige conditie…
Een boodschap voor de lezer is…..
Strobo: Sport regelmatig.
BN: Het is waarschijnlijk niet zo erg als het lijkt.
Albi : Drink met mate(n)
Strobo:
FAVOURITE MAN : Socrates
FAVOURITE WOMAN : Patricia Arquette
FAVOURITE MOVIE : Once upon a Time in the West
FAVOURITE BOOK : Please Kill Me (the oral history of punk) – Beatnick: please return it to me one day...
FAVOURITE COLOUR : strobelight (blinding white)
FAVOURITE PLACE TO GO : The shower
FAVOURITE CARTOONCHARACTER : gotta love ERIC CARTMAN
Beatnick:
FAVOURITE MAN : Peter Murphy
FAVOURITE WOMAN : Kara Thrace
FAVOURITE MOVIE : Donnie Darko (2001) – original release
FAVOURITE BOOK : Song of Ice and Fire
FAVOURITE COLOUR : Orange
FAVOURITE PLACE TO GO : The movies
FAVOURITE CARTOONCHARACTER : Ren Höek
Albi:
FAVOURITE MAN : Lemmy "Motörhead" Kilmister
FAVOURITE WOMAN : Shirley Manson
FAVOURITE MOVIE : Blade Runner
FAVOURITE BOOK : White Line Fever (Lemmy's bio)
FAVOURITE COLOUR : Black
FAVOURITE PLACE TO GO : The pub
FAVOURITE CARTOONCHARACTER : Homer Simpson
Didier BECU
26/06/2011
---