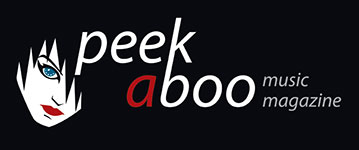 like this interview
---
MILITIA
We're not aiming to start some sort of revolution, we want to make people think about what's going on and to see things in a different perspective.
10/06/2011, Didier BECU
photos: © Marquis(pi)X
---
With "Power! Propaganda! Production!" the Belgian Indus-makers from Militia have perhaps delivered their strongest work ever. Industrial music that works like some kind of Hollywood movie. Not in terms of money (what did you think?), but in the sense that there's just so much happening.
Peek-A-Boo is very proud to present this in-depth interview with one of the industrial icons of Belgium: Frank Gorissen of Militia.
Well, hello Frank. 22 years in the underground, how does that feel?
It's that long already, but it doesn't feel that way, you know. One of the reasons is that Militia had a fresh start after I met my partne,r Sandra, (who played a few times with Militia), who pushed me to look at Militia in a more "commercial" way. That doesn't mean that we're making commercial music, but that we're promoting the band now more than before, we're planning things better, we created a website, we're quite active on Facebook, we do more interviews than before, that sort of thing. We're getting Militia more known to the public in a better manner.
We're building our own rehearsal location and recording studio at the moment and we're planning to release our future works on our own Subterra Recordings label. All these plans and activities give us more control over the group. During the past 22 years, not that much has happened. I see and hear a lot of stuff that I've witnessed before, a lot of copying is going on. I also notice that there are a few more bands using oil barrels than there were before, for example, though sometimes they're a bit out of place, they don't really fit into their act. The scrap material we use is there for a reason, it's a statement. It's been there since the band first started out, even before I had heard of Test Department or Einstürzende Neubauten.
I banged on oil bins because I couldn't afford real drums, you know. I liked the surprisingly clear and ecstatic metal sound from the very start and never traded them for flashy drum kits or electronic drum pads, things I really hate. On the positive side, festivals and concerts are better organized. We get to sleep in hotels now, something that was quite impossible in the early days when we were happy with the concert organiser's couch. We will still do that, but it's great when we are being put in a 4-star hotel in Leipzig. We won't complain.
What does the term "industrial" mean for you? And I'm not only referring to the musical explanation.
Well, to me it's the way we make music, the "method" we apply. We create sounds using scrap material and industrial waste products like empty oil bins, broken metal radiators, empty gas containers, metal cylinders and plates, electric tools and so on. Sometimes the sounds these objects produce are being transformed and manipulated with electronic devices, and these new sounds are then being incorporated as a source for background noise or soundscapes.
I often import such sounds in my sequencer and loop them. Our music can best be performed in large abandoned factories and other industrial sites; it's the ideal environment. The images on film, our stage performance, the tools and equipment we use, each element fits into this industrial image perfectly. I cannot imagine making industrial music without using 'industrial' objects as instruments. On the other hand, our music's themes are industry-related, as well: the labourer's position in society, the power of industry, the capitalist system, profit, labour, the exploitation of both human and natural sources, economic crises, labourers' unions, the proletariat. We're planning a performance for the traditional steel workers and miners in the Lorraine region in France, to support them and improve their problematic situation. This is a good example of our similarity with Militia, that is, our political statements and concern for the oppressed.
I always compared you to Test Dept, not only musically, but also politically.
Yes, and it's not surprising at all, since both bands have their roots in the left-wing labour community and social views. Both are affiliated with the working-class and use industrial waste material. But Test Department sort of abandoned their industrial sound and have turned to more techno and jungle music. Their last performances no longer clearly show their left-wing points of view. In my opinion, this is a pity. Another difference is that Test Dept have stopped these activities and we're still going on strong, fists clenched.
It's clear you are left-wing minded, even extreme left. Being Belgian, the situation in our country (Belgium) must make you particularly furious, no?
It would be too narrow-minded to look at the Belgian situation alone. World-wide you can see that things aren't going as they should be. In my opinion, you can point to 1 major cause for the terrible situation we're living in: the insatiable hunger for power, more and more power. And there are 3 ways to get it: money, politics and religion.
Politics have divided people into separate groups with various and conflicting social views. Religion has done the same, but here diverse gods and so-called holy principles form the dividing factors. Money is the means through which you can gain and hold on to power. You can buy people when you need them, you can install powerful armies, produce weapons, conquer lands, get your hands on more territory, control the masses, protect throne and temple. And whatever happens and whatever brings more misery into our world, you can always find one or two or all three elements at the centre of it.
That's why we wonder what a completely new system might bring, the very system we're writing about and which is a source of inspiration when composing our music: the eco-anarchic community. I've written all about it in the "Eco-Anarchic Manifesto" book.
The term "anarchic" seems to be from the 80's. What do you think?
I think the eco-anarchic social views could form a possible answer, a real alternative, for the misery we're living in nowadays. Imagine a society where money is no longer an object, where trade commerce is the way goods would pass from one person or group to another, a society with no armies, no religions, no borders. Imagine instead one harmonic world based on equality and solidarity.
Utopia? Perhaps, but anyway, that's never been successfully tried in real life. And why not? Because such a system doesn't allow one group to dominate over the other(s). Those who are in power now will never give up their comfortable situation and wealth. Perhaps what's happening in the Arab world, the revolutions going on there, could be the start of a world-wide revolution against those in power. But I fear that as long as we can buy luxuries, like a flat-screen TV, we won't be able to move towards a just and honest community. Not yet.
I have a thought about that. I work in a factory and I see on stuff like yours factory workers getting united and how beautiful those images are: I am sure that almost all indus fans aren't factory workers at all.
Our music is not just for people that work in a factory, of course not. But, as I said, we try to reveal the situation of the oppressed proletariat and its position in modern society to all who are interested. So people can gain more insight into some of these problems. We do this in our performances. We're not aiming to start some sort of revolution, we just want to make people think about what's really going on, and to see things in a different perspective. And if our doing so could help start a revolution, so much the better. We're satisfied when we can help set off an 'inner' revolution, inside someone's mind; to make them think differently about the real situation we're living in, to consider the alternative we're proposing, namely, the eco-anarchic social community: man in balance with his fellow-man and with nature.
As for your music, how do you decide what becomes an instrument?
Easy. To become chosen as the new star on the stage, an object has to produce a useful sound when banged on and it has to have a link with industry. That's why we use empty oil bins, gas containers, metal tubes, cylinders and plates, amongst other metal objects. On the other hand, we do incorporate conventional percussion instruments as well, for their typical sound, the sound of skin, which cannot be reproduced by our metal objects, of course. Apart from that, we also assemble metal objects, car parts, for instance, and hang them with chains. So we actually create original, unique instruments. These objects are suspended in a specific order so we can make quite harmonic sounds with them. Some sound like chimes or tubular bells and glockenspiel. It's the combination of all these objects and the overall sound they produce that results in the typical Militia sound. Aside from the percussion instruments, our music also contains a "background tape," a CDR containing loops, soundscapes, ambient music, samples, etc., made with a Korg Poly 800 mark II, a Roland SPP555 and 2 virtual synths on my computer. Most sounds coming from those instruments are all self-made, so I'm not using preset sounds. This is because we want to have as much control and be as original and unique as possible.
I guess after a gig you're totally out of breath, no?
That depends on the length of our concert, but mostly, yes. You must know that we often have to travel a long distance by car (like going to England and then to Germany), because we need a vehicle, like a small truck, about 10m3 large to transport our equipment, plus 1 or 2 more cars. As soon as we arrive at the concert venue, we have to start unloading our instruments, most of which are quite heavy, and build the stage. After playing for an hour or more, constantly drumming that is, we must dismantle our installations and then return home. Fortunately, we mostly stay overnight in a hotel, but nevertheless, it's quite a lot of hard work. But when it all goes well, when we receive nice comments and support, we're always glad and happy. That's why you find us always smiling after a show. And drinking a well-earned beer.
Considering the noise, where do you rehearse?
Well, we did them in an abandoned hospital in Bilzen. Now and then we got complaints from a few neighbours– our instruments do make a lot of noise you know – so it wasn't that ideal rehearsing there after all. Not long ago the administration of the town of Bilzen closed the building down for renovations. So we're without a roof over our heads at the moment and our equipment is being stored in a friend's garage. But at this moment we're building a cellar and garage as an extension to my house, and the cellar will become our new rehearsal location and recording studio.
Don't shoot me, but even though I was raving about your cd, I did call it ear-friendly industrial!
That's a nice compliment, no doubt! Personally I don't like making pure noise music, or harsh music, or whatever you like to call it. I used to, but in those early days, when Militia was still a 2-person outfit. Somehow I couldn't express my thoughts (the political ones mainly) through that style of music. And I don't like synthesizers that much; I just love to play percussion.
But I like harmonies, rhythmic music, spherical sounds, choral voices, Arab instruments, exotic tunes, so that's why you can find them on all of the Militia albums, nearly always in combination with that mighty sound of steel. So yes, it's ear-friendly music, if you like. It's very musical and that's what I have in mind, what I write and what I like. And it's not that ear-friendly, you know. I've got tinnitus from playing too often without the protection of ear plugs. When performing live, we do like to play quite loud, but there's a difference between loud music and attacking and damaging your eardrums. I always make the same mistake when I'm recording Militia music: it has to be very loud in my headphones, so I can get "into" the sounds and play well, I go into trance, so to speak. Heavenly, but too destructive for the poor ears!
But you're also a band of extremes: are there any limits?
I don't think we're searching or hunting for extremes, not sound-wise, I guess. We're not Merzbow, and we don't expose dead body parts or throw buckets of blood on the stage. Such behaviour doesn't interest me, nor does it appeal to my senses. I've seen it all before, perhaps a bit too often, so I don't think it's that original anymore.
I deeply dislike the use of neo-Nazi-like outfits and imagery on stage, as well. In my opinion it has nothing to do with making music, more with filling a gap caused by the absence of inspiration and skill. The outfit and haircut receive more attention than the music. Are we extreme because we want to present the eco-anarchic way of living together as a possible alternative for a modern world in decay? I don't think so. We don't want to scare or shock our audience, but entertain them with our music, which is about searching for a better world and exposing the things that go wrong. If some of the spectators or listeners are shocked, it's perhaps because they left the concert building or removed the CD from the player because they were uneasy with the confrontation and our conclusion that they allowed it all to happen, rather than meditating on their way of living, including their relation to others and nature. Maybe they will eventually be open to change their way of life for the better, and to encourage others to do the same.
What's your favourite record of all time why?
Difficult question! I've got many records that I like a lot, but I'll only name one and that's because it has influenced me in the way I write my music. The record is (drum roll...) "Moondawn" by Klaus Schulze. I'm not that much into the use of synthesizers, but I enjoy the clear and typical structure: an intro, then swelling repetitive looping starts coming in, minimal phasing, choral voices, and sequences that come and go…all in the mid section, and ending with an outro leading to a climax.
Listen carefully to it and compare it with a few older Militia tracks: it influenced me when I was still quite young (so very long ago) and Schulze's way of working in those days still appeals to me today.
Over the years, I left this "procedure" behind, somewhat, and I applied other writing methods that became the typical Militia trademark.
With whom wouldn't you mind being trapped in an elevator for 8 hours and what would you do then?
Definitely with my partner Sandra, making extremely hot love (laughs)!
Do you have a special message for our readers?
Thanks for supporting Militia for all those years and hopefully you will continue to do so for many more to come. Wwe need you, we need your feedback, your applause, your reactions, attention, comments, your warmth and love! And remember that only sheep follow a leader!
Cheers,
Militia
Didier BECU
10/06/2011
---