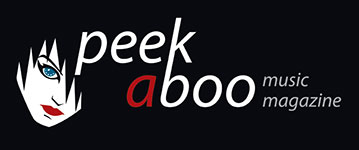 like this interview
---
NAïVE
We decided to approach our sound slightly...
07/06/2015, Wim GUILLEMYN
photos: © picture 2 © Clement Costantino Photographie - Thorium
---
Today we have a chat with the French band "Naïve" that released the magnificent album 'altra'.
Hello guys. How are the first reaction to the new album?
Well so far, the reactions to the album were good, both from the people who follow us from the very beginning as from new comers and media. This is of course very encouraging and drives us to give our best and push the limits while on stage.

Can you each introduce yourself a little to our readers?
Sure with pleasure. Naïve is a three piece. Jouch: Guitar/Voice and Programming, Mox: Drum/Programming and myself, Rico: Bass/Voice.

You' re a trio but on the album the music sounds pretty massive. How come? And how do you managed to get this sound on stage?
Well thank you, This is much appreciated. The thickness of our sound comes from a calculated balance between the sources that compose our sound. We are a trio but we are completed by a fourth invisible member, samples that are omnipresent. We have shaped our sound so that each instrument can serve the music, we pay great attention to frequencies and wish to hear each part. We see music as a whole, a compact and organic entity. Mox is always in charge of the recording sessions in our studio. He knows precisely how to take the best of each part. And again this time, he killed it.

We manage to get that sound on stage first of all because the gear we use in studio is the same we use on stage. And also because we've worked a lot with our sound engineer who knows us pretty well now.

Could you give a short commentary to the songs/lyrics on 'Altra'?
The lyrics take their roots from personal experiences, hurting or blissful, from emotional experiences in life, contemplations, relationships and they are written so that everyone can feel somewhat connected to them. They were also written at a stage where within the band, we needed to get together again, a need to return to more human and simple feelings and relationship, a simple pleasure to play our music.

In contrast to other prog minded bands 'Altra' sounds more homogenous and parallel...
This is linked to the state of mind we where in at the moment, when entering or probably before entering the creative process. There was this real urge to write new material, to find simple pleasure in doing so. We decided to accentuate the organic aspect of our music. The difference with our previous albums is that we wrote in a very short time lapse. This was very exciting, the more we were into the process, the more we felt it comfortable and natural. We wanted to experience this new challenge, decided to approach our sound slightly differently, especially dealing with bass, where we used much more overdrive to convey this idea of thickness with the guitar and the drum.

How do songs arise and grow usually?
There is no definite rule. Most of the time the idea emerges from electro patterns. It can come from guitar riffs as well. We put ideas and emotions together, work on our own, jam together and record ideas.
Most of the time lyrics come at the end of the writing process or I should say parallel to it. Jouch writes most of them, on this album I wrote a little, we put our ideas together and then decide all together to keep them or not. Once the music is made, we adapt the lyrics to it so they serve the mood of the song.

This is the third release and again self-released. Is this a conscious choice? Or is this due to the state where the music business is at the moment?
It is a very conscious choice. We are lucky enough that Jouch and Mox have the technical capacities to serve the band at its best. Jouch being graphic designer, he is in charge of all the visual aspects of the band, artwork and videos. Mox being sound engineer and having his own studio (where we rehearse) he is in charge of the pre prod step as well as the recording and mixing process. They both do it with passion and talent according to me. We always leave the mastering part to our very good friend Mobo at the Conkrete studio in Bordeaux.

What dreams or hopes do you have for the band?
We hope to find partners, distributors, bookers and touring agency to help us defend the band as much as we can. We plan to return to Russia for a third tour, we are just back from there for the Altra tour and it was more than awesome. We also plan a European tour. We wish to enter festivals in France. We've invested a lot of energy and time in our band, we have reached our limits in terms of booking and managing, even if it is very difficult to find professional structures in France, we are convinced we will find the right persons at the right moment.

What can we expect of a Naïve performance?
This is a very good question. Expect to feel strong emotions, expect to assume them, expect to be yourself, expect to travel mentally, expect to receive twice the amount of energy you gave...
Which bands are your influences? What do you like at the moment?
The list would be very very long but to give you an idea, we like Tool, Massive Attack, Deftones, Nirvana, Filter, Helmet, Apparat, Ez3kiel, Gojira.... We listen to a lot of different bands and styles, we are currently enjoying Moderat a lot!

As we talk about standing on stage… which stage would you love to perform on? With who would you love to work with?
We would love to play l'Olympia in Paris and some stages in Argentina, Germany. Yet we think that what matters is not the stage, it's what you make of it... We would love to work with structures like Base Production or Kongfuzi in France or international equivalents, with structures who care. Dealing with bands, we consider every experience as interesting and exciting, we recently played with Hypno5e (FR) and Adaen (RU) and it was very nice.
Thank you guys and good luck!
Wim GUILLEMYN
07/06/2015
---