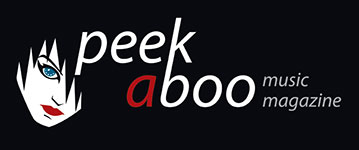 like this interview
---
NECRO FACILITY
We never did this for the money, as cliché as it might sound. We do this because we love to play the music that we do.
02/06/2011, Didier BECU
---
Peek-A-Boo loves electronic music and we love it even more if it's done by a band who offers high quality. From the land of Covenant comes Necro Facility who released with "Wintermute" one of the finest electronic gems of this year so far and so we decided to go in a cosy chair (kind of) with Oscar and Henrik.
Well hello, not everyone knows who Necro Facility are...so introduce yourself.

Oscar: Necro facility is a band that plays industrial music (nowadays industrial pop) that has a Swedish sound combined with the west coast sound.
We have been around for 10 years, and started releasing our first album "The Black Paintings" for like 6 years ago. And then we have released the more industrial record "The room"
Now we are releasing our third album "Wintermute" and has taken the industrial step a little bit further.

The band consists of me, Oscar, and Henrik. We produce, mix and write all our tracks in our studio in Stockholm.

For most of the people you came in the attention with your collaboration with Covenant's single "Lightbringer". Do you know them for long and of course this couldn't be a better opportunity to give your latest "Wintermute" some exposure?

Oscar: We have met them during concerts and stuff, and yet still Sweden is a very small country. We bump into each other all the time. The idea just came up and we had a track that we really liked, so we sent it to them and the collaboration began!

Really good test song for the people listening out there, to see if they were ready to hear some industrial pop.

Henrik: We had been talking about doing some collaboration stuff for Wintermute just because this was new to us in the form of Necro Facility. So we figured that Necro Facility vs. Covenant would be an interesting mash up and sent them a track. They liked it, recorded some vocals and wanted to release it as their new single. The track turned out awesome and it was a good way for us to test the waters with Wintermute.
Why does a band chooses a German title for an album that's been done in English?

Oscar: It's not a German title, it's just a cool name

Henrik: The album title is in English. At least that was the intention ;)
And yet, this title seems to be in such contrast with your sound. I mean, the whole album sounds like some unstoppable train. I mean this is pure energy.
Oscar: We haven't really thought about the meaning of the words, trying to describe the album. We actually came up with the name 1 year before we were done with all the songs.
It just feels good to have a good working name, to able to work around.

Henrik: As Oscar says we came up with the name Wintermute (which is also inspired by one of the greatest cyberpunk novels of all time). It might not have to do so much with the songs. But I think the album title is a bit closer to the lyrics. Most of the lyrics where written during the wintertime here in Sweden.

I reviewed you as one of the albums that will probably be in my list of 2011 but I also told that you are the kind of guys who succeed in transforming Skinny Puppy-sounds into irresistible eclectropop. Your opinion.

Oscar: That is very kind words, thank you! We haven't really tried to do Skinny Puppy, for real. We haven't. We just played and wrote the songs precisely as we wanted. We have listened to other stuff WHILE doing the songs in the studio; we just have the inspiration in our heads.
This was a really good step in our sound, and it felt really natural

Henrik: Thank you sir! Electropop is somewhat of a good description. But when we did The Black Paintings, The Room or Wintermute we never sat down in the studio and said "We want to sound exactly like band x" Shure, we've always been inspired by the west coast sound, but we've been equally inspired by other music as well. So we've always done music that is inspiring and challenging to us. And as Oscar said, there are more influences and nuances on Wintermute and that's just because we love music of all different kinds and we let ourselves be inspired. That's all.
I saw on the website that Necro Facility is doing it quite good in the Swedish charts. I guess the Swedish audience aren't tired of some good EBM/electro pop.

Oscar: It is really fun that even Sweden, which must be the hardest country in the world to get successful in, that they are open for new music. We are really impressed and hope that this will make way for new cool acts!!

Henrik: yeah, we are super thankful for all the good response and the support we received with this record. This just shows that people are interested in music overall. And maybe we hit the spot with this one.
In fact I wanna ask you, is this quite underground as they say or do you play in what can be named as the bigger venues?

Oscar: We don't know, and we don't wanna know. We don't consider ourselves to be an underground band, and we especially don't consider our self being a commercial big band either.
Listeners decide

Henrik: We're not playing for millions of people on huge arenas and we're not rock stars if that's what you're asking ;) And being big or small in the scene isn't something that's important to us. We never did this for the money, as cliché as it might sound. We do this because we love to play the music that we do.
I guess with an album as such you will play some gigs outside Sweden as well. Anything confirmed yet?
Oscar: We have not confirmed any dates yet, we have a lot of askings, but we are quite picky when it comes to live shows. We wanna work with serious people only that are driven for the music, not for the money..

Am I right that I have the idea that "Wintermute" is an album in where you decided that it is serious? I mean, it sounds like if "Wintermute" is destinated to become an electro-indusclassic!

Oscar: We are always serious to make the album sound great, we are very precise and we work long with sounds and productions, and of course the writing.
If it sounds dirty somewhere in the productions, it's meant to be that way, to make place for other sounds.

Henrik: We never "threw" an album or a song together. In fact, for Wintermute we threw away tons of tracks just because they didn't fit the album. The same goes for The Black Paintings and The Room. We've always been picky about the overall sound of the albums. It's important to us that all the tracks follows like the same "sound" But with Wintermute we focused a lot more on hooks melodies and the vocal production. And steered away some from "the weirdness". Maybe that's why it might come across as a more serious album.
If it does become a classic that would be awesome though!
What's your favourite record of all time and please state why.

Oscar: Can't answer that, have too much music in my life that I love.
But I will always love "too dark park" by Skinny Puppy and "Fat of the land" by The Prodigy.
Henrik: That's impossible to answer. But I will try to list three.
Prodigy - Fat of the land. The first album I ever bought. Production wise and song wise it's one of the best albums ever made. Play any of the tracks on a party or a club and the people goes wild.

Skinny Puppy Last Rights. First Skinny Puppy album I bought.
Coldplay X & Y. One of the best pop albums ever recorded.

With whom wouldn't you mind to be alone with in an elevator for 8 hours and what would you do then?

Oscar: Henrik bäckström and have some drinks

Henrik: Oscar Holter and have some more drinks. I'm never bored when hanging out with Oscar.
Do you have a special message to our readers?

Oscar: Please be interested in new music, there is good music in every genre. Don't stop listening to music just because of the clothing style the artist is wearing (I am wearing a SpongeBob t-shirt right now)

Henrik: Go you own way! Don't let people tell you what to do and what's good or bad. Support your favourite bands and keep up the love for music. Without you the artists/bands are nothing.
Didier BECU
02/06/2011
---