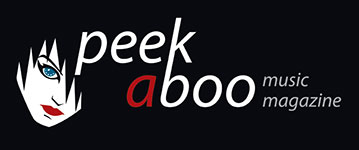 like this interview
---
PANKOW
I crap, you crap, he/she craps, we crap, you crap, they crap. It is all crap.
19/08/2013, Peter DOLPHEN
---
Hello Bram! How are you doing?
Very well, thank you. Seeking shelter from the sun ;-)

Can you first tell us some more about yourself?
Ah, some words about me. I was born in … Maybe I will skip a bit otherwise this will be too long. Hahahaa.
Well, I am the singer of Pankow, but that is nothing new. I was fascinated by electronic music as long as I can remember. When I was 9 years old my parents bought a cd-player and I was listening to my father's cd's of Vangelis, Kraftwerk, Jean-Michelle Jarre, OMD, Brian Eno, etc. That was when my friends were listening to the Samsonrock (people who do not know it, can always search it on YouTube – maybe you will like it ;-) ).
So, I started a classical piano and music education. Soon I discovered that I was not going to play the synthesizer there, but I finished the four years. But then it started. How to explain your parents you want a synthesizer. The first attempt was a technics keyboard which was really rubbish. The second attempt was better though, a Roland XP-80: the synth workstation and top of the bill of Roland at that time. But what did I know what Envelope was when I was 14. Hahahaa.
I struggled a lot with it, but I had a great time. I played every day and when I was 18, I bought a Korg Electribe. From that point on, all my money went to synths and now I have a pretty nice collection. So, no software here ;-)
That is a bit of history on how I started with music and how I started with doing I do today.

You started in the Belgian scene as part of NTRSN (pronounce: Intrusion). How did you get in touch with Pankow? It's an Italian project, no?
Yes, very Italian. Maurizio got in touch with us over MySpace, because he lost his singer and he was on his own. Maurizio his life is really turning around music and around Pankow. Pankow is really his child and he cares for it a lot.
Just a few months later it was just me and Maurizio, because Maurizio really has his ideas and his way of working and apparently it did not suit everybody. So we decided to continue on our own. Now, we are with three, Maurizio, Cosimo and me, and Alex is still writing lyrics. It is really great, we are having a lot of fun together.

Can you tell us the bands which have the most influence on your work?
Pfooh. Difficult question. I listen to a lot music, from classical, to new wave, to electro, etc. I have to say that industrial in combination with pop songs is what gives me inspiration.
There are not really one or more bands in particular. I like the way they experiment with sounds in the industrial scene. In the pop scene they have good knowledge about song structures and melodies. Maybe the most influential bands for me now are bands out of the Witch House scene like Crim3s, Ritualz, The soft Moon, ZxZ, etc. But again, it is not only about these bands. I have more than 40000 songs in my iTunes library and it always plays on random. ;-)

Allessandro's first release under the name of Pankow dates back from 1983 (!). How do you feel his sound has evolved since you are part of the band?
At that time the concept of music was still vague for me. I feel sometimes like a bit of a watchdog, because it is really important for me that Pankow stays Pankow. In the beginning this was really hard, because both Maurizio and me, we had to find a way that worked and that Pankow would still be Pankow.
Now, with Cosimo it has even become easier. I really believe that we have a fresh modern sound without losing the roots of Pankow. Also, don't be mistaken, we are not a vintage revival project. Pankow is back and maybe stronger than ever.

I guess this cooperation also brings a lot of travel to Italy? You must have earned quite a lot of air miles?
Yes, lots and lots of air miles. Unfortunately, Ryanair does not get the concept of air miles yet. Which is a pity. But going to Italy is always a pleasure of course. Pizza, nice looking girls, sun, … did I already mention 'nice looking girls'? Hahaaa.

How is your Italian by the way? ;-)
Io parlare un poco Italiano. I understand a lot when they speak slowly, so not too much ;-)

In which way do you consider yourself "different" than other EBM bands?
We do not even consider Pankow an EBM band. Although we are very appreciated in the EBM scene and that is always nice of course.
If you look at the history of Pankow, than I would more say it is industrial from the early eighties. The time were people were experimenting with synths, sounds and musical structures. That is still what Pankow is today.

What can our readers expect from Pankow on the ESN 2013? Why do they NEED to be there?
If they want to see me naked, they should not come! It will be a great show of course and it will be no traditional EBM. Just good music and a lot of fun.
So, you won't see me naked but you will miss all the rest!!!

Any last words to the public before you annihilate Le Cocquin in september
I crap, you crap, he/she craps, we crap, you crap, they crap. It is all crap.
I thank you for this interview!
Peter DOLPHEN
19/08/2013
---