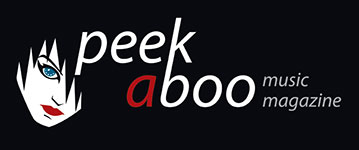 like this interview
---
PIGS PIGS PIGS PIGS PIGS PIGS PIGS
'We probably came a little bit more confident in ourselves'
07/06/2020, Danil VOLOHOV
---
Despite the coronavirus lockdown, 2020 became quite successful for Pigs Pigs Pigs Pigs Pigs Pigs Pigs. Their recent album – 'Viscerals" is among the most interesting heavy-rock sounding records of 2020.
Within "Viscerals", Pigs Pigs Pigs Pigs Pigs Pigs Pigs decided to move from their psychedelic roots without forgetting about sound experiments. "Viscerals" is a real surrealist record with maximum tension – something that seems to be created on the verge of Rollins Band and The Jesus Lizard-tonalities.
In the interview for Peek-A-Boo magazine we spoke with the members of Pigs Pigs Pigs Pigs Pigs Pigs Pigs – Sam Grant and Adam Ian Sykes. They told us about progression from "Kind of Cowards" and the recording of "Viscerals", about their musical roots and songwriting, about playing live and guitar music.
You just released your new full length album – "Viscerals" – what can you say about the record itself and your work on it ?
Adam: Well, it's our third record. It was written in quite short succession after the last album. We spent a lot of time on "King of Cowards", our previous one. And as soon as it was finished we started writing. We gave ourselves quite a tight deadline. We booked a time in a studio before we'd finished a half of an album just giving ourselves a deadline. We work well under pressure – which we've learnt.
Sam: We had a few weeks in a studio when we just wrote, just wrote a couple of weeks, having these bones of ideas. Once we demoed – we basically demoed the album! And then we'd wait for a couple of weeks to let it kind of stew and understand it. After that, we came into a recording process pretty quickly.
Pigs Pigs Pigs Pigs Pigs Pigs Pigs never was a very quick band in terms of releases. Like Psychic TV, who released an album every month or so. "Viscerals" came out after "King Of Cowards" – so speaking about the process of writing itself, how long does it usually take for you to combine all your ideas together ?
Sam: I think each album is very different in the build of it. Within the first album we just used it to understand who we were as a band and let in these ideas, these riffs and tracks grow into something. And that was like…we didn't set up: "Let's write an album!" – we'd reached the point when we'd written the music and: "Let's just put it on an album!" – and then, the second album came along. We just had a bit of steam. We understood who we were in terms of the band, we had some ideas. As we were touring, we took 4-5 days in the space we'd been rehearsing and did the final demoing of it in far more relaxed terms. We knew what we wanted to do. We had some support from the UK fund of PRS. So we applied for some help – a grant from the PRS Foundation. They gave us money for that album. There was a longer process in terms of knowing what we wanted to do and moving towards it. And then because "King of Cowards" did quite well in terms of exposure and it got some airplay on British radio, it meant we were touring much more - on the road. And then, we had less time in terms of the writing side of things. So the third album is different again. We decided to make it a much more focussed process where we would really condense this period of time of demoing and writing just before the album recording.
I can't but notice that "Viscerals" is a little less psychedelic. And there is a little more tension. So as for you, in what way does this record differ?
Sam: I'd say that with this record, we probably became a little bit more confident in ourselves. In a sense of who we were as a band. And what we were writing. You said: "less psychedelic" – maybe that's more to the point where maybe "psychedelic" idea that allows things to be more fluent and to be more open. And maybe it's down to the fact that on this record we were more confident in the way we wanted to put it. Making things more succinct and more direct in the overall output. And I don't think it's a particularly conscious decision. We did write as a band, we tend to go where we want to go and with what feels fun, enjoyable to do.
You just released the video for "Rubbernecker" – quite interesting to speak about. But can we really speak about the presence of a certain storyline within the record itself ?
Adam: "Rubbernecker" was written by Sam. More or less. He wrote all the structure of it.
Sam: I can't speak about the lyrics too much but I think the lyrics end up dictating the feel. On "King Of Cowards" he didn't necessarily set out to write about sin, per se. What happened was that a lot of things were falling apart. And it was a reflection of the space he [Matt Baty] was in at that time. It made sense in terms of concept. And it's maybe a bit of these things this time around. "Crazy In Blood" was the first track to be written from this album. This idea of the body and blood, viscera and physical…I think it would side the features of his lyrics. And he's probably made a step into: "Ok! Here's the theme! Here's the vibe!" – I think, musically speaking, me, Johnny and Adam all brought things forwards – whether it's elements or tracks themselves, from our own space and time. And it was nice not being dictated by the concept or anything. It was just what we brought. Being like-minded people we have complementary differences if that makes sense. And it feels likely that that brought these tracks, quite desperate in their nature, but quite close in their essence.
Adam: We're pretty derivative because of the way we work – which is quite nice if somebody has a fairly flashed out song. And we all bring aspects to it. We don't hold the rights in terms of specific tracks. Everyone has an input. We're derivative in so many things because of that. It keeps it interesting in a way, helping us a lot. The things are probably more musically – not lyrically. Musically we're all coming from different directions but meeting in this place.
While working together, what helps you to combine your ideas into one form ?
Sam: Time ( laughs )!
Adam: Yeah ( laughs )!
Sam: We need an amount of time to sit with it, I guess. One of us would come up with certain riffs – parts of something and we'd just play around. One of us would work with a riff – like the drummer, Chris or one of the guitarists. So it's like pairing. "Reducer" is a good example of that. When Johnny [the bass-player] or Chris would write a drum-pattern and Johnny and Chris would work together to make something. And ten it comes to the practice room where we kind of build it more. Or chop and change it around trying to understand it more. That's where the time comes in. It may be not the most beneficial to chop the first thing that comes to mind. And then – …you need the time and space,assuming it. We're really lucky because we have this studio – Blank [Studios]. We have got equipment in house to sit and do that process. Which is really lucky for us.
Sometimes, listening to your music I have this kind of feeling that you're so into the music and playing it so you're getting to a certain trance like state. From your perspective as artists and songwriters – do you feel something like that ?
Adam: Absolutely! I think we even subconsciously write music we know we can get into that mindset. Especially live. I think, if you're playing live, concentrating too much or if it pulls you out of that state…it's really important to be able to keep it interesting and enjoyable!
Sam: I think we try to keep stuff relatively simple. And a lot of times, me, Adam and Johnny would try to play the same thing at the same time, keep it interesting and enjoyable. And when it happens it allows you to really get hypnotized without complicating the process. And you could fix that single element, that pattern that becomes really hypnotic in a moment. And that goes to the audience as well. If we try to make every track very harmonic and busy – like Adam says, you'd think a lot and you just need to switch yourself off and play. I guess it's hard to find the balance between simplicity and songwriting. Like Adam said before, not too derivative. It's a hard balance and it's what makes it really hypnotic. I guess, when we play in the practice room you know it as soon as it happens. "It's magic!" and you can just play it, after that knowing how much we want to get down this rabbit hole.
In one of your interviews you noted that Pigs Pigs Pigs Pigs Pigs Pigs Pigs always sounded "30% like Black Sabbath…" – what defined the direction you've been moving to as a band and what were other consistent parts of your sound formula ?
Adam: We all share a love of the similar bands – Sabbath and The Stooges but going back to it – being derivative from a wide variety of sources, I think the inspiration we take is pretty wide, pretty varied. Day to day I listen to very different stuff, different from what Sam listens to. We like the same music, we like the same stuff. And the stuff Sam's listens to - I enjoy it! Vice versa. There are some of the ambient pieces I listen to and I enjoy listening to Steely Dan at the same time. Steely Dan, I think is biggest influence on us ( laughs ).
Sam: It's funny, we've never ever escaped the Sabbath comparison but I guess the point is what we like is a particular style…Blues pentatonic – basically. It's a form in a style and because it shares the same tonalities as Black Sabbath maybe it's a short circuit of interpretation. It must be. As they all look like Black Sabbath. It's a funny thing but at the same time we all do love Black Sabbath – they're really good ( laughs ). It's a broad church of music tastes.
And at a young age, when you discovered music in general – what elements attracted you the most ?
Sam: Personally for me, it was Nirvana's "Bleach" that my Dad had on CD. That sensitive freedom from its stereotypical form. It's like when you listen to the radio and there's a particular thing. You may like it, or not – like: "There is your nuts music!". Then all of a sudden you hear something which is free of a lot of those things. It took some time for me to understand the deeper mechanics of it but that "Wow" moment and it opens your eyes and at that point I just pick up the guitar. And on the back of that you start getting anything you could from that kind of playing.
Adam: I had two older brothers. One – eight, one – ten. They created a band together. And having brothers of that age and seeing them live, that kind of got me into music. And again, Nirvana was one of the first things I remember. I remember being about six years old and played "Nevermind" to my parents. I told them it was what me and my two brothers had recorded…
Sam: Oh, really ? (laughs)
Adam: …and it was us. They were like: "Oh, that's really good!".
Sam: ( laughs)
Adam:…and like with Sam and Johnny we had the same influences.
I can't help but notice the fact that during the last 10-15 years, a large number of psychedelic-heavy-rock-bands have appeared. The Cosmic Dead, Goat – these are just a few. And if we'd speak about other musical tendencies, for example, grunge basically united all these bands were active 5-8 years prior to it - Melvins, Butthole Surfers, Sonic Youth, Big Black, Black Flag… and we all know that most of the heavy-rock-sounding bands were active in late 70s/early 80s. The same with psychedelic rock. Why do you think, that all these artists – King Gizzard & The Lizard Wizard, The Cosmic Dead, Goat started playing only recently ?
Adam: I don't know actually! It tends to be cyclical with everything. It all goes through phases and guitar music tends to be popular, different ideas. I have no idea but this duration of guitar music and that heavier side seems to have lasted longer than all the earlier phases. I don't know why. The stuff that's coming out now, it's great but returning back may not follow the patterns that had been done before. It should stay a little bit longer.
Sam: I wonder. But I had no idea about it! Mid 90s through the late 2000s, probably artistically everything was on quite an economic upturn. The music industry to a degree up to the 2000s was relatively strong as well. And there were some outlines of the process but I think if you combine it with 2000s, suddenly making and recording music – all that sort of thing becames achievable. Like for example, we set up in 2008, because we got the grant. Not 15 years ago! There was a crash in 2008 and things began getting pretty rough, at least in Britain with the government. When you look at psychedelic music and guitar music it's inherently often anti-establishment. You can see this space and opportunity for us to resurface. I think in the 70s and 80s it was probably a similar time in terms of socio-political stuff but that was a different proposition I guess because there was more aspiration across the board. I mean, at the same time someone was doing psychedelic music, someone else was smashing something. So it was the question of what we can do in the music, back then. A lot of what can be done is established.
Ultimately, your initial goal was to unite people with your live shows. And even taking into account the facts of the current situation. Do you still feel like you're uniting people on a certain level ?
Adam: Hope so! The big part of being in Pigs Pigs Pigs Pigs Pigs Pigs Pigs and writing music is that interaction and connection with people. And this is something that really drives us on when we play gigs. Taking into account the given situation we try to find out when we can't tour. We did a live stream for the album launch with some of our friends, like Geoff Barrow from Portishead and a few others. We encouraged people to join us and ask questions and things on YouTube…
Sam: I think it's really important… I feel like we've played with lots of people over the years. We've been growing up with bands and people and scenes in different cities. Whether it's Cosmic Dead in Glasgow or Luminous Bodies in London…it's like a family, I guess, the broad family. It's a good scene where the musicians are also the audience and fans. We all watch each other. So yeah, there's a massive sense of cohesion amongst the audience. And the same goes when we're watching Cosmic Dead, we try to get as close to front as possible.
While playing live, how do you see your main task ? As obviously it differs.
Sam: For me, I want to have as much fun as possible. We play in other bands. I have quite heavy band called Khünnt. And we're just making everything as horrible as possible! Making the audience feel like: "Oohh! Jesus!". Pigs Pigs Pigs Pigs Pigs Pigs Pigs is an opportunity for me to find the lightness and just enjoy playing live. It should be really fulfilling for me and enjoyable.
Adam: I think it's pretty much the same! It's a desire to create an environment at the gig. That allows…and it sounds stupid but I want to create a big party. It's basically what we all want. And that's obviously different for different people. Some people want to sit in the corner. But creating that atmosphere…it's very self-indulgent. Essentially, I want to have a good time but I also want everyone else to be in the same headspace, at the same place. I think it's what it is. It's just about having fun really!
Danil VOLOHOV
07/06/2020
---