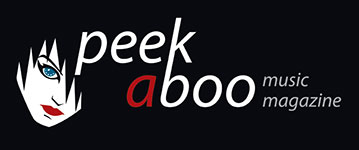 like this interview
---
PRINCIPE VALIENTE
The darker edge is something that comes out naturally when we rehearse
01/06/2011, Didier BECU
---
Yeah, The Exploding Boy rule! But hey, there is another band from Sweden that makes post-punk with a dark edge…they even agreed when Peek-A-Boo compared them to (kind of) Sisters Of Mercy.
Their name: Principe Valiente
Hello, perhaps you can start with telling who Principe Valiente are.
We are Fernando Honorato on bass, vocals & keys, Alexander Lehto on guitars and Joakim Janthe on drums.
I understand you named your band after the cartoon character from Prince Valiant. Why?
It is not the reason but yes, some people think so.
Principe Valiente means just "Brave Prince" in Spanish, we think it sounds good and it also has a deeper meaning. Quite simply the romantic illusion that we as individuals hope somewhere that someone will come and rescue us.
The Great Love, a guide, or some other form of safety that maybe never come. Or a knight.
I think it represents a bit of the darkness and the dreamy approach in our sound, but at the same time without losing faith and hope.
I guess you agree you're making post-punk but it's one with a very dark edge.
Well, I think our sound is mostly a mix from the post-punk era but also from other stiles like the shoegaze-sound. Is was actually nothing we tried to obtain, but we really like using lots of guitar effects and have that specific loud bass sound. But yes, I agree that we like a lot of artists from the post-punk era too.
The darker edge is something that comes out naturally when we rehearse and are inspired in the creating process but I try to get it a touch of hope to more illuminate my feelings in that specific song
I hope you won't kill me but I compared your sound a bit with the later Sisters Of Mercy. Will you shoot me?
I think too we have a bit of the Sisters-sound with the snare drum and the dark voice but that's also nothing we aimed to do, it just comes naturally. And absolutely, the sound of the 80's post/punk-guitar music is really catching and dreamy and we are very fond of the emotional and romantic essence of it.
I guess you're familiar with The Exploding Boy. Just like them you come up with a very different approach of the post-punk thing.
Yeah, they are friends of ours. We believe though that we do different things anyway, but both have been labeled as post-punk in some way or another. Maybe because of the style of singing.
Makes me wonder how the Swedish are doing it. Once you ruled the world of pop, then EBM and now post-punk. How do you do it?
Haha, well I don't know.. Maybe it's the long winter and lots of creative energy around here that has to come out somehow.
How are the reactions in Sweden?
The reactions are just alright but we hoped for a little bit more response from labels and booking agencies. Maybe they're just not enough into the music we do, but we hope to get more appreciation in the future.
Anyway, we are very satisfied with the album and that's the most important. Hopefully it will be discovered soon, but the few reactions we've had has been really good anyway. The response in Belgium, Germany and other countries in Europe seems to be great as well.
When I hear your music, it's like you kind of want to hide yourself behind a wall of guitars?
We just love guitar effects and the dreamy sound we can create with them. I think the hole musical expression gets more exiting that way and not that obvious.
There has been quite a gap between the first EP and your debut. How come?
We had another guitar player on the first EP who quit a time after that, and then we didn't have a record deal at first to release the debut. Also without a budget, the recording and mixing process took a very long time, more than 1 and a half year. We are also extremely careful with the whole mixing process too and it could take a long time to get the right sound the way we wanted. But it was 100% worth the work and waiting and we are very thankful to the people and friends who helped us do this the way we wanted.
Are you thinking about some European dates or is that just too early?
Yeah, we'll love to come to Europe and play more but we don't have any booking agency yet.
All the gigs we got, we had worked forward by our own. Even the gig at Wave & Gothik Treffen in 2009, first time we went to Germany.
Now we are going to Germany again for 3 shows in June and it feels really great. An alternative booking agency wants to have us, so we are really looking forward to it.
What's your favourite record of all time and please state why.
Hmm, well I have a lot of favorites but I think I choose "Never mind the bollocks" with Sex Pistols.
I discovered them back in high school and we played some cover versions of their songs with the music group I had at that time. Really great memories. At the same time I discovered Nirvana and Suede and heard that those bands also related to The Sex Pistols as a big influence to them, so in that way, they became an even more intense influence to me. David Bowie has always been a strong influence too.
If you were stuck in an elevator for 8 hours, who would you want to get stuck with and what would you do?
I don't know.. Maybe my neighbour? So he can explain me what the fuck his problem is haha.. This guy is very short, almost a midget and can be really nice sometimes but mostly screams a lot in his apartment at nights and don't let me sleep. I think he has some kind of diagnosis, I've always been curious about different people and personalities.
Maybe we can be friends after 8 hours talking but hopefully it wont be too much Twin Peaks-feeling about it. I actually don't like narrow places so much.
I suppose you expected an answer more like Robert Smith or Morrissey
Not really, just hope your neighbor doesn't read Peek-A-Boo.
A special message to our readers could be.....
Hope you enjoy our album.
Didier BECU
01/06/2011
---