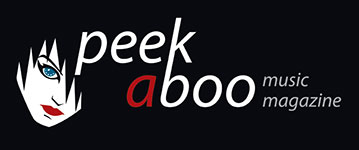 like this interview
---
SAINTS OF RUIN
Without a doubt I would say Saints Of Ruin sounds like Saints Of Ruin.
13/07/2011, Didier BECU
---
Your reporter almost got killed for linking these fine Americans with the bombastic 80's sound of Bonnie Tyler, but so what? One bite from them and I'm immortal as this is about vampires. Well, actually it's Glampyre. Anyway, time to dive into the dark caves of America and meet those fine gothrockers.
I know it's my job but it's always a gentle question to ask the artist to describe their own sound, not?
Ruby: We call ourselves Gothic Rock in short. To be more precise, Saints Of Ruin meshes dark wave with melodic, metallic rock that is endowed with harmonies and hooks.
"Glampyre" is your newest cd. What's the difference between this one and the previous one?
Ruby: This cd is a bit heavier and more electronic than the previous CD "Nightmare." It was also written with a more clear intention. The theme for "Glampyre" emerged while we were writing new songs. I believe we were influenced by some of the events we preformed at over the previous year- namely the vampire scene in the US.
You're from the US, how are the reactions you got?
Tommy: We enjoy our fans here and performing in certain parts of the country are absolutely amazing. We have a particular fondness for the Vampiric city of New Orleans. Every time we perform there we feel the love.
Ruby: "Glampyre" is just beginning to get some radio and nightclub play here. We have a strong foothold in certain circles and we hope to expand into new audiences.
Saints of Ruin are signed to the German Echozone-label and it seems like Germany is the country at where it all happens for the band?
Tommy: We love working with Echozone Records. The music that comes from Germany is some of my favourite in the goth-industrial-metal genres. German fans seem to be pretty awesome, and we hope to tour there.
Ruby: I think our style fits the German music scene better than the splintered US scene these days.
Your music varies from bombastic metal pop to gorgeous goth rock and I even described you (with respect!) with Joan Jett and (now you kill me!) with the 80's stuff from Bonnie Tyler.
Ruby: Our songs vary in tempo and intensity but I think we manage to keep our unique sound by maintaining the same balance of guitar, keyboard, a mixture of live and electronic drums and melodic vocals.
Yes, I considered killing you for the Bonnie Tyler reference but the Joan Jett comparison made up for it. (laughs). We do like 80's music!
Tommy: Without a doubt I would say Saints Of Ruin sounds like Saints Of Ruin.
Before you kill me, will you admit that "Total eclipse of the heart" is a killer song?
Ruby: I will not admit anything of the sort. Epic- yes. A catchy hook? Yes. But that is as far as I'll go.
Tommy: That's just not my taste in music.
You even dared to do "Rain" by The Cult. I adore the version but aren't such things rather risky?
Ruby: I do not consider covering someone else's song risky. We played the song because we love it. It is a tribute to the Cult. We had such a positive response from live audiences that it was a vote of confidence that we should add it to the new cd.
We're dying to know but is there a possibility for an European tour?
Ruby: It is the top of my wish list. It is now a matter of logistics. We are hoping for summer of 2012.
Tommy: I would love to play some of those big festivals in Germany.
What's your favourite record of all time and please state why.
Ruby: It is so hard to say because different records represent different periods of my life. As a kid, my first favourite was The Clash, "London Calling" because of its poignant anger at society. Next was Nine Inch Nails' "Downward Spiral" because of its electronic genius and intensity, then Type O Negative's "October Rust" for its dark, romantic beauty and winding melodies. Oh, no- I have just opened the floodgates. I have ten more to list. I'd better stop.
Tommy: Sisters of Mercy "Floodland" because it's a perfect album from beginning to end and the night I first heard it defined my musical direction as an artist and as a fan. The same thing happened when I heard "Pretty Hate Machine" from NIN.
With whom wouldn't you mind to be alone with in an elevator for 8 hours and what would you do then?
Ruby: It would be interesting to be a captive audience with a horror or fantasy writer- like Neil Gaiman, Max Brooks or Adrian Phoenix. First I would ask them to tell me a story. Then perhaps we could collaborate and I could write songs to become a soundtrack for a potential film. And even if nothing came of it at least I would have been entertained!
Do you have a special message to the readers?
Tommy: Sure. You are all invited to come say hi to us on Facebook. Email us any questions, tell us if you'd like us to come play your town. We just love to hear from our fans and music lovers all over the world.
Didier BECU
13/07/2011
---