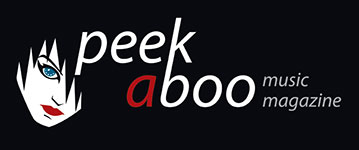 like this interview
---
SAM
Honestly we don't know and we don't give a fuck what category our music fits in.
12/07/2011, Didier BECU
---
One of the hottest names in the alternative danceworld must be S/A/M who were some months ago guests at the birthday bash from Vampire Party in Antwerp. Some rumours say S/A/M are like an electronic blitzkrieg on stage and you can watch that for yourself on the soon to come Shadowplay Festival. Here's an interview with the band!
Well, hello. I always wanted to know why a band name themselves S/A/M.
The story behind the name is, that we produced one of our first songq and wanted to give it to a DJ in our local club. That's why we had to figure out a name for the project quickly, because if the people like it, they want to know from which band the song is.
We wanted an acronym, because it sound more industrial to us. Someone comes up with the name SAM and Daniel designed a logo for it. The logo looked so nice to us that we kept the name. Later we did a brainstorm and invented the name behind the acronym. Let's call our name-process an accident.
It's a quite cool name but if you need it on Google, it's not that easy of course. Never thought about that?
That's the downside of this name. We don't think that we would use this name if we've started the project nowadays. But in this time we never imagined that the whole project would be such a success.
If I said that I'd describe the band's music as extreme dance, would you agree?
Honestly we don't know and we don't give a fuck what category our music fits in. We just make the music how we like and what is driving us at this time.
If I hear a track by S/A/M I then have the feeling that the more beats you pump in it, the more you're satisfied.
Sometimes yes, sometimes no. Many tracks work very well with complex rhythms and fat sound. But on the other hand you always need to make some tracks more simple. Thats some kind of musical-contrast thing. But we really like it to be on stage and a really fat and growling bassline pushes the audience to dance.
S/A/M's music is the kind that works at its best on the dance floor. Was the band's music created in the dance-circuit or was it at your sleeping rooms?
I would say half and half. One part was creating the ideas and the dynamic-drive for our music, which was created while we were going to clubs. The part of production is completely done in the studio at home.
Success wise "Brainwasher" did a lot for your career. Do you see this album as a turning point?
Yes, we totally see this album as a turning point. In the beginning of the production we had in mind to do a new album which brings us to the next level. We wanted to make an album with a vision and theme. We're very happy with the result and this will give us more energy for our next recording.
Any plans for recording a new album?
Of course, but they're still top secret as long as the concept isn't completely finished. We personally like it, if we just do the stuff and let people hear it, instead of speaking about it all the time.
In Germany you made it possible to enter the alternative charts, so I guess things are going pretty well over there?
We were pleasantly surprised about our position in the DAC. This is good feedback for us and it shows us how more and more people accept our music-style.
Sometimes you are described as a car that speeds at 130 mph over a road. I know it's stupid, but it seems so true?
Actually, we also hear our music if we are driving with130mph with our car to the next live shows. So it must be true.
We know you've worked with some great artists. How does that feel and are there artists that you wanna work with in the future?
It's fun to work with other musicians and make own interpretations of their songs. This gives us new impulses, even for our own tracks. In the future we hope that we can get the chance to make remixes for artists from other scenes (like the Techno-scene or maybe the Metal-scene).
You will soon be at Shadowplay Festival, what can we expect?
We're happy to play at the Shadowplay Festival and you can expect the unexpected.
What's your favourite record of all time and why?
Joe: This is a tough question, because I hear a lot of music and styles. But the record with the most impact and influence for my life would be "The Downward Spiral" from Nine Inch Nails.
Daniel: Thats hard because I don't have a all-time-burner. But I really like the Cypress Hill - Skull & Bones album. But there are much more records I like.
Who wouldn't you mind being alone with in an elevator for 8 hours and what would you do?
Yes there is one person, but we don't want to tell the name in a public interview. But he is build like a truck. After 7 hours, we would probably eat his tasty flesh.
A special message for our readers....
We want to thank all our fans for the support and for actually buying our music!
Didier BECU
12/07/2011
---