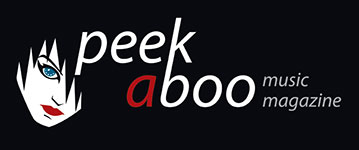 like this interview

---
SCHNEEWITTCHEN
a typical Schneewittchen performance is loud, shrill, confusing and wild
18/02/2015, Ward DE PRINS
photos: © (2) + (3) Ralf Mohr
---
Schneewittchen, the brainchild of Marianne Iser and Thomas Duda, will soon perform for the first time in Belgium, at the Black Easter Festival. Their theatrical performances with exuberant costumes, wild make up and sense of drama, often feel like an operatic aria, or at least some deranged version of it. This intriguing phenomenon, just as their imminent Belgian performance, provided the perfect excuse for inviting this charismatic duo on our virtual sofa.
If you had to describe Schneewittchen for those who have never heard of you, how would you describe yourselves ?
Marianne: Great lyrics, good melodies and a lot of surprises.
Thomas: Lyrics and melodies with a purpose not to please but to surprise or even cast a spell. As soon as someone is leaning back, thinking about or enjoying the tranquillity of our gig, a big bang follows and makes him re-evaluate and analyse it again, enjoying the other side of Schneewittchen.
What's the story behind the name ? Why did you choose the name of a popular fairy tale ?
M: We did not invent that name ourselves, the newspaper "Frankfurter Allgemeine Zeitung" did it by describing us after seeing one of our performances, as a wacky Snow White ("durchgeknallten Schneewittchen").
You work quite often with classic song structures (although often with own interpretations/variations) – are the both of you classically trained or self-taught ?
T: No, we did not have a classical training, but we love classical music, like Wolfgang Amadeus Mozart.
M: You can/need to flirt with classical music to achieve some greatness in your own music. A great example is Queen.
Perhaps it is my interpretation, but when I relisten to your previous albums, it seems as if the electric guitar has vanished in favour of more musical song structures and a less harsh approach? True?
T: Indeed. We keep on developing and we have always been a band that uses whatever it needs to achieve the sound we want, what sound would suit the songs we are writing, without worrying about our Image.
M: We still do not have a certain image, which gives us the opportunity to use all kinds of variations in music, and which probably makes us unclassifiable.
In 2015, you will release a new album. You managed to collect the required funds through a highly successful crowdfunding campaign. Is crowdfunding the new (or only) method for alternative bands in the 21st century, or was it a personal choice?
M: It was a great surprise to us that this campaign was so succesful and that we collected that much money. It was a fantastic confirmation that there are a lot of people that really want to hear our music. We were proud to start producing this new album, without hesitation, and I'm sure people will hear this as well.
T: Internet will be the only way for alternative bands. But to be able to reach your goals, you still need some good songs as a band. That will never change. Crowdfunding only works if you have a fan base, or have a lot of patience.
M: Momentarily, even some major labels are forcing their artists into crowdfunding to avoid major advertising campaigns.
Tell us more about this new album, and when will it be available ?
T: It will be our best album. (laughing)
M: I guess everyone says that!
T: Without compromise, Marianne & I are very pleased with each song we already have produced. We are very proud of these songs.
M: The new album will be released in May, and I can already tell you, in premiere, the title of the new album: "Für die Liebe sterben" ("To Die For Love").
You regularly perform on events within the LGBT community. Are you fond on that community or is your music just popular within parts of that scene ?
T: We are keen on every kind of love. To play at LGBT events in Germany is still a political statement. There is still no 100% equality and we protest against that.
M: Of course our music is also loved within the LGBT community, a fact that pleases us and gives us the opportunity to perform in more coloured scenes, which brings us back to the theme that we do not fit into any category.
The last months you have given a few acoustic performances. This is quite a difference with the recordings or regular shows. It must be a lot harder to perform that way, but I think that your compositions are suitable for acoustic sets. Have you never thought about vrecording an entire acoustic album, or perform permanently acoustic ?
M: (laughing) No, not always, but it is much easier for some songs. For example, the song "Gemeinsam Untergehen" only came through the acoustic version to its true greatness.
T: You forget that that is how we started, with piano and vocals.
M: But that is a long time ago…. And yes, I'm sure we will record an entire acoustic album, someday…
What can we expect on the Black Easter Festival ? Will you perform acoustic ?
T: One or two accoustic songs for sure. We will play a typical Schneewittchen performance: loud, shrill, confusing and wild.
M: It will be a show which combines all elements, old and new songs, electronic and acoustic sounds, thoughtfulness and sheer joie de vivre.
Any other bands on the festival you are looking forward to ?
M: I am looking forward to see Goethes Erben.
T: I am looking forward to see the beautiful Lisa Morgenstern on stage.
What is your favourite record of all time and please state why?
M: I can´t tell you, there are just too many…
T: Of all time? It changes. Maybe something of the Beatles or Jacques Brel? I also don't know…
Thank you for your time and we are looking forward to see you perform in Belgium !
Ward DE PRINS
18/02/2015
---