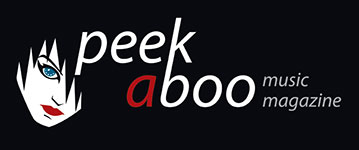 like this interview
---
SHANE EMBURY
'The one thing I try is still make the projects unique to themselves'
06/04/2019, Danil VOLOHOV
---
After many years of being a powerful generator in the team of Napalm Death, Shane Embury decided to start a new project - TRONOS. Shane's previous side-projects already achieved the cult status. From Brujeria to Lock Up and Venomous Concept.
TRONOS was formed alongside Russ Russell - long-time producer of Napalm Death. And Dirk Verbeuren - well-known drummer of Megadeth, Soilwork, Scarve. Without a doubt their debut full-length album "Celestial Mechanics" could be called one of the best metal albums of 2019. Strong and furious, powerful and surrealistic. Full of razor sharp lyrics.
TRONOS will release their debut "Celestial Mechanics" on 12th of April. Before it, we got the chance to speak with vocalist of the band - Shane Embury. In the interview for "Peek-A-Boo" magazine, Shane spoke about his very first years with Napalm Death and TRONOS, about the evolution of grindcore and sources of inspiration, about "Celestial Mechanics" and his background.

Recently you announced the release of the first album of your new project – TRONOS. Talking about this project, can you say, what's the main difference between TRONOS and the projects you've been involved ?
This project was I suppose long in the making…Russ Russell and myself had at times over the many years talked about what we would like to make should the opportunity ever arise. Also musically this touches on many different genres that we really love. And the idea was to combine heaviness with ambience to make each song uniquely different in its approach. Yet tie it all together with a theme. I suppose in some way this is a project that's very fulfilling as we had the time to let it grow and it become what it is - with other projects they are sometimes already established and the boundaries set, this project has no boundaries I feel.
Talking about your debut as vocalist. How it feels to get to singing after all these years ?
At first quite nerve wracking ! I had always had ideas and thought and hoped I would be able to pull it off but we were in a situation where everyone we asked never got around to demoing ideas and because Russ and myself had written the lyrics, it again just happened, as we needed to arrange the songs. I drew inspiration from many influences really and with Russ there he made me feel more confident and after awhile we couldn't really envision the songs any other way
In one of his recent interviews Russ Russell told that he can't find any words to describe the sound of TRONOS. So the question for you, for those readers who have heard nothing about you, how would you describe TRONOS ?
Well it touches despair with heaviness yet hope with melody but at the same time twists both perspectives on its head randomly! As much as we are composers of the album I find, I think many thoughts and wonder when the music is playing. Of course I have listened to it a lot but it's a journey, a diary of daily revelations that we all have as humans.
If we talk about Napalm Death, I'd say with the release of "Harmony Corruption" you established your landmark status, as well as main lyrical motives. But talking about yourself, from the point of lyrics, what do you tend towards? As I understand it, all the members of TRONOS got major influence from Howard Lovecraft ? Or is that just an image you decided to use for artwork ?
I think Lovecraft is more a metaphor imagery for the album inserts and such, some of the lyrics talk about departure from Earth all be it in a science fiction sort of way or a spiritual way ! Reflections of our lives but written in abstract ways to make people think and decide for themselves what we are talking about. I don't like to be too obvious as sometimes the lyrics are collections over periods of time and I myself might interpret them differently also to when I actually wrote them. Expressions of truth and meaning on that day.
Being a long-time member of Napalm Death you worked with these people over decades…but could you please tell me, isn't it hard for you to explore that kind of chemistry working with other musicians ?
Not really! I have met a lot of musicians over time and I know straight away who I can click with and who gets where I am coming from. It's quite liberating working with different musicians
There were lots of people working on "Celestial Mechanics" with you. From Billy Gould to Erica Nockalls. Working with many different artists on the album, is it hard to achieve a certain integrity ?
These are friends of ours - musicians and great people and integral to this record which is why we asked them. With me having to play guitar on this record I really wanted bass-players who contribute something different and also Erica with her ethereal vocal added immense layers to the album. To me it was seamless like it was all meant to be.
In connection with your current creativity I'd like to ask you about your background. You grew up in the 70s. So according to your opinion, what helped to find your unique style of playing bass ?
I don't know!…I don't think about it so much compared to other bass players.
I play guitar and drums and have started to dabble in keyboards so bass playing to me, whilst its mainly what I do it's only part of the picture. I have slowly progressed over the years and play it the way I feel it should be played. With a lot of emphasis on fast picking and aggression but saying that I have started to really get into the sounds and lower tones and I'm simplifying what I do to create that low end…I admire bass players like Geddy Lee from RUSH but at the same time love the wanton abandon of Chronos from Venom. Somwhere in there with heaps of distortion there may like the key!
I'd like to ask you about WARHAMMER – your first band where you played drums. How important was this experience in the context of your creativity ?
Warhammer introduced me to tape trading and with that a whole world of unsigned bands so that was inspiring but also playing drums gave me the education on timing and creativity but I was also watching the guitar player on what they were doing and in my spare time copying them. We were young and the band was exactly what it set out to be, a thrash-metal band and at the time it was the next step as shortly afterwards myself and Mitch D started getting into faster music.
Among the tracks on "Celestial Mechanics" there is also a cover-version of "Johnny Blade". Talking about this song, was it hard for you to get with the arrangements of it And as a person who came from Birmingham, can you talk about Sabbath's influence upon you ?
I, of course, love Sabbath and this is one of those songs that is overlooked! We worked at the arrangement and Russ really was the man that put that together, it's so embedded in our memory and one of my favourite songs from Sabbath! I had wanted to cover this song for a very long time. There was a lot of emotion with Sabbath they were always very good at conveying that!
"From Enslavement to Obliteration" became one of the first records you played on. This year it turns 31, so could you please say, how do you remember the working process on it and what do you think about this album now ?
We rehearsed the album in 6 days and went into Birdsong Studios and recorded the music in a few days..Songs like "Musclehead" was made up on the spot so that was our vibe back then …The first record I ever played on was the first John Peel radio session so this came later but I was very proud of this album! It gave me a buzz which I still have when I think about the album now!
As one of the fathers of grindcore, what do you feel after all these years of releases and further evolution of the style ?
I don't know as I feel anything! It would depends on if a band catches my eye…Music will always evolve and if you look at all the many different styles around now it can only become crazier! I tend to keep an ear out and usually something pops up that I like. I still find blast beats exciting, grindcore will continue I think for sometime…
Once you said that there are lots of styles and musical directions you'd like to explore as a solo-artist. And looking at your discography in 90s I'd say that it was probably the most productive period of your creativity! You continued experimenting with Napalm Death and released a series of cult albums: from "Harmony Corruption" to "Inside The Torn Apart". You also continued work with Brujeria and formed Lock Up. So looking back now, what can you say about that period of your creativity ?
It's when I suppose I started to take myself more seriously, hence more bands it's become ingrained in my life. I suppose it's all a great learning curve as you move forward and enhance your musical styles. The one thing I try and do is still make the projects unique to themselves which can be hard.
I know about your love to Cardiacs and Cocteau Twins so I can't help but ask – as a musician, what else you'd like to try ? How could you describe the record you'd love to make ?
I have recently bought a whole bunch of sound libraries and I'm experimenting with a mellow ambient album. As well as an album in the vein of Cardiacs - one of my all time favourite bands. The ambient album will be quite a departure, I guess, when it does eventually arrive. Time will be taken that's for sure!
Danil VOLOHOV
06/04/2019
---