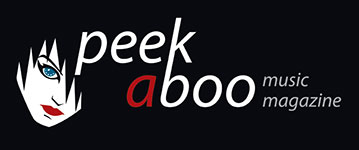 like this interview

---
SIEBEN
I have changed the 'Sieben' sound... this new sound is far more punchy, and direct!
17/02/2015, Ron SCHOONWATER
---
Matt Howden aka Sieben, is the nicest British one-man-orchestra you can imagine. His brilliant violin loops, beautiful lyrics & inventive song structures make his performances quite unique. Since he will be playing at the Black Easter Festival, we had a nice chat with him.
Let's start at once: you called your latest album "Each Divine Spark" (2014) the finest and most fully-realised Sieben album to date.
An album recording is always the culmination of a lot of work. You try and bring together all the elements you strive for: the songs obviously, the arrangements of the instruments, their feel and power. Then, you add to this the process, (recording the whole damned thing!) there is a lot to contend with. I aimed for the best-sounding (sonically) record I have ever made, and definitely I think I achieved that. Iit was recorded in a lovely old brick-arched cellar, built in 1798, and was recorded old-school style, to two inch reel to reel and analogue tape. The more albums I make, the more I feel I'm getting the 'space in between the instruments' right, in the production.
We know you as Sieben, but since 'No Less Than All' from 2012 we see the name The Mighty Sieben on your records. Why?
For fun reasons. Just something someone called me once ;) And it kind of stuck, though it is officially Sieben, I suppose. And I think the first time was with the release of Star Wood Brick Firmament, where I had my 'evil-magician' moustache phase, which didn't last too long, but it seemed to fit the vibe of that album ;)
Sieben played covers, like 'Transmission' (Joy Division) and 'Heroes' (David Bowie). Are those your idols ? When is a song good enough for the Sieben treatment?
I don't really have 'idols', though I think Bowie and Joy Division are great, and I love their music very much. I occasionally cover songs, mainly because people seem to like it and it entertains them. And I enjoy it because it is a challenge, taking someone else's song, his vibe, his spirit, and trying to transform it into your own, while still holding the essence of the original song. I enjoy the challenge, though covering other people isn't high on my list of important things to do, far from it!
Can you tell our readers what the difference is between your Matt Howden project and Sieben?
Sieben is my main work; songs, utilizing looped violin layers and voice. I do this live. My Matt Howden work is studio based, and is basically 'everything else that I don't do as Sieben'. For instance, the work with my father and his poetry, or if I am remixing for a band, or adding a filmscore – I do all of these under my own name.
You have worked together (live) with acts like Leaf and Folk Noir. How did those cooperations started? Can we expect more Sieben with other bands the following years?
The Leaf collaboration came about through touring with Faun. I travelled with them and supported them on their European tour in 2007 (?), sometime round that period of time, anyway. Lovely people, and lovely to work with, so I always have time for whatever their latest musical project might be.
Can you tell us why you started to work with Job Karma on the (interesting) 7JK project?
I like to have several outlets for the different things I do, and this was a typical example of it. With 7JK I can explore material that is more electronic; and again, it is a challenge to find the right parts for these songs, if like me you are quite a 'melodic' vocalist – often such vocals can sound a bit odd over electronic music, so it is a nice challenge for me to work myself into the music. And again, I love working with Maciek and Aurel from Job Karma.
You work together with your father (poetry). It must be a pleasure, but also a challenge to work together with him, or isn't it? Can you tell us more about that?
It was certainly challenging to record his reading his poems; he would duck away from the mic at times, jingle the keys in his pocket (which ruined the recording), and generally he wasn't used to the lengthy nature of the recording process. Often he didn't see the point in reading anything again! But it was also fun, and something nice to do with one's father. After recording him, I worked on the music alone, sending him the finished tape. The words of his poems have such weight and power that it was a pleasure to set them to music. Within that, there were such musical challenges, always trying to keep the words the focus for the listener, but creating music behind that wasn't just bland or simple drone.
What are your plans for 2015? New projects, new music?
I have changed the 'Sieben' sound, aiming to develop further what I do. This is aided by a new swanky Pigtronix state-of-the-art looper and several new pedals, in-ear monitors and a new approach. Prepare for the new, heavy Sieben, folks! I'm in the process of creating a new Sieben album, but I have no plans to release it for a good while. I release a lot of material and thought I would have a break from this and just go away and create the best album I have ever done. It won't see the light of day unless I have that. Then we'll see…
What are your most favourite albums? Why?
I have all sorts of favourite albums for all sorts of occasions. I particularly like hovering, or tidying to The Birthday Party's Prayers On Fire. I like singing along to Kate Bush, though not for a gig as she is too taxing! Joy Division and Magazine are always 'up there', as are (possibly more surprising to my listeners) Die Antwoord and Sage Francis, particularly his A healthy Distrust. Currently I am listening to My Bloody Valentine's Loveless, a beautiful, strange, messed-up album, fantastically bold and odd.
Which bands can you advise to Sieben fans?
I can definitely recommend Jo Quail (www.joquail.co.uk), not just because I recently had a new project with her, called RASP. We wrote, performed and recorded an album in two days, all before a live audience. Its her own, main work that I'm recommending, though; beautiful, haunting, thoughtful pieces of music, bedded in the looping of her cello. I would also recommend a local band from Sheffield, called Nachthexen; nothing released as yet, but a heavy Grinderman-style sound and strong songs.
What can people expect from your show on the Black Easter festival?
Sieben as never before! (Okay, I'll play some old favourites perhaps, but the new sound is far more punchy, and direct). More than anything I'm looping much more accurately, mainly due to the in-ear monitors, and can make far more interesting sounds than ever before. The new material and the new sound make you dance ( you, not me) !
Something you always wanted to say, but never were asked…
I am really looking forward to being back in Antwerp and seeing some good friends from amongst the other bands, and festival-goers, of course. So excited to be playing with my new set-up and sound. And anyone who thinks they know what Sieben sounds like, think again ;)
Finally, I would be happy to accept suggestions for songs people would like to hear from me at the festival. I will only be doing a couple of tracks from my back catalogue, but mainly work from my new Each Divine Spark album, and brand new, as yet unheard Sieben songs. Drop me a line on the Festival's facebook page, or on my Sieben page, and I will consider re-learning and rehearsing those, ready for the concert!
Looking forward to it, see you there...
Ron SCHOONWATER
17/02/2015
---