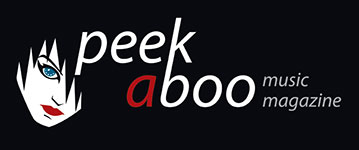 like this interview
---
THE BEAUTY OF GEMINA
The Beauty of Gemina is a very important part of my daily life.
30/05/2011, Didier BECU
---
And Peek-A-Boo just keeps on going with the interviews. What about some good solid Goth rock from Switzerland? Those of you in-the-know will be aware that we are talking about The Beauty Of Gemina. Here is our interview with Michael Sele.
For those who don't know, please introduce us to The Beauty Of Gemina
Michael Sele: The Beauty of Gemina is a gothic, wave and electro music influenced rock band from Switzerland. Since 2006 we released three Album and a few video clips. We played in the meantime a lot of very special concerts in different European countries.
My name is Michael Sele; I'm singer, guitar player and producer. I write all the songs, the lyrics and I record the music in my own studio. As a producer, I keep all threats in my hands. Nevertheless, I see myself as part of a team.
The members of the Beauty of Gemina-family - how we call ourselves - are those who make everything possible and do a great job every day.
The tBoG line-up comprises long-time members drummer Mac Vinzens, bass player David Vetsch and as additional guitar player on tour Dennis Mungo.
Where does the band's name come from?
Actually the name is pure imagination, although Gemina was a real character. She was a pupil and muse of the philosopher Plotin. The name of the band was already in my mind from the start.
I was looking for a name that should be open for interpretation but not suitable to fit easily into a specific music genre. And it had to be mysterious also and however not too abstract. Gemina was a real person and how beautiful she really was will probably stay a secret forever.
How long has the band's been going on so far and how do you see the things that have been achieved by now?
It is very much happened in the past 5 years; we have taken some important hurdles and achieved many goals. All in all I can strike a consistently positive balance. But we're working hard every day and we know how difficult it is. For example, in the live business the air has become very thin. I think the whole music industry is changing and things become more and more uncertain. That makes it for me as an artist and for us as a band not easier of course. We're still just at the beginning of our way and I hope that we can touch enough people. So we'll have to keep going for concerts, further recordings and releases in the future.
Since we last spoke, some things have happened. You're on the bill for the Shadowplay Festival in Belgium. I guess such things are only the result of hard work and self belief.
First of all, I want to say that we're really looking forward to be part of this festival. As you said, it's the result of hard and serious work. But as a band you will also need time, patience and last but not least the power and support from true fans and friends who helped spreading the music of tBoG all over Europe.
I also learnt that things are going pretty well in Germany too?
Yes, this is true and I want to say that it's not easy for a band from Switzerland to make successful steps in Germany.
They've got so many bands in the dark music scene by their own so they actually don't wait for a band from their small neighbour. Anyway we'll be part of the legendary WGT Festival in Leipzig in June for the 2nd time and we're playing at the Mera Luna Festival in Hildesheim this year. In February we returned from the tour with the German #1 act Unheilig. The tour led through the biggest and most impressing concert arenas of Germany. It was an enormous experience for us all and we'll never forget this great adventure.
Can we take it to the extreme that you live for The Beauty Of Gemina?
The Beauty of Gemina is a very important part of my daily life.
If you compose a song, how do you work? Do you start from a sort of mood or is it a melody lingering in your head?
I'm always writing the music and the vocal lines of the songs first. One day I start with some guitar recordings, the other day with a Keyboard idea or a drum programming. There are so many different ways. To write a song is linked with your instinct, I wouldn't be able to name you a recipe or a formula. The sound of my voice, the way I sing and phrase are an important key though.
There is the cliché of the writer who has his notebook with him 24 hours a day and notes what comes up in his mind. Do you work like that as well?
Not for 24 hours but time after time I write down some short notes or small ideas. As I said before, I start with the music and during improvising with my voice over chords and patterns I try to place some words or sentences. After this I'm working on the details of the lyrics. This process takes about 4 or 5 weeks. It's always a very intensive time and I like it very much.
This is a cliché too…you're from Switzerland. Apart from The Young Gods and Yello I can't think of that many bands. Is it a cliché to think as such?
So we've got DJ Bobo too - just kidding.
I think we've got a few bands that are very popular in the international music market. Not in the Gothic scene but more in the pop, hard rock or metal genre.
Soon you'll be performing at the Shadowplay-festival. Tell us what the audience can expect?
To be honest, there is always some calculated unknown when we're going on stage. So let me tell you what's safe: We're going to play songs from all our 3 albums. The audience will hear a very motivated, powerful and intensive performing band with a lot of energy guided by a dynamic interpretation of the songs so that my voice can tell all the little Gemina tales and stories.
What's your favourite record of all time and please state why?
This is really a very difficult question and I've been thinking about it a lot and maybe it's surprising but I've chosen Glenn Gould's first recording of the Goldberg Variations from Johann Sebastian Bach.
His 1955 recording marks a watershed in the interpretive history of all keyboard music, not just that of Bach. All the fascinating, unique, and unrepeatable about that recording remains up to this day and it continues to cast its spell on all who hear it. It has always been Gould's trademark, defining the birth of a legend.
With whom wouldn't you mind to be alone with in an elevator for 8 hours and what would you do then?
Hannibal Lector – get the willies!
Any special message to our readers?
I have to give profound thanks to a group of fantastic fans in Belgium for all their positive reactions and their support! I deeply appreciate all the incredible feedback and the enthusiasm. It means so much to me that you had open ears for my music and my songs and I'm really looking forward to come to Belgium this summer for the first time in my life.
FAVOURITE MAN: the second from the right in the first row
FAVOURITE WOMAN: the third from the left in the first row
FAVOURITE MOVIE: 2001- A space odyssey (Stanley Kubrick)
FAVOURITE BOOK: Zauberberg (Thomas Mann)
FAVOURITE COLOUR: today blue
FAVOURITE PLACE TO GO: Cornwall
FAVOURITE CARTOONCHARACTER: Sponge Bob
Didier BECU
30/05/2011
---
Nederlandstalig interview via de Dark Entries website.
Didier BECU
30/05/2011
---