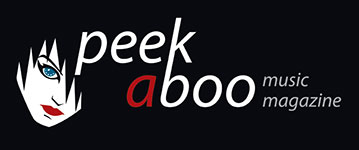 like this interview
---
THE HERESY GENE
'The More We Do It, The More Important It Feels.'
19/05/2020, Ash MCAULIFFE
---
Being in the right place at the right time sure does provide incredible windfalls. I had the immense pleasure to witness THE HERESY GENE perform live as support to THE DEVIL & THE UNIVERSE at their Camden Town show in London back in November 2019.
I reviewed the album 'La Luz Del Padre' shortly after and never a truer word have I uttered. I proclaimed it as a 'prime example of darkwave tinged electronic trance technopop done right... high energy, monumental, intelligent, breathtaking' and it is an album I return to again and again. Doing this interview with Jon and Gregor is an immense privilege and I encourage you, dear reader, to check out their album which is available on all music formats inclusive of Bandcamp - https://theheresygene.bandcamp.com/releases
Pray tell our readers who you are, where you're from and a bit about yourself.
Jon:
Big questions first I see! haha.
I'm Jon. I was born in London and I've worked in the music biz for a very long time now. My parents were (and still are) music lovers and I'd say a lot of their tastes rubbed off on me. I was surrounded by the sounds of Pink Floyd, The Beatles, Genesis and Steely Dan whilst growing up, and discovered the darker side of music in my mid teens whilst looking for a Stan Ridgway album at a record fair in Cardiff. I started my first Goth and Industrial/EBM club night called 'Inquisition' in the Welsh capital city of Cardiff back in about 2001 whilst I was a Graphic Design student. I was offered my first DJ slot at a local club there called The Roxy after the death of a friend of mine (Rob Mosley) by way of a memorial to him, and I enjoyed it. Frighteningly enough, so did the venue. So I got called back and given a weekly slot thereafter. It was mainly a Metal club, so playing German electronic artists such as Funker Vogt was quite outlandish at the time - particularly because that type of music was very new to Wales. After The Roxy closed down a year later, I started my own club night, initially called 'Inquisition Saturdays' upstairs at the local ice hockey rink at Gretzky's Bar. It was a storming success and attracted everyone in the South Wales alternative scene. At that time, there was a void in Goth scene music since the demise of the local Goth night Necroscope, and the young crowd were looking for something to do. Inquisition (or 'Inquo' as it later became affectionately known as) grew, and before we knew it, my Goth scene best-buddy Mike Atkins and I had developed it into a staple of the Wales and Western England scene. People came from miles around to attend the monthly night and some even still have the logo tattooed on them.
We started putting on live bands too. The first bands we hosted were Psychophile and Cauda Pavonis who went on to become Inquo favourites. Inquisition ran for the next 8 or 9 years and went through 5 different venues in Cardiff. By that time, I had started DJing all around the UK at different events, culminating with a weekly residency at the famous Slimelight in London. I also quit my day job in banking to work for Flag Promotions in 2010. Through that position, I met some of the greatest people I've ever known - Including Gregor - whilst touring the UK, and worked at the country's best-known venues. Music has been a huge part of my life.
Gregor:
Wow, how do you follow up on such an introduction?! It's true though, Jon has been absolutely essential in the alternative scene in England. Not just when he started out with Inquisition in Cardiff, but also when he brought Witch House into a major spotlight in London's alternative scene.
Hi there, I'm Gregor, I'm born and raised in Germany's Ruhr area. I got in touch with Gothic & Dark Electronic music at a much later stage than Jon, around 2005 when I was randomly looking for internet radios I could listen to while gaming, haha! Much like Jon though, I was brought up by two music-loving parents, who did have quite opposing tastes in music. While my dad is probably the biggest fan of Johann Sebastian Bach who has ever lived, my mom's taste in music is a lot more diverse, ranging from Bach to the Beatles, Bob Dylan, and - this is true - the US metal band Anthrax. Jon and I have been best friends since 2010 and he is truly one of the best people I've ever met. We shared so many incredible moments together, and even if we can't see each other for quite a while - As soon as we meet again, everything is just like it has always been.
Destiny? Fate? Synchronicity? How did you guys come together to start this project?
Jon:
'Destiny? Fate? Synchronicity?'.... yes.
Greg and I met on tour whilst he was part of UK electro band Modulate in 2010. He's a highly talented live musician as well as producer, and so had been playing in a lot of touring bands. Frank Drake, my boss at Flag Promotions UK the time, had assigned me to meet and greet this guy called 'Gregor' off the train at some railway station somewhere in the Midlands, and escort him safely to the venue. I forget which city it was even in. We hit it off very quickly. We have the exact same sense of humour and a very similar outlook on life. It really cemented whilst we were at Eddies Rock Club in Birmingham though. It was one of the funniest moments of my life. During a break after soundcheck, I went out into the car park with Gregor and we had a cigarette together.
Gregor:
...ten minutes later, we were laughing so much that I genuinely thought I was going to die. Tears were streaming down our faces and we couldn't breathe. The rest was history!
Jon:
Absolutely! I actually don't think I've laughed that much before or since! (perhaps a few times whilst we were making this album together in the studio though….) We met a further 3 times on other tours in the UK in a similar capacity, and then one day, I booked his new project Skyla Vertex for a club show at Slimelight in London. He and his bandmates Sascha and Marco stayed at my apartment in Islington, central North London, and the show went like a dream. (despite RyanAir losing their luggage for 4 hours!! - it turned up at Slimelight in time for the show).
A few years passed, and I'd started living in a small West German town called Mülheim An Der Ruhr outside Düsseldorf. Whilst at the train station one afternoon, I posted a random status on Facebook with the location services turned on, and Gregor immediately called me. 'DUDE! What the fuck are you doing in my hometown?!??!' he said. I had absolutely no idea that Gregor was from Mülheim! It was entirely coincidental. So yes - fate.
Gregor:
...I'll never forget Jon's response: 'I have no idea..'
Jon:
Gregor was at that time living in Venlo in the Netherlands with his girlfriend, and a year or so later, they moved back to Germany. I helped them move house and decorate their new place. I also assisted Greg in building and branding his awesome new professional studio - 'Studio Dreamcatcher'. As a thank you, he gave me a cracked copy of FL Studio on my laptop, showed me how it worked and then set me a challenge of making a sample track whilst he drove his girlfriend to a work meeting. He returned 6 hours later and really enjoyed the track I had made. We used it to test out the new studio room and he taught me how Presonus Studio One works. That track was later named 'The Gehenna Arpeggio'
Gregor:
...just to be clear: I am not that cheap!!! I certainly didn't just give him a cracked copy of FL Studio as a thank you. :D
Jon:
Oh no, man! Thanks for that Ferrari too by the way. That was nice!

What inspired the band name?
Jon:
It just sounded cool lol. But no, basically, we like to think that our project challenges people's way of approaching beliefs. The debut album questions blind religious faith, for example. Many people see that as some kind of heresy, and there are subjects which are regarded as beyond reproach. That shouldn't be the case at all. In anything. The 'Gene' part of it just suggests that some people seem easier and more relaxed about questioning things than others, and that, perhaps, that's a genetic quality? I don't know really.

How would you describe your sound to newcomers?
Jon:
Imagine two real music fans, inspired by late 90's Trance and Rave music who got stuck in the Goth scene for too long, but still love their music to sound euphoric. That.
Who are your biggest musical inspirations?
Gregor:
For me, bands like Seabound and VNV Nation had an incredible impact on my life. Their music has really shaped who I was and who I wanted to become when I was young. I've always been into all kinds of Electronic Music, though. Back in school, I was the only kid listening to Techno acts like Westbam and I even got beaten up for that one time, haha! Can you imagine someone being beaten up for liking Techno today?! Unfathomable. One thing I find interesting is that the more I produce complex music with loads and loads of tracks, the more I feel drawn to more minimalistic styles of music again. Lately, I've been absolutely fascinated by French G-House DJs like Malaa.
Jon:
I used to play violin when I was young, and have always liked classical music. On the flip side, I like strange, unusual, anarchic sounds too. The electronic New Romantic sounds of the early 80's are some of my earliest musical memories, and it's all got that haunting sound which I still crave in any music today. In the 90's in my mid teens, I was listening to a lot of 50's Rock n Roll (Buddy Holly and The Crickets were a favourite) as well as Stan Ridgway (I am the only person I know who owns hard copies of all his work). But I was also hearing a lot of mainstream Trance greats such as Paul Van Dyk, PPK, and Sash! I actually find it very difficult to separate melancholy from euphoria in music, so I need the music i listen to to have both those things in equal measure. Later on in my 20's, I was listening to a lot of Goth scene and Futurepop music. VNV Nation, Icon Of Coil, Covenant Syrian etc.
Gregor is great for introducing me to new music too. For example, he recently put me on to Italian classic Trance producer and DJ Giuseppe Ottaviani who I can't stop listening to at the moment. He's brilliant.
What is your favourite piece of musical tech?
Jon:
Jesus... Well, the reason Gregor and I work so well together as a band is that out of the two of us, he is the tech guru and taught me everything I know about making music. I think his answer will be much more plausible than mine. I really like the Analog Heat by Elektron though! It works wonders!
Gregor:
The Elektron Analog Heat truly is an incredible device, and it has helped us so much in polishing our music in the final stage. Use it to exaggerate certain frequencies that are not coming out well yet in your mix, and then blend that signal with the original Mix. You won't believe your ears when you compare the before and after! The Access Virus has been an absolute staple for Trance basslines since more than a decade, so obviously we were using that one a lot as well.
Tell us about your album 'La Luz Del Padre.' The album is teeming with spiritual themes. Are these reflective of your own spiritual / religious beliefs or do they just make good subject matter?
Gregor:
The entire concept was created in our minds by one of the very first demo Jon ever did with, PreSonus Studio One - the software we use to write our music. This song sketch was initially called 'Patagonia' and would later become the album's opening track, 'Conquistadores'. I must say that I've never seen someone pick up a music software as quickly as Jon. What he composed in his very first projects was better than anything I've done in my first 5 years. And not just that - Especially his melodies always had something about them that truly inspired me. He came up with all the core musical themes for songs like Conquistadores, Hellfire, Ave Maris Stella II, A Better Truth and Timescape. I don't say this just because Jon's my friend - But I am truly convinced the man's a genius.
Jon:
Greg is way too kind! We share a lot of the same creative vision and artistic and philosophical outlook on life. This album sounds the way it does because of that. It's just so easy working with Gregor because there's huge mutual artistic respect there. 'La Luz Del Padre' translates as 'The Light Of The Father'. We named the album after one of the samples in the track. We spent a long time trying to find that particular sample, spending hours playing a computer game, recording the audio through the studio.
Gregor:
At the time, I was incredibly interested in naval history, especially the naval history of the Netherlands. I had to read every book and play every video game that I could get my hands on that had anything to do with war on the high seas between the 17th and 18th century. When I then heard Jon's initial sketch for 'Conquistadores', it reminded me so much of the game I was playing at the time (Assassin's Creed: Black Flag IV), that I told him - We need to sample a character from that game!
Jon:
Initially, the entire concept of the album was to be a kind of rant against blind religion for me, but I think it evolved pretty quickly. I've always loved austere religious iconography, art and history. (Remember, I also named my first club night 'Inquisition'). I would say, however, that I have always been a spiritual person at heart. My spiritual leanings have never really been able to be backed up by any of the manmade 'religions' I have yet discovered though. And I believe that many organised religions as institutions have a lot to answer for – which is a shame really.
What's your favourite track on the album and why?
Jon:
Difficult one. I love them all. I think 'Dissolving Your Personality' is a favourite of mine though because we had such a fun time shooting the video for it near Gregor's home really early in the morning. 'Timescape' also, because it gives me those 90's Trance feels. I think 'Hellfire' and 'The Gehenna Arpeggio' remind me of the most studio fun though. I have not laughed so much since Birmingham!
Gregor:
'Hellfire' will always have a very special place in my heart, because like Jon has said - I have never laughed so much producing a song. The bit between 1min 51secs and 1min 59secs cracks me up EVERY. TIME.
Jon:
Oh my god!! I remember that moment in the studio. We hadn't slept for about two days straight and we were starting to go a little bit crazy. When I tried to describe a creative idea for that section of music to Gregor, I just started laughing like a crazy person! When we finally achieved what we were both thinking of, we couldn't stop laughing when we listened back to it!
Gregor:
As mentioned before, I've always been fascinated by the harmonies that Jon has composed for 'Conquistadores'. That song will always give me goose bumps. I have a very special connection with 'Ave Maris Stella I' also - I composed that one entirely on my modular synthesizer. I have never gotten sounds like this out of this instrument ever again. I guess it was meant to be just for that song, and only that song. I truly believe there isn't another song out there that sounds like it.
What has been your favourite part of your musical journey so far?
Jon:
Really, just hanging out in the studio, making the music and laughing together. The more we do it, the more important it feels.
How important to you is touring and the live show? I for one discovered you on tour so that connection with the audience must be so important.
Jon:
Well, we haven't actually done a proper tour yet. We've only even done a handful of live shows. I do know though that touring is now the lifeblood of any band. You just can't survive below a certain level unless you play live shows and sell some t-shirts. It's sad, but true. We are both lucky that we have 'proper jobs' though, and can treat the band as a hobby, and a chance to bond together. We have a lot of fun.
Gregor:
I really hope that we can go on a tour together at some point - Sadly, Brexit and the current pandemic have put these ambitions a little far out of reach for us...but I am convinced that it will happen at some point. We would have the time of our lives.
Can you tell me about the live track 'The Gehenna Arpeggio' and why it didn't make the album as it really is a cracking song and a highlight live.
Jon:
Great question. That was literally the first thing we ever made as explained earlier. I think the reason it didn't make the album was because it's just too long for an album track, and people like shorter tracks when they're listening at home. When you're at a live show though, or a party, you loose perception of time, so you literally become entranced by the music. I think Gehenna works best as a live track because of that. Also, the visuals (when they're working!) add a whole other layer to the live experience.
Gregor:
I'm not sure whether I agree with the argument that the song is too long, since certain Album tracks like 'Dissolving your Personality' are almost 7 minutes. I get what Jon is saying, though - While 'Dissolving your Personality' evolves constantly, 'Gehenna' is more brooding and steady, so there is that chance that it might not keep the listener's attention as much. One of our key ambitions when we released our debut Album was that when people listen to it, we really want to capture them start to finish. That's why we didn't want to add any tracks where we feared people might consider them 'fillers'.
'Gehenna' has worked incredibly well as a live track though as you said - Which I think is also because of Jon' amazing backdrop video for it. And to be honest, I kind of like the idea that we have a track that people need to see live to enjoy it. It's another reason to come see us at one of our shows. :)
What does the future hold for The Heresy Gene?
Jon:
Who knows? I'd love to tour in Europe with some big names in the Trance or Goth scene world. We are about to work on our follow-up EP though which at the moment is called 'I Have Spoken', and the title track is all about the perils of Ibiza club life. We've already almost died laughing whilst working on the album artwork! Stay tuned for that :-)
Ash MCAULIFFE
19/05/2020
---