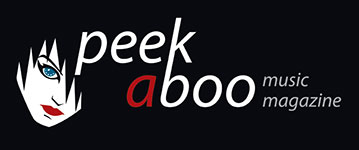 like this interview
---
THE KLINIK
It's nice to find out that THE KLINIK is known worldwide and we can play everywhere, because making music and playing live is the reason to continue.
26/11/2013, Jurgen VANVLASSELAER
photos: © Marquis(pi)X
---
Belgian electro industrial pioneers THE KLINIK will be one of the guests at the upcoming BIMfestival in Antwerp, Belgium on the 20th and 21st of december. We had a little chat with the always friendly duo.
Welcome Peter and Dirk.The last KLINIK album Eat Your Heart Out has been out now for about 8 months. The album is getting very good reviews all around the globe. Were you a bit nervous of the reactions from the fans?
Peter: When I got to hear the first demo's I immediately knew the fans would love it! Marc is still one of the best dark and haunting atmosphere creators I know. His synths and sounds are as pitch-black as they were on all the past THE KLINIK albums. Adding Dirk's dark voice & twisted lyrics double the demonic feel of the songs.
Dirk : We took our time to come up with a solid album. From my point of view all the ingredients of the pure KLINIK sound are there. Some of the tracks we played already onstage and they fitted perfectly together with the old songs, so we knew we were on the good way. The album is well received indeed and the reactions in general are very positive.

I loved it straight away. Nine great electronic pieces, it's like that 22 year gap was never there. How do you look back on it now? Would you have changed certain things or are you happy with the result as it is?
Dirk : We are very happy with the result and it feels like this is the following up album for the Time release, the last collaboration Marc and I did. The production is more clearer but we worked in the same spirit as the old days. Analogue instruments mixed with digital sounds, off course the same voice is there and the background and spirit is still intact. In a way it felt like time stood still.
You are touring with the album as well. How difficult was it to make a setlist with an extensive discography like yours. There are those certain tracks you can't leave out of the setlist. People wanna hear Go Back ,Hours And Hours, Memories, Moving Hands to name but a few.
Dirk: For the moment we have 1/3rd new songs in the live set and the rest is a mix from older KLINIK classics. It's obvious that the people want to hear to more known songs but I must say that the new ones are received well also.
What's your favourite track to play live and why?
Dirk: So many but one of my all time favorites is Walking With Shadows, that track is so intens and I love the structure and melody of that song.
Peter: I have to say that I don't have a special favourite track. Because no matter what song we play, I see those happy faces in the front rows … Dancing their ass off, sometimes even with closed eyes, completely in ecstacy.

Are you already working on new material? And if so, will Marc Verhaeghen be involved in that process again? How is Marc doing these days btw?
Dirk : The plan was to start recording again as soon as we collected new ideas but in the meantime it's clear that Marc's health is not on the good way. I had a phone call with him a few days ago and he told me he's certanly not ready yet, so I'm affraid we all need to have some more patience.
You will be one of the guests at the BIM festival in december in Antwerp. What can we expect? Will it just be the Eat Your Heart Out tour setlist or will there be a little surprise here and there…a new track for instance?
Dirk : I was hoping to do something brand new but as it looks now it will be a mix of older and new material. However, during the last shows we manage to play different setlists, so let's see what's coming out there.
People sometimes don't realise how important The KLINIK was and still is in the electronic industrial scene. Lots of bands were influenced by you and even very big names have namedropped The KLINIK in interviews. Marilyn Manson for instance.
Dirk: I'm pleased to hear that because most of the people got to know THE KLINIK after we split up early 90's. Since then many stories have been told , true and untrue, and when we got together again the interest was really huge. It's nice to find out that THE KLINIK is known worldwide and we can play everywhere, because making music and playing live is the reason to continue.
Peter: I have even heard some say The Juggernauts are influenced by The KLINIK. (laughs)
You are both involved in several other projects. Peter in The Juggernauts, Dirk in Sonar , Absolute Body Control and Dive. Can you give us a little update on these projects?
Dirk: From my side I'm hoping to do something new with Absolute Body Control in the next year, the rest is still unclear.
Peter: I'm still trying to get our The Juggernauts debut album finished. As you might know we have enough songs structures/ ideas as we play a full life set for some time now. Both Glenn and I are involved in so many different projects that it's hard to get our agendas synchronized and get these songs finalized for a release. And for this important release we don't want to be pushed for a quick fix.
Any new projects / collaborations in the pipeline?
Dirk: I recorded some demo's with Nora Below from Berlin, maybe it's about time we gonna do something with that too.
Peter: So many ideas so little time.
Final word?
Dirk: Like always we give ourselves 101% on stage and I hope to see many people at the BimFest this year, it's a great festival and we must keep it alive.
Peter: Yes, I would like to thank all the fans for keeping THE KLINIK vibe alive! And last but not least I'd like to thank Marc & Dirk letting me be a part of this this wonderful experience! To all the others I say... EAT YOUR HEART OUT! (laughs).
Thank you for the answers and see you at the BIMFestival!
http://www.bimfest.be/
http://www.theklinik.be/
http://www.thejuggernauts.be/

Jurgen VANVLASSELAER
26/11/2013
---