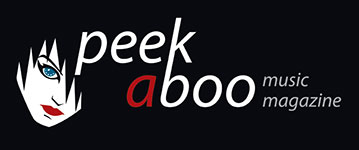 like this interview

---
THIEVES OF SILENCE
When you start a band it's very hard to find your own sound
08/01/2013, Didier BECU
photos: © Marquis(pi)X
---
When my colleague Philippe asked me to sum up the best releases of 2012, it immediately struck me that there are a lot of Belgian acts on my list. I was also thinking that if Thieves Of Silence had released an album, it would definitely be in it. Along with Der Klinke, Thieves Of Silence must be one of the Belgian bands that I believe in the most. Soon the guys from Brussels will be part of another Nuits Fantastique (which was actually where I originally discovered them when they were performing the support act for Norma Loy), opening for Sad Lover & Giants on the 23rd of February. Time to find out what they're up to.
For those who don't know you, yet, tell us who Thieves Of Silence are.
Initially, Thieves Of Silence was a quartet from Brussels, formed back in 2010. Then, unfortunately, we became a three-piece band for quite a long time, up until last year when we asked Paul's friend, Nicolas, to take care of all the annoying things, such as programming, recording, plugging in LOTS of cables, etc. We must admit that his joining us came as a big relief. Since then we are able to focus more on songwriting rather than the technical part of our music.
If I may say so, I was among the first to discover your band and I was convinced that you would be able to do great things. Tell us what has happened during the last two years?
We have played a lot of great shows. We were lucky enough to perform with bands like She Wants Revenge, Citizens!, And Also The Trees, Peter Hook and The Light… so we have had some great times! And we put a lot of effort into the writing process for our next record as well.
The question everybody wants to know: is there an album in the pipeline?
First things first: we recorded something like 8 songs to release as an EP. But since we're sort of a poor band, we have this list of labels and we hope that one of them will take pity on us and help us a little bit to distribute it.
In the beginning, I thought you were a postpunk-band who took their ideas from classic bands like Gang Of Four or Wire. The more I saw you, though, the more I heard your own sound.
Yes, this is absolutely true. I mean, when you start a band it's very tough to discover your own sound. It's a long arduous process that involves experimentation, different thoughts, ideas, and compromising. We worked really hard to develop that and hope that people will notice our achievement instead of just saying : "that sounds like Joy Division or The Cure or Justin Bieber or whatever…"
I know it's a tricky question, but you must answer! Have you ever thought that you could be bigger if you were British? I mean, that you could have more opportunities and chances to get recognized for your talents?
Mmmm, tricky indeed! You definitely have greater support for music in the U.K. but we've actually talked about this subject with Paul McGregor (Ulterior) who told us that there's much more competition over there so it is just as hard to get recognition!
What do you think of the Belgian scene?
Without being too political, we do think a lot about this and, we're not going to make a lot of friends by saying this, but the northern side of Belgium is definitely much more involved, musically and culturally speaking, than the rest. There are many more things happening over there. Great bands as well! Brussels is a completely different matter that works on its own, so it's really an odd place to be. We could actually talk for hours about this scene, but it definitely has a few issues.
I'm going to ask you another tricky question, and as a fan I hope you will forgive me. You're part of the dark scene (well most of your gigs are in that area). I think you don't belong there, you need to play on Studio Brussel along with Customs and Editors.
Aha, this is an acute observation! I believe that the reason goes back to 2010 when we played for "Le Fantastique Night" (which was our 3rd gig or something). We received such a great response from that particular scene, which has continued ever since. Lots of "active people" from that scene have since asked us to play for them and considering they're really appreciative, we've always accepted their offers. But we hope to try different circuits in 2013 to, sort of, "export" ourselves a little more for the future.
You're a bunch of young kids. Youngsters care about mp3 and downloads. What's your opinion on that?
Bowie once said that in the future music would be like running water or electricity. The future is really close then! Good thing ? Bad thing? It's a bit like the Belgian scene: it might need an essay of a hundred pages to figure that one out!
In your young career you've played with many of your heroes. How does that feel? Are you fascinated or do you realize that they're just humans after all?
Aha, they're just humans after all. If you want to meet people you admire you have 2 options: either accept the fact that they are just like you and me, doing the dishes, going to the supermarket, etc. and meet them as equals, or always keep the image of them you've created in your mind and never meet them!
You'll soon be gigging with Sad Lover & Giants. What can we expect?
A few surprises that's for sure! No spoilers… Not even for Peek-a-boo !
I'm sure Thieves Of Silence have a final message for Peek-A-Boo, no?

We would like to thank you for your interest in our music and, since Christmas is coming, we'd like to wish you a Merry Christmas and a Happy New Year!
Didier BECU
08/01/2013
---