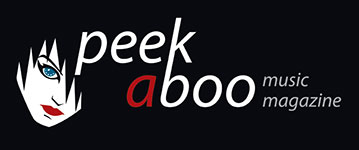 like this interview
---
VAN CANTO
I think we have some compositions that could definitely make it as a Hollywood sountrack...
24/04/2014, Filip VAN MUYLEM
---
We got a lot of positive reactions about the lastest Van Canto and lots of people wanted to know more about them, so I had a nice chat with Stefan Schmidt (Lower Rakkatakka Vocals, Wahwah Solo Guitar Vocals)...
To start with when I interview a band for the first time I'm always interested in the philosophy behind the band's name, so why 'Van Canto?'
Stefan: There is no deeper meaning. Canto is latin for voice or singing and "Van" makes the name look better on tourposters.
Maybe you can introduce yourself a bit more to the readers and tell something about your personal past?
I am Stefan, the founder of Van Canto. In the band my part is singing the lower guitar imitation voices. I also produce the albums and write most of the songs. I play guitar since I am 13 and piano since I am 6. Besides Van Canto I also run a regular power metal band called Heavatar, where I play guitar and do the lead vocals.
I recently reviewed your latest cd 'Dawn of the brave' and some people were really delighted about the idea of metal without guitars, how did you came up with this idea? How would you describe Van Canto?
After the split of my former band I wanted to do something vocal oriented. I asked some singers that I met during the years and we started recording some songs. The more vocals we recorded the more clearly we got the idea to leave the instruments away and to start the world's first metal a cappella band.
We describe Van Canto as Hero Metal A Cappella. Our main goal is to make the listener feel like a hero himself. We wanted to have an album that focuses 100% on the hero theme, the songs, the artwork, the photos, the album title and the cover versions.

I saw that there is a limited edition with bonus tracks: orchestral versions of Take to the Sky, If I Die In Battle und My Voice, a remix of Neuer Wind, an accoustic version of Lost Forever and a great choir version of Last Night of the Kings. I feel sad I didn't get that version. Can you tell us more about the orchestral versions?
I think we have some compositions that could definitely make it as a Hollywood sountrack, so it was a logical thing to do these orchestral versions. They were done by Armin Haas, guitarplayer of the band Winterstorm who supported us on our European tour. He did a great job.
How do you discuss who does what in what song (leads, backings …) to find the right balance?
There is not so much discussion. The instrument singers have their fix part and it's clear quite fast if it's a male or a female song.
As I said, we call ourself Hero Metal A Cappella so we wanted to have an album that focuses 100% on the hero theme, the songs, the artwork, the photos, the album title and the cover versions.

Who did the fantasy-art conception? Can you say something more about this person?
It's Stefan Heilemann. He is a well known artist, mainly from the gothic scene. He did all the photos and the artwork and did a fantastic job.
How was it to work with Charlie Bauerfeind (Blind Guardian, Helloween, Hammerfall)? How did you get in touch with him?
He produced our 2nd Album "Hero" and somehow helped defining what Van Canto sounds like. After that he has always been in charge of recording drums, and we did the vocal production on our own.
Charlie is a great guy to work with. He is relaxed, professional and has a great attitude and open mind when it comes to music,
I have always been a big fan of Blind Guardian, so is there any chance that for example Hansi might feature on one of your songs (like he did with The Unguided, your label mates)? Or is there another voice you would love to jump in for one song (for a special occasion for example)?
Haha, just listen to our song "Take to the Sky" and you will notice he already did.
Another thing that amazed me was your version of the song 'Into the West' that featured in the Lords of The Rings Movie, could that be interesting for a movie like that with one of your songs? Did somebody from the movie react to your version yet (or the original artist: Annie Lennox)?
We have many positive reactions from fans from all over the world. The original singer did not respond yet.
I also loved your version of 'The Final Countdown', it must have hard to deliver this version, knowing that the world knows the original? And I can say that your version is even better than the original!
Thank you! It was hard work, especially because this one has been my first own favourite song when I was 6 years old.
Another amazing one is your version of 'Paranoid', how did you manage to approach it the way you did and did you get any feedback about it?
It's hard to tell how we managed it, it's our job to do metal a cappella. We also got lots of positive feedback for this one.
Do you agree with me that your symphonic sound has a touch of Haggard or do you prefer to be compared to other bands? What are the ones that influences you?
I don't know a single song by Haggard, so no, haha. Every bandmember would name different influences. For me a good overview are the bands we have been covering.
Did anybody approached you and asked to make another version of one of your songs, like for example Zardonic did with The Unguided? Would you be interested?
We did so with our Jovain Spin Remix of Neuer Wind.
You recently played in Belgium in one of our most loved Metal temple's 'The Biebob', how was it?
It was fantastic! The gig was announced very shortly and it was fantastic to see so many people there. They were extremely loud and we had a great time.
As you are from Germany, do you often play at fantasy festivals (like for example In Extremo)? What are the most beautiful places where you played?
We already played inside a castle, we played on fantastic sites like Loreley and on Wacken of course. No matter where we play we always try to give our best.
Any dreams you want to realize?
I am working on it, although I am not the guy sharing my dreams with the whole world, haha.
What are the future plans?
The tour is over, we will play Wacken, the Sabaton Festival and another festival in Czech Republic and then see what comes next.
Thanks a lot for yor time & see you on stage, one day...!
Click on for the review of Dawn of the brave
Filip VAN MUYLEM
24/04/2014
---