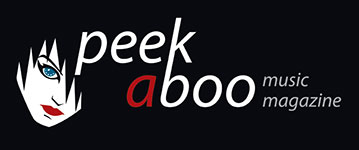 like this news item
---
---
"A new original sin. A new paradise. A new beginning, created by yet another ending. We all die every day, we all breathe every day. This endless duality becomes especially apparent in the works of electronic chameleon DIE FORM.
Founded almost 40 years ago as a revolutionary live act for the both lustful and visionary BDSM scene, the infamous French artistic couple Philippe Fichot and Éliane P. to this day retained two of its essential features: their unique artistry – and their knack for throbbing club hits right on the black pulse of the present. They balance on a knife's edge, embrace both death and life, night and day, pain and love, evil and good. It's never just black or white for them. Instead, it's the myriad shades of grey that rule their art. It's the myriad shades of grey, after all, that rule our lives.

"Baroque Equinox" is a carnal and courageous thrust into a new age. A manifesto both showing the future and looking back at what once was. A new equinox. Night and day are alike, a metaphor that could not describe DIE FORM any better. Day and night, Eros and Thanatos united, even perennially tied to each other. The one is impossible without the other, and for one sweet and endless moment it remains unclear in which direction the pendulum will swing. Only one thing is certain: It will push the masses to the dancefloor with a gripping beat and visionary electronics. Brilliantly crafted by these pioneers of electronic music, "Baroque Equinox" embraces powerful Electro and the Avantgarde, Baroque's mesmerising opulence and a sterile beat, rhapsody and brute force. Sinful night and innocent day set the stage for a work of hypnotising potency, for a panopticon of Electro, Industrial, Techno, classical music, eroticism, poetry and the Butoh theatre of the far east. Never before have peccable club culture and artistic ambition been getting along so well.

The times in which the French couple freely gave in to fetish and sex are equally over as their era of pure Bach worshipping which catapulted them out of the dark scene and into the consciousness of serious music lovers worldwide. Today, as a mark to celebrate this special event of a baroque equinox, they give birth to a new beast about to bestow new facets upon the world of Dark Electro. A beast with a Janus face and two hearts. A suffering human being in a post-apocalyptic dystopia, a creature carrying the untouched purity of nature in his heart and the marching beat of the industrial revolution in his mind. "Baroque Equinox" is a moment floating freely, a state that can any minute turn towards light or darkness, towards silence or chaos. Just like in one of Gustave Courbet's pictures ("L'Origine du monde") in which a hint of a looming abyss is ever present despite all aesthetic beauty, this album is a true testimony to the times we live in and yet sounds like having fallen out of time. How they still manage to pull off something like this after a staggering 40 year career? This, to be sure, will once again remain their secret."

Tracklisting CD:

1. Psychic Poison (Night Fever)
2. L'Origine du Monde
3. Hypnophonia
4. Erotic Self-Sacrifice
5. Night Session / Voyeur Tape
6. Bis Repetita
7. Flesh Memory
8. L'Oeil du Silence
9. Bio Machina
10. EquiNoxia
11. Jigoku (BlindAge)
12. Cérémonie Secrète

Tracklisting LP #1:

Psychic Poison (Night Fever)
L'Origine du Monde
Hypnophonia
Erotic Self-Sacrifice
Night Session / Voyeur Tape
Bis Repetita
Flesh Memory
L'Oeil du Silence

Tracklisting LP #2:

Bio Machina
EquiNoxia
Jigoku (BlindAge)
Wheel of Time (*)
La Nuit des Temps (*)
Cérémonie Secrète
Freedom, never die! (*)
Bio Machina Reset (*)
(*) = exclusive track for the 2LP editions
---
"Een nieuwe erfzonde. Een nieuw paradijs. Een nieuw begin, geschapen door weer een ander einde. We sterven allemaal elke dag, we ademen allemaal elke dag". Deze eindeloze dualiteit wordt bijzonder duidelijk in het werk van de elektronische kameleon DIE FORM.
Bijna veertig jaar geleden werd DIE FORM opgericht als een revolutionaire live act voor de wellustige en visionaire BDSM scene en toch behield het beruchte Franse artistieke koppel Philippe Fichot en Eliane P. twee essentiële kenmerken: hun unieke artisticiteit - en hun aanleg voor pulserende club hits pal op de zwarte polsslag van het heden. Ze balanceren op het scherp van de snede, omhelzen zowel dood als leven, nacht en dag, pijn en liefde, kwaad en goed. Het is nooit gewoon zwart of wit voor hen. In plaats daarvan beheersen tienduizend tinten grijs hun kunst. Want uiteindelijk beheersen die tienduizend tinten grijs onze levens.
"Baroque Equinox" is een zinnelijke en dappere straalstroom naar een nieuw tijdperk. Een manifesto dat de toekomst toont en tegelijk terugkijkt naar wat ooit was. Nacht en dag zijn eender, er is geen betere metafoor om DIE FORM te omschrijven. Dag en nacht, Eros en Thanatos verenigd, zelfs voor eeuwig met elkaar verbonden. Het ene is onmogelijk zonder het andere, en gedurende een zoet en eindeloos moment blijft het onduidelijk in welke richting de slinger zal doorslaan. Maar één ding is zeker: hij zal de menigtes naar de dansvloer dwingen met een aangrijpende beat en visionaire electronics. "Baroque Equinox" is briljant gemaakt door deze pioniers van de elektronische muziek en omvat krachtige Elektro en Avantgarde, de betoverende overdaad van de Barok en een steriele beat, rhapsody en brute kracht. Een zondige nacht en onschuldige dag vormen de achtergrond voor een werk met een hypnotiserende potentie, voor een panopticon van Elektro, Industrial, Techno, klassieke muziek, erotiek, poëzie en het Butoh-theater uit het Verre Oosten. Nooit voordien gingen de zondige clubcultuur en artistieke ambitie zo goed samen.
De tijden waarin het Franse koppel zich vrijelijk overgaf aan fetish en sex zijn even voorbij als de periode waarin ze Bach aanbaden, en waardoor ze weggekatapulteerd werden uit de donkere scene naar het bewustzijn van liefhebbers van serieuze muziek over de hele wereld. Als merkteken om deze speciale gebeurtenis, een baroque equinox, te vieren, creëren ze vandaag een nieuw beest dat nieuwe nieuwe facetten zal loslaten op de Dark Electro-wereld. Een beest met een Januskop en twee harten. Een lijdend menselijk wezen in een post-apocalyptische dystopie, een schepsel dat de onaangetaste puurheid van de natuur in het hart draagt en de marcherende beat van de industriële revolutie in zijn geeft. "Baroque Equinox" is een vrij zwevend moment, een toestand die elk moment kan overgaan in licht of donker, in stilte of chaos. Net als op een van Gustave Courbets schilderijen ("L'Origine du monde") waarin de allusie op een dreigende afgrond altijd aanwezig is ondanks al zijn esthetische schoonheid, is dit album een echte getuigenis over de tijden waarin we leven, en toch klinkt het alsof het uit de tijd gevallen is. Hoe spelen ze het klaar om na een carrière van 40 jaar toch nog iets als dit klaar te spelen? Dat zal ongetwijfeld weer hun geheim blijven.

Tracklisting CD:

1. Psychic Poison (Night Fever)
2. L'Origine du Monde
3. Hypnophonia
4. Erotic Self-Sacrifice
5. Night Session / Voyeur Tape
6. Bis Repetita
7. Flesh Memory
8. L'Oeil du Silence
9. Bio Machina
10. EquiNoxia
11. Jigoku (BlindAge)
12. Cérémonie Secrète

Tracklisting LP #1:

Psychic Poison (Night Fever)
L'Origine du Monde
Hypnophonia
Erotic Self-Sacrifice
Night Session / Voyeur Tape
Bis Repetita
Flesh Memory
L'Oeil du Silence

Tracklisting LP #2:

Bio Machina
EquiNoxia
Jigoku (BlindAge)
Wheel of Time (*)
La Nuit des Temps (*)
Cérémonie Secrète
Freedom, never die! (*)
Bio Machina Reset (*)
(*) = exclusive track for the 2LP editions