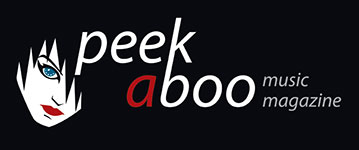 like this concert review
---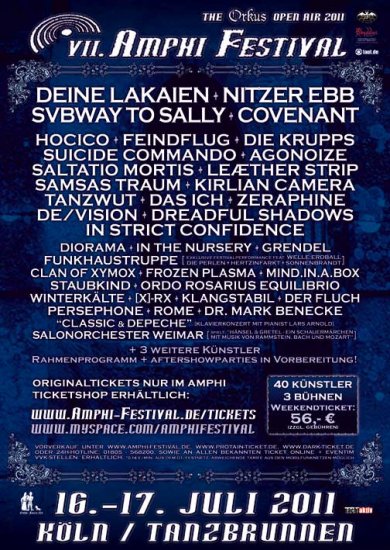 Amphi Festival 2011

Out Of The Rain
Concert
21/07/2011, Didier BECU
---
One of the most popular festivals of the dark scene is undoubtedly the Amphi Festival which is also known as Orkus Open Air. Located at the Tanzbrunnen in Cologne you're facing across the Rhine on one side the massive Kölner Dom while on the other side there's a dark fairy tale going on. More than 16,000 dark souls are gathering at this beautiful park to enjoy music and of course to show their outfits.
It isn't just music fans who are here as you'll find as much narcissistic souls hoping to have a snapshot taken of them. You see, missing some bands at Amphi isn't even a crime as it's just like Wave & Gothik Treffen: sniffing the atmosphere means you have to be everywhere, not just at the stages. Besides, even the most devoted music fans won't be able to see everything as the two stages have an overlapping timetable which is the sole bad thing about this event, apart from the rain of course! It somehow seems like God isn't really a goth as it rained cats and dogs which made our dark souls prey for one dry hour. Anyway, you want to read about the music rather than the weather...
The first band that caught our attention was Melotron who played a rather nice (but far too short) set on the mainstage. Their syrupy synthpop might be at times a bit outdated, but old farts like us are more than happy to dance to such tunes...at least from time to time!
Dancing is something you can't do to Winterkälte. Of course you can, but it's more like delivering your useless body to the terror of the noise beats as this drum'n'noise band let you feel you're alive. Quite impressive though to see how this harsh noise is absorbed by thousands of people.
Frozen Plasma, the German futurepop band formed around Felix Marc is unknown outside Germany but they were responsible for the first explosion of the day as the Staatenhaus was filled with enthusiastic fans. Of course you either hate or like that type of stuff and that counts for In Strict Confidence too. When Dennis Ostermann started this band, you heard a lot of EBM-influences but today it has become a dark-pop band that fits in fine with acts like Blutengel. Quite nice to spot, but I never thought that I would once be watching a live version from "Zauberschloss" with females who do something like a scarfdance.
Time for some real aggression offered by Leaether Strip. This gig became a real triumph for Claus Larsen and Kurt Grünewald Hansen as this was EBM at its best. Stomping beats, a screaming voice and a public that went AWOL and made us almost decide that they were going to be the highlight of the day, but Johan Van Roy threw a spanner in the works by making Suicide Commando the killer of Amphi 2011. This was one of the most memorable gigs ever from this man. As always, Johan is balancing between playing the clown and a bad messenger. They say that every year one million people commit suicide. Such things say a lot about our society, but Johan created some very strong anthems from this sad fact.
Highlights? There were so many, which makes us say one thing: shame on Belgium for not embracing this hero, but we can do it if we want to, at Shadowplay for example.
Hocico were the closers of the night. Knowing that Erk and Rasgo have been doing their thing for so long, it's almost logical, that they are that good.
What about Die Krupps or Deine Lakaien? We suppose they were good but at Amphi you're bound with the "luxury" of choice and don't forget that seeing 5 minutes of Veljanov was equal to being wet to the skin.
More choices had to be made during Sunday as someone thought it was very funny to put Funkhausgruppe (a Welle:Erdball-project) at the same time as Ordo Rosarius Equilibrio. Of course we choose for the apocalyptic vision of Tomas Pettersson. Despite the fact that we had to be content with only seven songs (and some technical problems), these Swedes were once again one of the highlights. Why? Simply because they're genius!
Some people think that Diorama are too, but I'll never be that much of a fan, then again I'm just one of 16,000 and it was clear that the audience from the Staatenhaus weren't in agreement with me!
Clan Of Xymox were for unknown reasons reduced to a threesome. Call it the blind passion but Ronny Moorings proved once again that there will always be a time for Xymox and for those who want to know which old songs stayed in the current live catalogue: opener "Stranger" and "Louise".
In The Nursery will always be the kind of band who end up on these kind of events without walking in the spotlight but what they do is always good and their martial post-punk again worked in a splendid way.
Apart from Agonoize we had the impression that Fiendflug were the band that were seen most on T-shirts. This Swiss war-electro band have found the perfect balance between poppy-industrial and rhythmic noises and their appearance at Amphi was one every band in their region can only dream about: a public that embraced them in the highest order.
Another band that deserved to be crossed in our Amphi-notebook with a remark that says "highlight" (every music lover has their favourite band) was Kirlian Camera. Apart from technical problems which ruined "Edges", this Italian dark-pop band brought the most excellent electro-anthems a music lover can dream of. Beginning with "Nighglory" and ending with that wonderful "Eclipse", more than a perfect band to introduce us to the closing band of this event: Covenant.
Eskil dedicated this gig to Ordo Rosarius Equilibrio as just like Tomas he's also glorifying himself for what and who he is. According to the man himself, it's that what makes us proud, and yes indeed: we expected a hell of a party and we got one, a feast of electronic beats that are all wrapped into wonderful songs which the mind will never forget.
Amphi 2011 is over and with the knowledge that next year DAF, Sisters Of Mercy, Camouflage, Mono Inc, Corvus Corax, Whispers In The Shadow and Tyske Ludder are already booked, we know we have something else to look forward to.
Didier BECU
21/07/2011
---